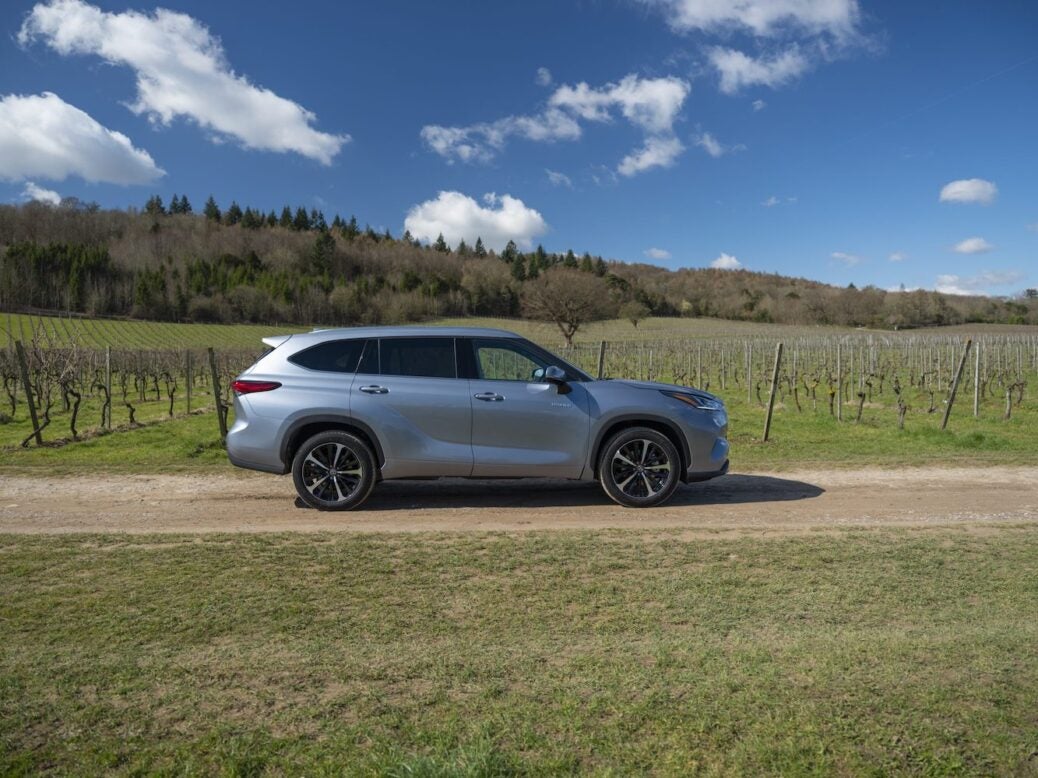 You wouldn't necessarily know that the big Toyota seven-seater hails from Indiana. It's called Highlander in North America too but the name switches to Kluger in certain parts of Asia and the Pacific Rim. Princeton is the lead plant although GAC Toyota also builds it, Chinese production being based in Guangzhou.
Hybrid-only for the UK
The fourth generation has been around for 18 months now, it being new for North America's 2020 model year from the fourth quarter of 2019. A hybrid was added during the first quarter of 2020 and that's the only powertrain that TMMI exports to Britain and EU/EFTA countries.
Americans are offered seven- or eight-seat layouts and a 295 hp 3.5-litre V6 linked to an eight-speed automatic gearbox. They can also choose a 182 kW 2,487 cc four-cylinder engine, two motors, a CVT and drive to both axles. Unusually, there's no turbocharging for the Hybrid, which is the only Highlander available in the UK.
The rivals
In North America, the segment is split into body-on-frame models such as Toyota's own 4Runner but almost all others are unibody, including what will soon be a big rival to the Highlander: the new Jeep Cherokee L. There's a long list of others, including the Ford Explorer, Chevy Traverse, Hyundai Palisade, Honda Pilot, Kia Telluride, Subaru Ascent, Nissan Pathfinder and VW Atlas.
We don't have nearly as many choices as US buyers, and while there's a special Explorer PHEV for Europe which is built in the US but not available there, it's not for RHD markets. Toyota has got itself something of a niche then with the UK's Highlander:  hybrids are rare in the size class.
The long (4,950 mm), wide (1,930 and that's without mirrors) and tall (1,755) seven-seater gives the brand a handy SUV accompaniment for the Proace Verso and the soon to be gone Land Cruiser 200 Series. Think of it as an alternative to the cheaper SsangYong Rexton and pricier VW Touareg, Volvo XC90 and the relatively rare Land Rover Discovery.
An even bigger Highlander?
The architecture is TMC's FWD-AWD GA-K as used by so many other Toyota and Lexus models, and the hybrid system is similarly shared. One relevant additional point here – there's an even longer model coming in 2022, probably landing for North America's 2023 model year, coinciding with a mid-life facelift. The name will reportedly be Grand Highlander. Will this 5.2 m long vehicle also be headed to our shores? We'll have to see.
There are two model grades for the Hybrid: Excel and Excel Premium. Having borrowed an Excel for a week, I'm not sure that the alleged base version doesn't have everything you could possibly want. It's stacked with standard equipment, including things such as heating for the front seats and steering wheel, a huge glass roof which opens and a fantastic sounding 11-speaker JBL audio system.
A comprehensive suite of safety tech is also there: cross-traffic alert with automatic braking, daytime pedestrian detection and so on, plus trailer swaying control. The Excel Premium adds a head-up display, heating for the second row seats and selected other nice-to-have accoutrements.
Not so big when you're driving it
If the Highlander looks too big for Britain – and it will do to many people – it doesn't feel that way from behind the wheel. Back it out of your driveway and there's usually near-silence as the default mode is EV. You can also select that, provided the battery has been sufficiently replenished. The button for running on ions is beside another marked Trail and that's the only off-roading choice.
Interior: great with lots of grey
First impressions are large doors that aren't heavy and the back ones are especially lengthy. These are trimmed in grey plastic and the upholstery was the same colour in the press tester. Toyota needs praise for going with big, easy to use dials and controls for almost all functions. No long moments of eyes having to be off the road with this vehicle.
Even the touchscreen has physical buttons to its left and right – why is that so hard for other OEMs to specify? Even dimming or brightening the instrumentation is done via two switches right where you want them, not hidden in a screen menu.
Sliding seats
The fact that this vehicle is built for people who crave novelty yet typically tend to have no tolerance for nonsense also explains so many things about this vehicle. Is that why the seat folding mechanisms are so intelligently designed? Americans expected them to be that way. Adjustments being mechanical-only, you can therefore rapidly tilt and slide the 60/40 second rowers to access or exit the furthermost row. Those in row two are also able to select extra legroom or instead slide their pews forward if feeling generous to those behind them.
Boot: modest to vast
The boot's fairly typical of this size SUV which means only 332 litres but that becomes 1,909 if there's only two seats upright. Friends of anyone with a Highlander will be asking about borrowing it for IKEA trips. And it won't use much fuel either, even with a load onboard, close to 40 mpg being typical. Just as good is a 65 litre tank so refills don't need to be too frequent.
A couple of little things to single out for specific praise and minor inconvenience respectively now: the luggage blind has a special slot below the boot floor so you'll never need to leave it hanging by the front door or in the garage.
Now this might just be for people such as me who drive windows down and roof open as often as possible: no matter how long you press the key fob lock or unlock buttons for, those panes won't close or open automatically. Why not? Doesn't sound like much of an inconvenience I know, it's just that you've five buttons to hit before locking the car when it could be one. Maybe I should try being less Australian.
No DCT or torque converter here
The CVT which Toyota links this and other hybrids to is way better than such transmissions once were. They're still not to everyone's taste and it's interesting that some OEMs are backing away from them, Nissan being the latest: the vital new QX60 which will relaunch Infiniti in the USA has had its CVT replaced by a nine-speed automatic transmission.
The Highlander Hybrid is a similar size and weight to the QX60; thus the comparison. Most of the time you aren't even aware of the gearbox but every so often, the engine will become as loud as any can be in a Toyota, i.e. not very, if the throttle pedal is stomped on. A second or so later, the CVT catches up and everything quietens down again. Not so much a criticism as an observation.
Roadholding
I couldn't fault the level of grip that's on offer, the big 20-inch wheels and tyres helping greatly with traction in all conditions, including summer showers on greasy tarmac. The steering is also full of feel and that came as a welcome bonus. Only a slightly wallowy feel to the suspension on fast and winding roads makes you remember how much better a Discovery's air springs and superb tuning would be in the same conditions.
Will size be an issue?
There's absolutely a niche for this model in Britain, albeit with one important thing to remember. The Highlander isn't worse than others in its size class but any potential owner should be aware that the width is an issue in carparks, lanes and for most British garages. Not that that stops people buying Teslas, BMW X5s, Mercedes GLEs and other US-built vehicles though.
Overall, the big Toyota offers good value and that includes what's bound to be a faultless ownership experience – what price do we place on time lost with annoying issues that involve dealer visits? You also pay less first-year vehicle excise duty than most of the alternatives in the size class.
Summary
TGB now has an excellent new challenger for the big names of the premium E-sized SUV segment. And at a regional level – remembering Toyota Motor Europe also includes Russia – this new model's sales volume could be far better than some might imagine it will be.
The Toyota Highlander Hybrid costs from GBP50,595 (Excel trim). WLTP Combined fuel consumption is 39 mpg, 0-62 mph takes 8.3 seconds and the top speed is 111 mph. CO2 emissions are 160-163 g/km and the first year VED is GBP530.