ANALYSIS: Has Audi reached a limit with model proliferation?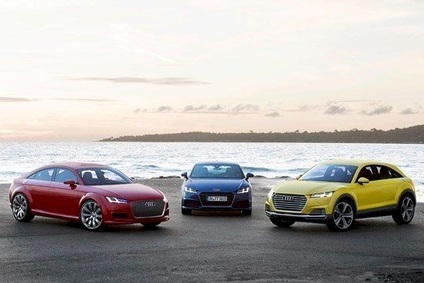 Audi's TT 'family': TT Sportback (left), TT Coupe (centre), TT Offroad concept (right)
Audi's continuing success has come with a stream of new products but is a TT family a step too far? Ray Hutton considers the new product issues for VW Group's premium brand.
Sometime in 2011, I asked Jeremy Hicks for the secret of his success. As the brand director of Audi UK, he had presided over a 40% increase in sales over six years. He was modest enough not to claim personal responsibility for this achievement; it was, he said, simply down to a constant flow of new models, taking Audi into parts of the market where it had never before ventured.
In his current role as managing director of Jaguar Land Rover UK, Hicks must welcome the expansion of the JLR model range with Discovery Sport, Jaguar XE and F-Pace. There are some parallels here, as Audi came from behind in the battle of the premium brands to increase worldwide sales to 1.74 million in 2014 and move ever-closer to leader BMW (1.81 million).
Audi has been cleverly positioned in the premium market, achieving status and recognition equal to BMW and Mercedes, although some of its biggest-selling products are based on more humble, mass-market platforms from elsewhere in the Volkswagen Group. It is, without doubt, the most successful premium subsidiary of a generalist motor manufacturer and has the widest range of models in the industry.
In 2001, Audi offered 17 different models, now it presents 47 - it could not get them all on to its spacious and elaborate motor show stands, let alone in the average dealer showroom. Having filled all the niches in and around the established market sectors, it set about finding the tiny gaps within the niches. With an investment of 24 billion Euros - 70% of which will go to product development - it expects the model count to be up to 60 within four years.
Sales continue to rise - 10.5% up last year - and Audi makes a lot of money. Its 2013 operating profit of 5 billion Euros - representing a 10% return on sales - accounted for nearly half of the Volkswagen Group's profit. With numbers like these, perhaps it doesn't have to worry about some models being sold at a loss.
Volume car manufacturers used to say that an individual model wasn't viable below 50,000 units a year. But that was before robotised production lines had the flexibility they have today and before modular platforms and component sets. Now the costs involved are less for manufacturing and more for design, engineering, certification - and marketing.
While Mercedes has slowed its product diversification to some extent - and made some economies by sharing platforms and components with Renault and Nissan's Infiniti - Audi takes the view that every niche car sold is one less BMW or Mercedes. The three Germans watch each other like hawks and their line-ups mimic one another, stretching ever-smaller market segments to the point of over-supply. It is as if no-one stops to think whether there is a need or demand for some of these niche models, produced simply to match the competition.
Audi is the driver in model innovation. The A6 Allroad was developed at a time when the boss of Audi, Franz-Josef Paefgen, did not think that a fully-fledged SUV was appropriate for the brand. Now, of course, with Rupert Stadler in charge, it has a highly successful Q-series, ranging from the renewed Q7, launched at the Detroit Auto Show, to the forthcoming Q1 mini-crossover - but the Allroad models continue. Just 8,439 A6 Allroads were sold in 2013.
The A5, introduced as a lowered, coupe version of the A4 and expanded into a five-door Sportback and convertible, led to the larger but otherwise almost identical A7 Sportback.
You might think that Audi has now played all the permutations - and been shadowed by BMW throughout - but you would be wrong. As well as the e-tron hybrids and electrics and the g-tron versions fuelled by natural gas, it sees another opportunity, by developing its TT sports coupe into a range of models.
Although it is based on the Golf platform and now the VW Group's MQB 'toolkit', the TT is a unique product with style and practicality which out-sells the more traditional rear-drive two-seaters from BMW and Mercedes. The third generation was recently launched, using MQB and a 'hybrid' steel and aluminium body and with a very fancy electronic dashboard but otherwise unchanged in style and format. So we can suppose that worldwide sales will be at much the same level as before: 20,000 a year.
Last year's concept cars showed how the TT can be extended as a five-door four-seater and raised up to become a crossover SUV. Audi now talks about TT becoming a family, adding one or both of these bodystyles to the established coupe and convertible.
That may be a step too far in product proliferation. The differences between a TT Sportback and the S5 Sportback and the TT Offroad and the Q3 and RS Q3 are really rather small but they do nothing to enhance the iconic style of the TT coupe and they threaten its position as a fashionable semi-sports car.
Audi's current range is so big that no one person in the company can hold the information on all 47 models. At press launches, specification queries invariably have to be referred to a specialist on that particular model series. Add the long options lists, and the packages available - S-line, Ultra, and so on - and the number of derivatives rises to several hundred.
Buyers are confused for choice. Dealers also need product specialists and rely entirely on the manufacturer's database to specify a car. It is significant that Audi's London showroom in Piccadilly now exhibits only four cars and relies on full-size virtual imaging to present its models to customers.
There is some evidence that the niche models that Audi, BMW and Mercedes have recently pursued so vigorously may have an adverse effect on residual values. Secondhand car buyers tend to me more practical than the first time user-chooser. This is the view of Rupert Pontin, head of valuations at Glass's, the vehicle data provider:
"The question is whether all of these models add to choice and are understood by the consumer or are really just oddball vehicles that are neither particularly useful nor particularly desirable. While we have seen some highly successful new niches recently, other models introduced over the last year appear fall into the latter category and this may effect used resale value forecasts accordingly."
As most new cars are acquired on some kind of lease, leaving the manufacturer or supplying dealer to handle the resale, it may be some time before this becomes apparent.
Then again, it may not be wise to bet against Audi, one of the star performers of the world motor industry. Its global sales have grown by 42% in ten years and the brand expects further expansion in 2015. And it regards model proliferation as the key to its continuing success.
Company analysis

Volkswagen Group
Most popular news
---
Most popular insights
---
Oops! This article is copy protected.
Why can't I copy the text on this page?
The ability to copy articles is specially reserved for people who are part of a group membership.
How do I become a group member?
To find out how you and your team can copy and share articles and save money as part of a group membership call Shivani Hayer on
+44 (0)1527 573 732 or complete this form..