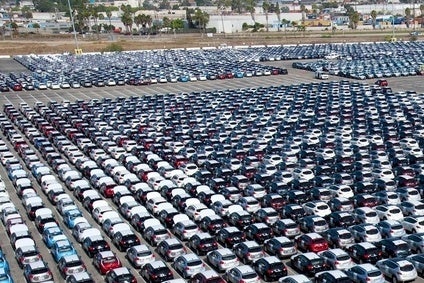 At 86 mn units/year, October's Global Light Vehicle (LV) selling rate was in line with the previous month, according to analysis by LMC Automotive (a GlobalData company).
A global market forecast at 81.6 mn units in 2022 would be flat on 2021 and some 9.5% under 2019's level (just over 90 mn). However, the picture around the world is somewhat mixed, with a strong rebound in China (as parts shortages ease) contrasting with sluggish sales in Europe and North America. The outlook everywhere is subject to rising concerns over prospects for the global economy as well as other risks and uncertainties.
The latest LMC Automotive forecast for 2023 is for a global light vehicle market of 84.6 mn, barely an improvement on an already depleted base.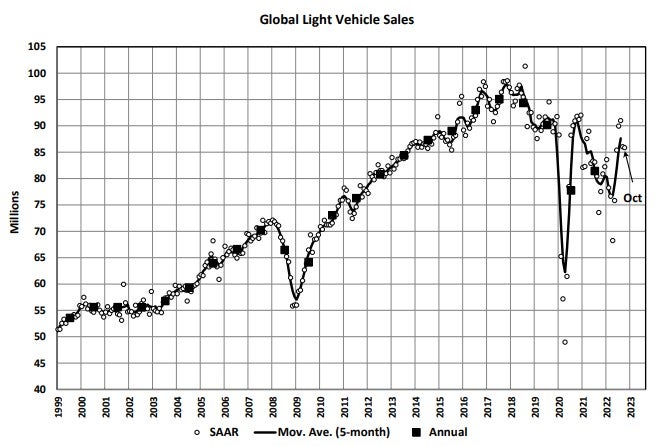 October 2022
October's raw sales result of 7.1 mn units was an improvement of 10% YoY (year-on-year), taking the year-to-date (YTD) figure to circa -1%, albeit compared to an already weak base of 2021.
Despite China experiencing a third consecutive month of slowing selling rates, YTD sales were up 8%. However, North America and Europe continue to struggle YTD as supply constraints hamper performances ahead of worsening macroeconomic conditions.
A summary of market developments in the world's regions follows.
North America
U.S. Light Vehicle (LV) sales grew by 12.1% YoY in October, to 1.2 mn units. This was the third consecutive month of YoY gains; however, this comparison is helped by a weak H2 2021, the start of the chip shortage. In volume terms, October saw the highest sales since April. Additionally, the selling rate climbed to 15.2 mn units/year, the strongest so far this year. Inventory levels increased by 7.8% from last month, although those vehicles are more expensive as average transaction prices increased by 1.1% MoM to $46,120.
Canadian LV sales are estimated to have grown by 1.2% YoY in October, to 134k units. The selling rate is thought to have increased to 1.7 mn units/year, the highest since January, but selling rates should be treated with caution in a limited supply environment. In Mexico, sales were up by 19.1% YoY last month, to 90.6k units, while the selling rate was 1.11 mn units/year. The market continues to surprise to the upside despite economic headwinds.
Europe
The West European selling rate remained flat from September to October at 12.0 mn units/year and ensured that the selling rate YTD improved slightly. In raw monthly sales terms, October was up over 12% YoY to just over 960k units, though this still leaves the YTD result down nearly 10%. It remains clear that supply constraints continue to hold back market results, even accounting for the deteriorating macroeconomic situation.
The East European selling rate was broadly in line with the previous month, at 2.9 mn units/year, though October's raw sales were still down 29% YTD. The war in Ukraine continues to restrict supplies, and with Russia's sales being crushed by sanctions, both are hampering the region's sales activity.
China
According to preliminary data, the Chinese market continued to lose steam after rebounding strongly in June and July, following the reopening of Shanghai. The October selling rate of 28.6 mn units/year was 7.6% lower than September's, the third consecutive month of MoM decline. Yet, the YTD average selling rate reached a strong 27.6 mn units/year. In YoY terms, raw sales increased by only 8.2% in October (due partially to a high base effect), compared to about 30% YoY growth in each of the previous four months.
Apparently, sales were somewhat affected by sporadic COVID-19 outbreaks and lockdowns in multiple regions in the country. It has been reported that OEMs reduced production in October from September levels. Nonetheless, NEV sales remained robust. Sales of BEVs and PHEVs expanded by 67% YoY and 150% YoY, respectively, in October. Total EV and PHEV sales reached almost 5.3 mn units in the first ten months of this year.
Other Asia
Sales in Japan rebounded strongly after a sharp slowdown. The October selling rate reached 4.7 mn units/year, up nearly 17% from a weak September. On a YoY basis, sales increased by double digits for the second consecutive month in October, thanks to an easing of the global supply-chain disruptions. EV sales, however, slowed, as the government's budget for the EV subsidies is running out.
The Korean market remained robust in October, as the supply situation continued to improve, and OEMs ramped up production before the temporary excise tax cut on Passenger Vehicles expires at the end of this year. The October selling rate of 1.7 mn units/year was slightly lower than September's 1.74 mn units/year, but that was a good result. It appears that all Korean OEMs managed to normalize production at their domestic plants in October, getting out of the procurement crisis.
South America
Brazilian LV sales grew by 11.8% YoY in October, to 168k units, while the selling rate decelerated to 2.01 mn units/year, from 2.10 mn units/year in September. The results were somewhat disappointing: YoY growth has been much stronger in recent months, even though the market was weak in October 2021, providing a low base. The presidential run-off election may have distracted consumers, particularly towards the end of the month, when sales slowed.
In Argentina, sales are estimated to have grown by 18.4% YoY in October, to 30k units, while the selling rate increased to 396k units/year, from 338k units/year in September. Although this was a more robust result than September's, the underlying conditions remain challenging. High inflation, rising interest rates and import restrictions are keeping the market well below its historical levels.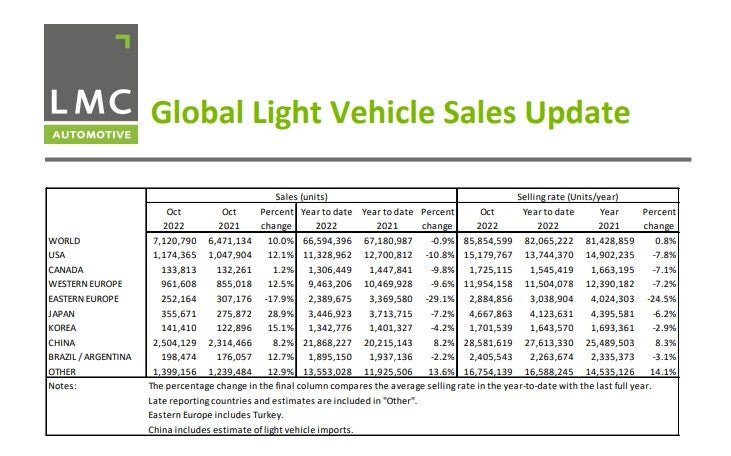 OPINION – Just Auto editor David Leggett adds:
Market geography has never been more important – at first sight – than right now. The mature markets and non-mature markets highlight very divergent trends that will be shaping operational performances for companies in the sector.
Companies such as Volkswagen will benefit from stronger sales in China (although Covid-related lockdown reverses are still a major risk there and the rebound lost steam in October). Others (notably Japanese OEMs) will see volume lifts from higher sales in other Asian markets, especially in southeast Asia. But problems of tight supply remain an issue in mature markets such as North America and Western Europe. Moreover, the overall dent to the global volume pie remains large, with 2022's global market at under 82 mn and some 14% below 2017's peak when it seemed to be heading inexorably towards 100 mn a year.
There are indications, however, that the worst of the semiconductors shortage is now behind us with a gradual easing in prospect. One upside of backed up orders is that activity in factories can be 'smoothed' just as the emphasis switches to broader demand concerns and slowing economies due to a toxic combination of surging energy prices, lower household incomes, higher interest rates and significant ongoing geopolitical worries (all of which look set to be with us in 2023).
The demand outlook at this stage in what would normally be a relatively familiar industrial cycle is disappointingly weak. The latest LMC Automotive forecast for 2023 is for a global light vehicle market of 84.6 mn, barely an improvement on an already depleted base.
The big question is this: Will companies have to make significant changes to their global manufacturing footprints? It hasn't really happened yet, but the drop-off in volumes from 2019 is large and tinkering with model-mix has its limits as demand weakens. The OEMs will be reluctant to act, but the pressures will be building next year, especially if risks start to rise on the 2024 outlook. If the divergent trends in the global market continue, the mature markets will be the ones that feel the pressures most.
In the background, trends towards more automation and plants that require fewer workers to assemble EVs will add to the general feeling that a shake-out is coming. No-one wants ultimately to be a laggard in adjusting – the pain could be greater if there's a competitive loss on top of a sectoral one.