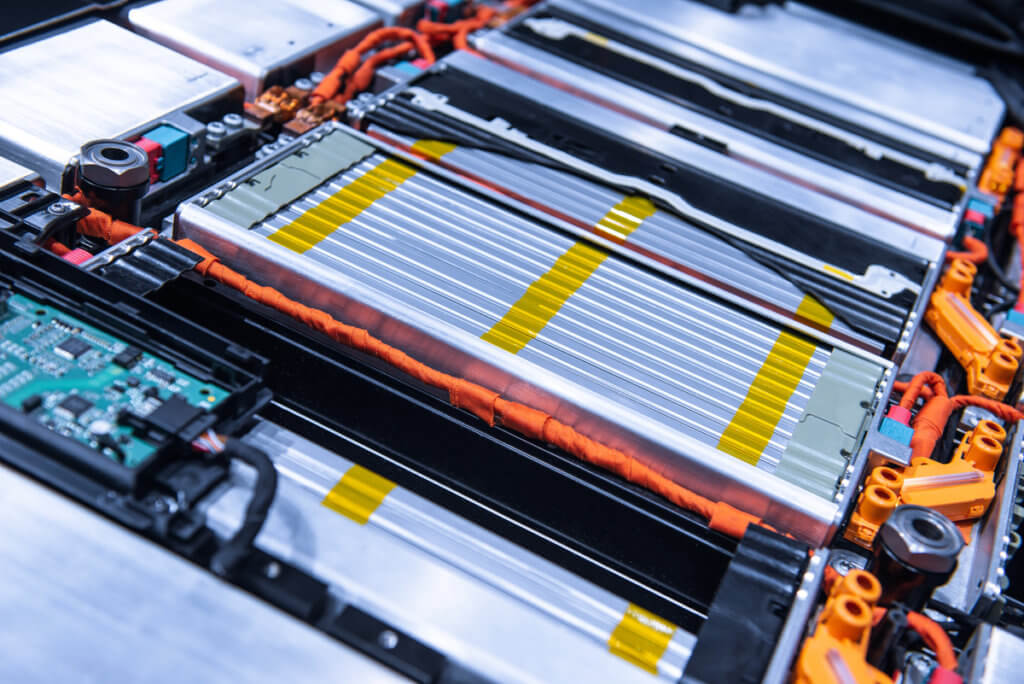 The global light vehicle battery market doubled in size in 2021 to 289 GWh. Over half of global demand was from vehicle production in China. BEVs accounted for 87% of demand, and this share continues to rise.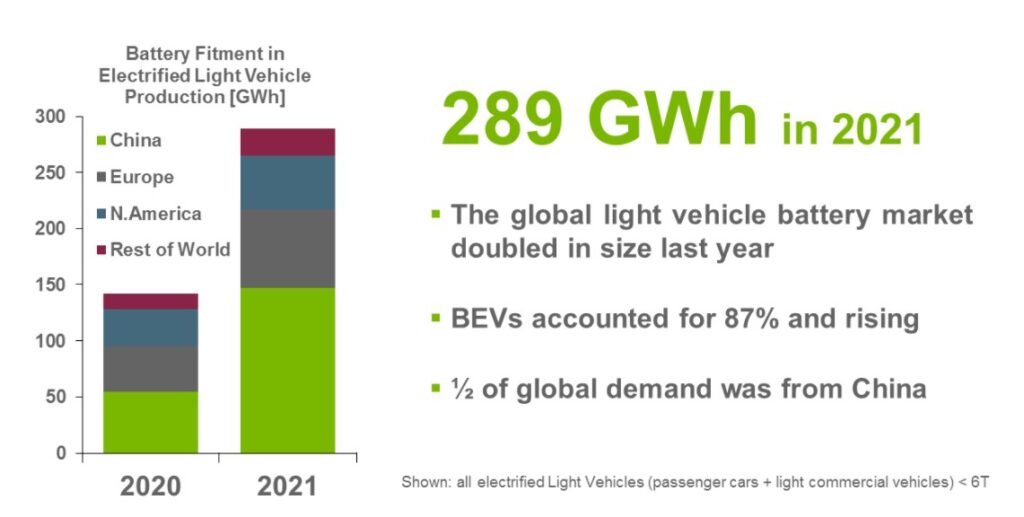 Battery cell plants around the world are already working at capacity, and the news from suppliers – large and small – has been a constant stream of announcements aimed at expanding production capacity as soon as possible.
One-third of 2021's BEV battery market was supplied by CATL, now the leading cell supplier having overtaken Panasonic and LG Chem, thanks to its success in the booming Chinese market. CATL's preference for prismatic cells resulted in this format taking an impressive 53% of the market (up from 38% in 2020).
Although almost three-quarters of the market continued to be dominated by those three suppliers, the cell supply chain became increasingly diversified, with OEMs sourcing from multiple suppliers, and hitherto small suppliers in China moving up the rankings and establishing extremely ambitious global plans for expansion.
One-quarter of BEV battery capacity, and a quarter of lithium usage in batteries, was consumed by Tesla. Next came Volkswagen Group, but with only half of this figure.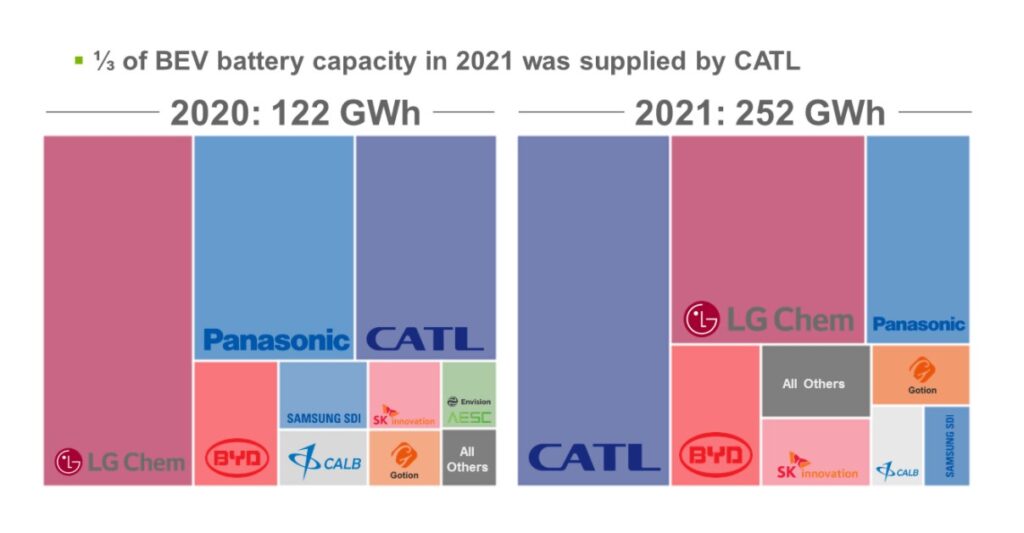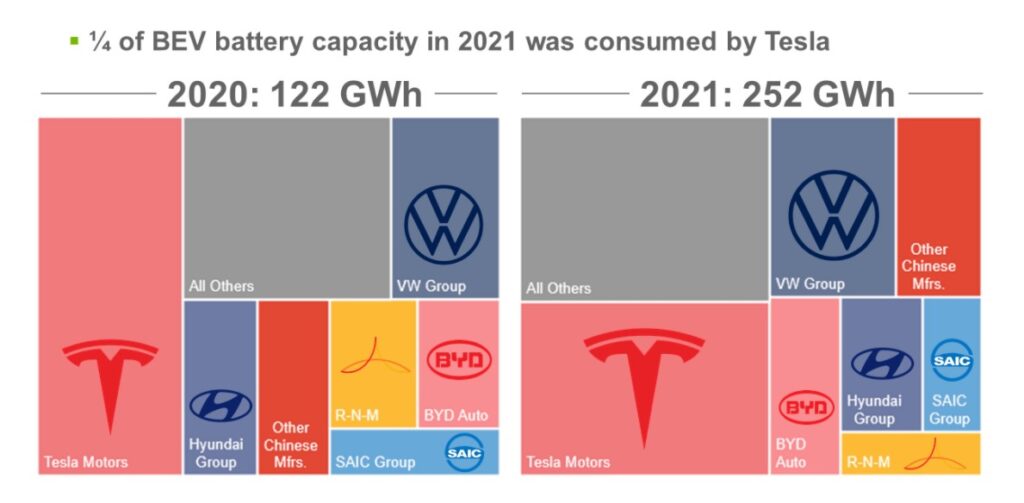 LFP continued its resurgence in China and came very close to being the dominant chemistry, owing to technological advancements such as Cell-to-Pack, long 'Blade' style cells, and LFP's use in key high-volume models such as the Tesla Model 3/Y, Wuling Hongguang Mini, and now most of BYD's line-up.
Tesla even started to import LFP batteries for fitment into its US-built 'Standard Range' vehicles towards the end of last year in an attempt to ease production bottlenecks in the short term and to mitigate the impact of high nickel prices in the future.
Despite this, nickel-based chemistries still held the largest share in GWh terms (79%) and for several reasons we expect LFP growth to be less profound in 2022 and 2023. Several flagship BEV models to be built outside of China will use NMC/NMCA and, with the exception of Tesla, the emergence of the first LFP-equipped mainstream model production outside of China will not come until around 2024.
North America is still very much the high-nickel market, driven by the range expectations of consumers, and towards the end of the year, it saw pre-production of the first examples of super-high nickel cells: NMC 90, NMCA 90, and NCA 91.
Europe, Japan, and Korea continued with NMC 622 but have been undergoing an influx of 811 on newly launched models.
China's SVOLT brought the first nickel-based cobalt-free cells ('NMx') to market towards the end of last year. All eyes will be on Great Wall's ORA Cherry Cat, the guinea pig for this innovative technology. The forecast for cobalt-free high-nickel and high-manganese cells carries both upside and downside risk in equal measure.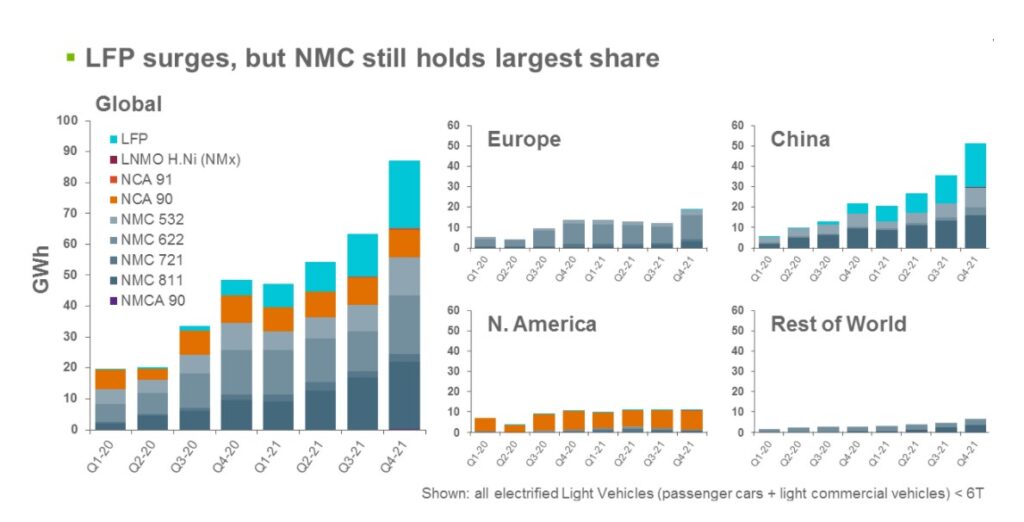 Naturally, lithium usage increased in line with the growth in batteries overall (+100% YoY) and soaring prices certainly reflected that. The supply of lithium will continue to be the main roadblock for the BEV industry, both in the short term and towards the end of the decade.
Battery demand is heavily correlated to BEV sales and so, looking forward into 2022 and 2023, the growth rate is likely to be less spectacular but still significant, in an industry still dominated by China.
Sam Adham, Senior Powertrain Analyst, LMC Automotive