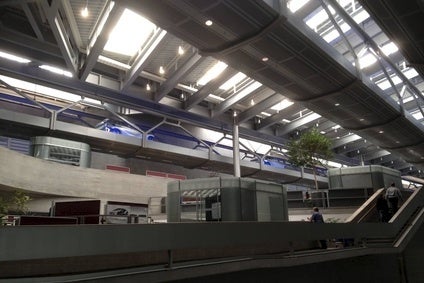 'Marriage' is, to anyone used to touring car assembly plants regularly, a familiar term, describing the joining of painted and trimmed body to powertrain.
You sometimes hear 'stuff up' instead, where a particular plant does literally just that to powertrain/suspension modules to insert them into a body, rather than lowering said body onto a static drivetrain.
Touring BMW's state-of-the-art (an oft-overused term but it really applies here and has done since I attended the official opening back in May 2005) plant in Leipzig, eastern Germany, you also hear other terms not usually applicable in a car plant – 'railway station', 'supermarket', 'islands' and 'dishwasher'. Not to mention 'falcons', 'rabbits' and 'sheep'.
The first two of the last mentioned are names which have been applied to cars from Ford Australia and Volkswagen in the US but refer, in Leipzig's case, to resident wildlife – the falcons roost on 'living roofs' across the site and hunt pigeons – that is why the aluminium facades are so bird dropping free, I am told; the rabbits lurk in the wild but are tame enough to come when called by familiar faces.
The sheep, a breed exclusive to the region, 'mow the grass', according to an insider who said the plant's overall environment footprint, regularly audited, is in fact better than when the land, also home to assorted suppliers and various other related businesses, was used for farming. The BMW factory uses renewable wind energy (four huge turbines are in the grounds), recycles everything it can, buys in supplies and services from the most sustainable sources possible and staff are permanently on the lookout for ways to improve.
The 'railway station' is in the 'supermarket' – the main logistics centre of Leipzig's 'plant within a plant' built specially to assemble the i series cars – the i3 already in production at a rate of 70 units a day and the i8 starting in April. From here, trucked- and railed-in parts from other BMW factories, partners and suppliers are unpacked, laid out in bins and on shelves – it looks like a giant auto-centric Aldi – and then trailered all over the facility, with regular stops at designated 'stations', for more finishing and, eventually, final assembly into a shiny new i3/i8.
Motive power to shift the parts includes a fleet of hydrogen powered forklifts with on-site refuelling facility.
'Islands' are gathering points dotted around inside and outside the facility; tables and handy vending machines encourage employees on their regular breaks to gather together and socialise.
The reason I am here this time is to see the i3 produced pretty much from soup to nuts – in body and assembly shops completely separate from those that build the conventional steel 1- and 2-series and X1 models Leipzig also makes.
This follows on nicely from last year's post-AGM visit to Landshut near Munich where pilot production of some 'life module' (body structure including safety cell) side frames (made from an inner and outer structure each built up from multiple carbon fibre/resin components) was under way and some dashboard parts production – mainly the crashpad – was being trialled. I also saw pilot production of the powertrain modules – both pure EV and the range extender alternative which uses a variant of an I2 petrol engine BMW buys in for one of its motorcycle models.
Today all of the body assembly is now under one roof at Leipzig in the quietest press shop you'll ever see and (almost) not hear. Parts actually start their journey as coils of carbon fibre made in Moses Lake, Washington state (where the partner supplier's plant uses renewable hydroelectric electricity for its high energy processes) which are shipped to a BMW plant in Wackersdorf, Germany, where they are woven into a fabric form that is, more or less, the carbon fibre car's equivalent of a metal one's start-off roll of sheet steel.
That fabric, in turn, is preformed into something close to the final component shape using a mould and simultaneous heat and pressure while RTM (resin transfer moulding) injects, at pressure under vacuum, resin into the preformed part, soaking the carbon fibres and moistening the entire surface. The resin then hardens as it cools and, voila, you have a hard, stable, CFRP part which, in appearance, resembles a multi-stamped steel pressing, but is lighter and at least as strong, and can be combined with other parts into a complex structure such as a body side frame.
Said larger parts, including the main inner and outer constructions that are finally bonded together to form the complete side structure, are pressed in Leipzig's own facility and then sent to the 100% robotised 'cold body production' shop.
BMW claims to have completely reinvented the electric car with the i3 – it was designed as such from scratch and is not just a conventional metal car with an electric motor and battery pack substituted for a combustion engine and fuel tank. And it claims likewise with the manufacturing process for which final assembly takes about half the time of a conventional all-metal car.
Savings come in all sorts of ways – the three assembly lines ('life module' body trim; 'drive module' platform build up (battery, electric motor, suspension/steering and, if fitted, range extender petrol engine); and finish line) are as short as possible with as few work stations as possible (each process stage is longer than in most other plants which gives workers more to do per car, enhancing skills and interest in the job), optimised throughput (bodies and platforms are assembled simultaneously on separate lines and literally meet in the middle of the plant before taking the final journey down the finishing line), optimised ergonomics and processes (the sunroof variant doesn't require a different body shell as would a metal car; the sunroof module simply goes on about halfway down the trim line instead of a standard roof) and that roof and all the painted parts simply go on at allocated assembly points – there is no need to match pre-painted small parts with the correct shell later. NAFTA variants get their side marker lights only during their trip down the final finishing line. Range extender versions get one different right side front panel with a fuel filler door. Doors themselves do get built up separately – on a line parallel to the body trim line.
Body construction
Whether pressed in-house in Leipzig or Landshut (which does smaller parts), or bought-in from suppliers/partners, almost all body 'life cell' (basic structure) components come together in the new body shop for bonding together. This is much like watching robots in a conventional steel shop position parts, weld 'em, check 'em by laser and send 'em on to the next station. But the difference is in the detail. Cleanliness is even more essential when bonding CFRP bits together than when welding/bonding metal so some parts get a pre-assembly spin through a machine dubbed the 'dishwasher' which cleans them in solvent and air dries them. Of the robots' processes, about 50% are dedicated to cleaning seams to be bonded (using a fresh cleaning pad and solvent for each part processed), 45% applying solvent in a similar manner to that used to apply glass to steel bodies, and 5% holding bonded parts together in jigs for the necessary curing time. And, like the pressing process, the noise levels are way lower than in a steel body plant.
No paint process
Unlike conventional steel bodies, those made from CFRP don't rust so need no costly and time consuming rustproof processes. Areas not normally visible – inside door openings, under bonnet, inside the tailgate, are left in a natural 'carbon fibre look' state; colour is added in the form of moulded plastic panels, many moulded in-house, which are the bits that do get coated in their own Leipzig paint shop (which I didn't get to see). These are fitted to the life cell at various points throughout the assembly process – some during body trimming and equipping and some, much later, after the life cell has been 'married' to the 'drive module' containing powertrain, battery pack, suspension, steering, brakes and wheels.
Body trim
Unusually, after an introduction to a one-per-car, self-guided vehicle carrier, instead of conventional line carrier tracks or hoists, the 'life cell' bodies head off down the line backwards (avoiding a 180-degree rotation that would otherwise be needed later), gaining early-fit parts like wiper motors (two) and wiring , followed by dash panel, interior trim, bonded in windscreen, bonded-on roof, tailgate and so on. There's some clever timing involving exactly when to remove clamps front and rear so that the right bonding time is achieved for each part's adhesive. The line workers seemed to have that off pat. Then the separately assembled doors go on and the body is conveyed off for 'marriage'.
Drive module
Drive module build-up starts with an alloy, honeycomb-reinforced frame to which a flat floor pack of batteries, suspension, brakes, steering, electric motor, wiring and, if applicable, a neat little petrol I2 motorcycle engine pack are all quickly added, the end results being conveniently ready neatly in line at the 'marriage station' for the completed bodies which come in from one side.
'Marriage'
Much like the robots in the body shop work, once those in the joining station get their mechanical mitts on a complete drive module, they first spend some time prepping various bonding points by cleaning them before applying adhesive. Then the module is slid forward to receive its body, which is lowered and positioned automatically, dropped, and a six-minute counter starts to tick off the bonding time. While that is going on, two robots nip in and out, checking fit and attaching some mechanical fixings – not one human is involved in any of the 'marriage' process.
Final line
Bonding time over, the automated frame fires the body out on to the final line where human workers do most of the really skilled stuff robots can't yet do as well – checking fit 'n' finish, attaching painted panels, connecting pipes, wiring and cables, adding wheels. Unless you can read build sheets, only now do you start recognising ECE or US spec, all-electric or range-extender as appropriate, as model-specific parts go in or on. Finally, the completed car, with fluids injected, is ready to drive off the line, get some final checks, gain some protective covering and head outside to a vast shipping area (US market launch cars were being readied when just-auto visited).
It's quite simply the most automated and most amazing car building process I have ever seen.