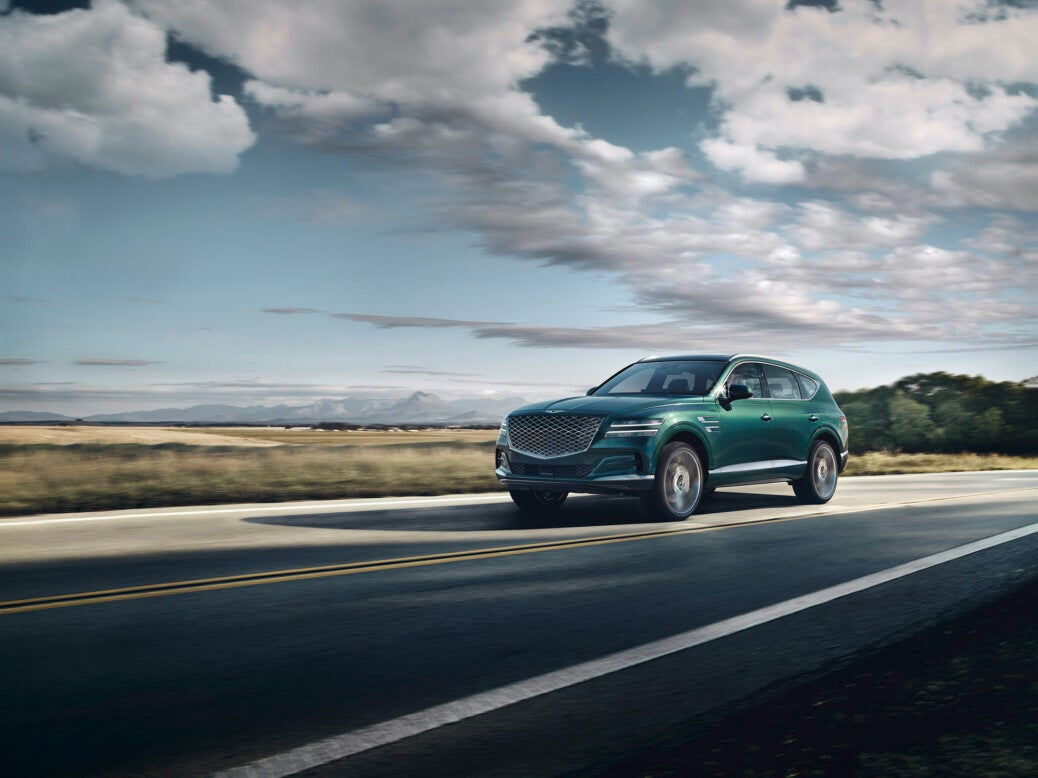 Let's get this out there straight away; Genesis won't find a great amount of demand for its still-newish XC90-sized SUV in Europe. Nonetheless, it's helping to establish the brand in the region.
The 5m-long 4×4 is a tempting proposition for those considering the Volvo and other rivals in countries such as the USA and South Korea. Sales are brisk in both markets.
Electrification is needed for those countries in the EU and EFTA which Genesis Europe has started off in, plus the UK. That doesn't mean that the GV80 isn't without appeal. In fact it's a great alternative to the German marques as well as Land Rover, Volvo, Lexus, Jeep and others.
Heralded by GV80 Concept
It's been five years since Genesis' current lengthiest SUV was strongly hinted at by a hydrogen fuel cell concept which revealed the production model's name.
The prototype, a debut at the 2017 edition of the New York International Auto Show, was a little curvier and had different door handles but otherwise fairly similar to what followed.
Hyundai put the GV80 into production at one of its Ulsan plants in December 2020, initially for the home market but exports to the USA, Canada and other countries soon followed.
Slow but steady brand expansion
At the time of the GV80's launch, Genesis existed also in Russia and Australia as well as in certain Gulf states. China, Switzerland, Germany and Britain have since been added. More countries, many of them in Europe, are promised.
Enthusiasm for the model in South Korea perhaps came as a welcome surprise, a diesel engine helping to smooth the way in a country where large capacity petrol engines tend not to be in high demand.
Not only was this Genesis's first SUV but it introduced Hyundai Motor Group's M3 platform too. Unlike certain competitors such as the Range Rover Sport, HMG's rear- and all-wheel drive architecture is steel although as with the Land Rover, doors, bonnet and tailgate are aluminium.
Mild hybrid engines
There are also two petrol engines and these, rather than the diesel, are naturally what buyers in North America can choose from: HMG's 2.5-litre four-cylinder (Theta 3) and 3.5-litre V6 (Lambda 3) units. Each has two turbochargers and 48 V electrics.
The official names for Theta 3 and Lambda 3 are respectively Smartstream G2.5 T-GDi and Smartstream G3.5 T-GDi while the straight-six diesel is called Smartstream D3.0. Power outputs are 304 PS for the 2.5-litre petrol, 380 PS for the 3.5-litre petrol and 278 PS for the 3.0-litre diesel. Each sends drive via Hyundai, Genesis and Kia's own eight-speed dual-clutch transmission.
Genesis UK lent me an example with the 2,996 cc compression-ignition engine. Torque, at 588 Nm, is in plentiful supply. That's enough to push this 2,300 kg vehicle to 62 mph in 6.8 seconds. Top speed is 143 mph and dependent on whether the driver has engaged Eco, Comfort or Sport modes, economy is between 30 and 38 mpg (Combined). GV80 pricing, by the way, starts at GBP56,715 although the press test example was optioned up to GBP74,615.
There's a fair amount of body roll in Eco and Comfort models and not much in the way of satisfaction for the driver hustling the GV80 on winding roads, yet it's far from vanilla and boring. In Sport, it's better, although because Hyundai prioritised a smooth ride, the big Genesis was never going to give the X5 a fright. The steering, while fairly direct, is tuned for ease of operation rather than honed for direct feedback.
Leather-lined
The soft-luxury feel continues inside where the emphasis is on space and elegance. The brand's two big digital dials feature, changing to different functions when relevant and this all works very well. Similarly, there's no sense of overload on the dash-top screen which is just the right size and simplicity itself to navigate.
Leather seems to cover almost every surface including the doors and dashboard – often in two-tone form – plus there are fillets of timber here and there as well as matte faux-chrome.
A bin for odds and sods between what are sumptuously upholstered seats is very deep, there are a good number of nice-feeling dials and buttons including the 4×4 system's Snow, Mud and Sand settings. All controls have a solid action to them.
Depending on the market, the GV80 comes in five- or seven-seat layouts but because of that sub-5m length, it's more accurate to think of the available space in the third row as that of a 5+2. Still, the boot's on the large side being 727 litres (VDA), extending to as many as 2,144. Next year's GV90 (name to be confirmed) should be a genuine seven-seater.
Which is best, petrol or diesel?
Of the two engines available in Genesis' European markets, the diesel is the better bet for its great mix of torque, performance and economy, along with perhaps surprising silence. And while all GV80 variants come with luxury brand pricing, every one is loaded with standard equipment and offers a painless buying and ownership experience. The brand just needs some EVs in its range and to be better known. Happily, the electrics are coming (GV60, GV70 and G80) soon.

What comes next?
Genesis held a media presentation in September 2021 in which the division's future strategy was stated: eight electric models by 2030 and every vehicle launched after 2025 to be a either fuel cell EV or a battery EV.
The eventual replacement for the GV80, which isn't scheduled until 2026 following an expected facelift for JX1 next year, will surely be based upon IMA. That's the code for a future electric-only architecture which Hyundai Motor Group announced just a few weeks ago.