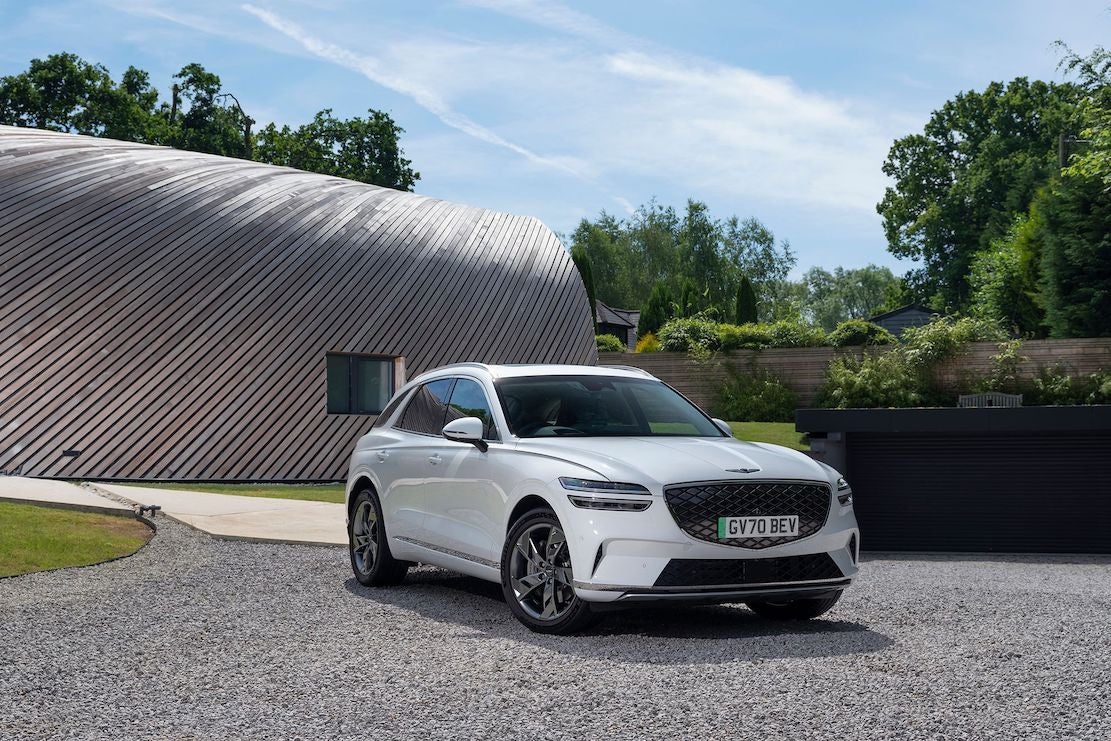 HMG's gentle push into Europe's premium segments is gathering pace. And even though Genesis' presence is limited to Switzerland, Germany and the UK, ever more EVs appear to be helping to lift overall sales.
UK remains regional number one
Of the three countries which HMG selected to be the first *European markets, Britain is performing the best. Even so, numbers are very small but things do seem to be improving month by month.
Diesel and petrol engines were the only forms of propulsion at the time of the brand's introduction just over a year ago. Now, after the addition of the Electrified G80 and a bespoke EV, the GV60, comes the Electrified GV70.
Piston power remains available
As with the G80 BEV, the electric GV70 is an existing model that's gained a battery version. Similarly, the internal combustion engine variants continue as these sell extremely well in South Korea and the USA.
As noted in the picture caption, there aren't that many exterior alterations compared to the IC examples of this 4.7 m long SUV. The same applies for the interior, the obvious big difference being no rev counter in the digital instrument cluster.
Built in Korea and soon the US too
The Electrified GV70 has been doing good business in the brand's home market since it went on sale there in late February. Examples for all markets are also manufactured in South Korea (Ulsan) with a second plant coming on line in two months' time. This site, HMMA's Montgomery factory, will build cars for North American markets.
The addition of a Genesis model to the lines at Hyundai Motor Manufacturing America's plant shows how serious the parent company in Korea is about its luxury brand. This also marks a new chapter in the stated (eventual) switch to EVs for the premium marque.
It isn't hard to imagine electric cars and SUVs comprising a very high percentage of Genesis Europe's overall sales within a few years' time. For that reason also, the E-GV70 matters.
Electric-only models in the future
We know that worldwide, every vehicle launched after 2025 will be either a fuel cell EV or a battery EV. IC cars aren't disappearing, at least not for a while yet, Genesis customers in the US, Korea and most of the brand's other markets still preferring petrol (and in certain cases diesel) power.
As a quicker refresher of what the GV70 is, this BMW X3-sized model has been around for exactly two years now. It uses HMG's N3 front- and all-wheel drive platform and continues to be available with four- and six-cylinder engines. The life cycle will probably be seven years, so five remain, with a facelift due in 18-24 months' time.
Sport model grade and AWD standard
The EV, revealed at the Guangzhou motor show last November as part of Genesis' then-new debut in China, comes in one high-powered spec.
All-wheel drive is standard and there are motors on both the front and rear axles, the power and torque of each claimed to be 160 kW and 350 Nm. Combined outputs are 360 kW (in Boost Mode) and 700 Nm. The battery pack, which weighs 482.3 kg, has a capacity of 77.4 kWh. The vehicle itself tips the scales at 2,310 kg unladen.
Charging – as fast as 350 kW
Thanks to an 800 V electrical architecture and 350 kW charging (where available), the battery can be charged from 10% to 80% in as few as 18 minutes.
Even in the real world, way less rapid replenishment is fine. What matters is that HMG has given the vehicle an advantage for the time when superfast chargers are easier to find.
The official WLTP maximum range is 283 miles, which is competitive with most e-SUVs of a similar size. And given the abundance of power, it's as fast as expected too, zero to 62 mph taking 4.2 seconds in Boost mode or 4.8 without the use of that button (for short bursts). At 146 mph, top speed is high for an EV.
Big battery yet a big boot too
Other numbers are a boot volume of 503 litres, expanding to 1,678 (VDA) which surprised me to read as the floor is fairly high. Stand back and take in the GV70's shape though and you soon realise that Genesis' design team has cleverly made what is a tall SUV look lower to the ground.
The large grille with its integrated and well hidden integrated charging flap is different to the one on the ICE versions. It does look genuinely upscale – if plastic can be on any car – and the brand's stripes-for-lights add to the impression of a distinctive vehicle.
Buyers – mostly early adopters
Owners will have to get used to being constantly asked 'what is a Genesis?' as that word appears across the tailgate. Those who buy any of the brand's models will likely be happy to answer, such buyers inevitably attracted by the idea of being in at the start of something new. Especially when they can boast of how successful Genesis is in some of the world's largest markets.
"The Korean Lexus" is what I tend to tell people – and there are usually a lot of such enquiries – when a press test car has been with me in the past. Then in answer to what a Genesis is like to drive, I've always been able to give a positive reply.
Silent, yet an e-GV70 attracts attention
Nobody had the chance to interrogate me about the Electrified GV70 as time was limited to a couple of hours attending the UK media preview drive event. The cars did turn heads though, at one point several of us being in a motorway convoy.
At legal limit speeds, the new EV is an extremely smooth and obviously near-silent ride. Get off the dual carriageways and while it will roll a bit if pushed, the standard Sport suspension set-up works well on the UK's typically bashed-about roads.
If I had to level some criticism it would be towards the width of the model but the E-GV70 has that in common with most electric SUVs (although not the GV60).
Luxury interior
The interior is, like other Genesis models, beautifully crafted. You can easily spend close to seventy grand adding various option packs and yet even the standard one model grade car is generously specified.
I wasn't surprised to learn from senior staff attending the launch that most sales have so far been to retail customers: open any door and the Genesis in question, including this new one, looks luxurious. There is a precision to all the controls, everything is lovely to touch and looks as though it's going to last a very long time. Which is also why the Lexus comparisons are valid.
Toyota's premium brand took a long time to expand in Europe and only now is it really succeeding, Germany being the main exception – it's hard to thrive there if you're not Mercedes, BMW or Audi.
Summary
This new Genesis E-SUV is certainly good enough to mix with the existing big names in the relevant premium segment. And just maybe, as all the rules are shifting, i.e. people are paying more than GBP50,000 for certain electric Kias, Fords, Hyundais and Nissans, the new Electrified GV70 could succeed.
On the road pricing starts at GBP64,405 with UK deliveries due to start later this month.
*Russia (where in August Genesis was the top premium brand – 109 sales and 1078 YtD – due mostly to the withdrawal of most rivals) is not part of Genesis' European region