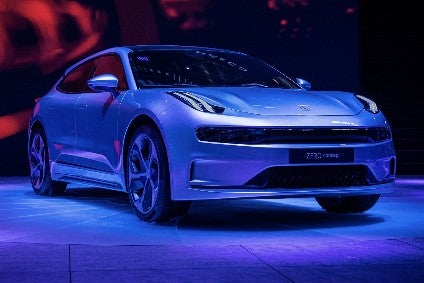 Extra models, more PHEV options and the market itself being in a totally different place to where it was in 2020 saw Lynk & Co's February sales quadrupling to 11,825 vehicles. Next comes a couple of especially tricky tasks; namely launching the brand in selected European and US cities, the aim being to eventually lessen the reliance on China. We can also expect an expansion of the model range, new drivetrains and the arrival of some next generation Geely and Volvo platforms.
Even allowing for the collapse of the Chinese car market in early 2020, the recent, dramatic year-on-year rise in sales has been an astonishing achievement by Lynk & Co.
The division had 175,439 wholesale deliveries last year, a rise of 37% over 2019. The 03 was the best seller (70,317), followed by the 05 (32,502), 01 (31,619), 02 (21,301) and 06 (19,700). For reasons known only to its parent firm, there's still no Lynk & Co 04 but perhaps that will change later in 2021.
Cars & crossovers
A prototype of the first vehicle for PMA (Pure electric Modular Architecture) was revealed as the 5m+ Zero concept at the Beijing motor show in September 2020. Also known as SEA (Sustainable Experience Architecture), this EV platform is to be shared by Geely, Volvo, Polestar and Lynk & Co.
Geely says SEA "can accommodate smaller A-Segment through to larger D and E segment vehicles, and will have a variant developed for Light Commercial Vehicles with different packaging offerings including front, rear and all-wheel drive specifications".
The development code for this big hatchback is DC1E and while the model name isn't yet known, it could be 07 or 08.
While PMA/SEA is said to be fully adaptable for front-, rear- and/or four-wheel drive applications, DC1E will supposedly be offered in RWD and 4WD forms. It's claimed that there will be two motors and a 100 kWh battery pack. A smaller pack and single motor also seems likely. The Zero concept was claimed to have 400 kW of power and a range in excess of 700 km.
Geely stated in March 2020 when announcing its profits for 2019 that the first vehicle for PMA would be 'unveiled' later that year but it did not name the model in question. Production would commence towards the end of 2021 at a new plant in China's east.
Images of the 06, initially only as a plug-in hybrid, were disclosed by China's Ministry of Industry and Information Technology (MIIT) in December 2019. This was the first time that the model, a crossover/SUV, had been seen. The 06 PHEV is 4,340 mm long and has a 2,640 mm wheelbase. The second of these numbers is shared with the Geely Icon, a model which is known to be based on BMA rather than CMA, the platform used for all previously launched Lynk & Co models (01, 02, 03).
The 1.5-litre three-cylinder petrol engine has outputs of 130 kW (177 PS) and 265 Nm in standard form or 140 kW (190 PS) and 300 Nm as a 48 V mild hybrid. Chinese market sales commenced in August 2020. That should mean a facelift can be expected in 2024 and a successor in 2027. That car will almost certainly be an EV.
The 05, which is a crossover-coupe, was also launched in China during 2020. Revealed in December 2019 but not available until six months later due to COVID-19 disruptions, it is 4,592 mm long, 1,879 mm wide and 1,628 mm tall and based on the 01 but with its own body. So far the only engine is a 254 PS and 350 Nm 2.0-litre petrol turbo. There should also be a PHEV derivative.
As noted above, even though it's the oldest model in the line-up, the first deliveries having taken place in December 2017, the 01 is still a good seller. Now only two years away from replacement (there was a facelift in 2019), this is the launch model for the brand's European roll-out, or rather its two petrol-electric variants.
The 4,541 mm long 01 PHEV is powered by the combination of a 1,477 cc three-cylinder turbo petrol engine plus one electric motor. Outputs are 132 kW (180 PS) and 265 Nm. The maximum range in EV mode is claimed to be 70 km. The 01 HEV, a hybrid, was announced at the Guangzhou motor show in November 2019, some eighteen months after the debut of the PHEV. It has the same engine, with power and torque being 105 kW (140 PS) and 215 Nm. Both hybrid and plug-in hybrid are front-wheel drive and have a standard seven-speed dual clutch transmission.
The HEV and PHEV are also being launched in a few European cities this month with others due to be added later in the year. Cars are leased via what the brand calls a 'membership' for circa €500 a month, which includes almost all costs aside from fuel/electricity. Lessees can also sub-let the car via an app for times when they don't need to use it.
More details on other current and yet to be revealed Lynk & Co vehicles can be found in PLDB. See the link below.
Reports for many other manufacturers' future models are grouped in the OEM product strategy summaries section of just-auto.com.
Future platform intelligence
More detail on past, current and forthcoming models can be found in PLDB, the future vehicles database which is part of GlobalData's Automotive Intelligence Center.
This is the second report in a five-part series with Geely's brands as its focus. Maple, Geometry and Geely itself were first; next come Proton and Lotus, then Polestar and finally, Volvo.