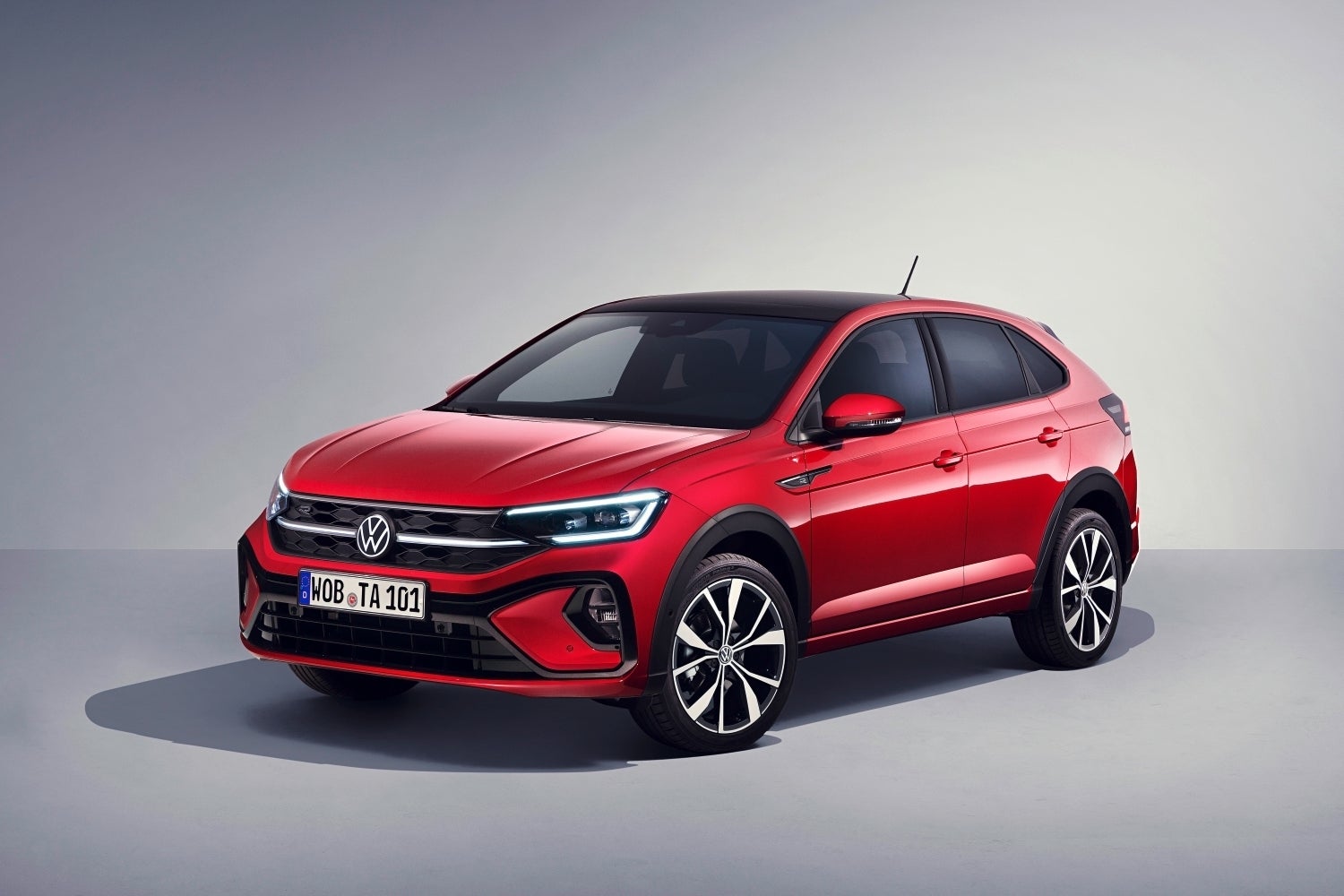 Crossovers & SUVs
The Taigun is one of VW 's newest SUVs. It  is manufactured in India for the local market and there could be exports in 2022. This small SUV and its Skoda Kushaq twin are based on a special low-cost version of the Volkswagen Group's front-wheel-drive MQB AO architecture. The first examples were delivered to buyers in August, production having commenced during the previous month.
In addition to the unique platform (MQB-AO-IN), the Taigun has modified suspension. The standard engine is a 1.0-litre three-cylinder petrol turbo, with outputs of 116 PS and 200 Nm with a 1.5-litre four-cylinder optional. Gearboxes are six-speed manual or seven-speed DSG.
Expect an eight-year life cycle for this model, which means a facelift in 2024.
Another fresh model, at least fresh to European markets, is the Taigo. This small, front-wheel drive crossover was first announced for South America last May. Sold there as the Nivus, it is built at VW do Brasil's Anchieta plant in São Bernardo do Campo, near the city of São Paulo. For Europe, production takes place at the Volkswagen Group 's Landaben plant near Pamplona with the first examples in showrooms now.
The Taigo/Nivus share a lot with the T-Cross and Polo, including the MQB A0 architecture. There is no electrification, which is an odd omission. This could be rectified at the time of a facelift (late 2024) if not before. The second generation – due in 2028/2029 – will undoubtedly be electric.
The e-Tharu, an electric SUV built by SAIC Volkswagen, is one size larger than the Taigun and Nivus/Taigo and T-Cross. Available in and specific to China since November 2020, it is powered by a 100 kW and 290 Nm motor. Energy is stored in a 44.1 kWh battery. The NEDC range is up to 315 km. Aside from the e-Tharu badge on the tailgate, looks are almost identical to the petrol-powered original which is called Tharu.
It's not yet known if the Tharu's Volkswagen Taos twin will also be joined by an EV. Production of the Taos is in both Mexico and Argentina, the model with that name being mostly for the Americas. A facelift is now one year away with replacements due from the second half of 2026.
VW's other main Chinese JV builds the Tayron, FAW Volkswagen being due to give what is effectively a long-wheelbase version of the T-Roc a facelift next year. Sales of this 4.6 m long SUV started in September 2018.
Meanwhile, in Europe, Volkswagen is fast becoming a big name in electric crossovers and SUVs. The latest one is the ID.5, which had its public premiere was in near-production form at the Munich IAA in September.
This crossover-coupe will also be available in GTX form during 2022. That model grade means slightly different exterior and interior touches as well as more power and all-wheel drive. There will be the inevitable battery upgrades during this model's life cycle, and that should last until 2029 with a round of styling updates in the second half of 2025.
Volkswagen of America's big Atlas SUV is the same model as SAIC Volkswagen's Teramont. US production started first (late 2016), followed by build in China in 2017.
That sequence has been maintained, a facelift equivalent to North America's 2021 model year Atlas premiering at the Shanghai motor show in April.
Volkswagen may take the bold step of not directly replacing these twins. Instead, the electric SUV which was previewed by the ID. Roomzz concept might serve as the successor.
The Atlas will likely be built for seven or eight years, which would mean production would still be taking place in 2023 and 2024. The same fate might befall the Touareg although exports to China remain lucrative even if the model has lost most of its sales momentum in Europe.
The Talagon, a huge SUV, premiered at the Shanghai motor show in April. It had been heralded by the SMV ('Sports Multi-Purpose Vehicle), a concept which was revealed at the same event two years previously.
This 5,152 mm long model can be thought of as FAW Volkswagen's equivalent to SAIC Volkswagen's Atlas. The only engine announced so far is a 2.5-litre V6 linked to a seven-speed DST but four-cylinder versions should be added in 2022. A facelift will then come two years later and an electric successor in 2028/2029.
Pick-ups
A 4.5 m long pick-up called Tarok should be launched in the Brazilian market next year, a competitor for the Fiat Toro and Renault Duster Oroch. Set to look very similar to a concept of the same name from three years ago, the Tarok will likely be exported to multiple countries in the Americas.
While Brazil's future pick-up will use a monocoque construction, the successor for the larger Amarok will again have a ladder frame chassis. Unlike the existing model, the next one will be manufactured by Ford Motor Company rather than by VW itself. The lead plant is Silverton, a suburb of Pretoria.
The new South-African-built one-tonne pick-up will be launched in 2022 and powered by Ford engines. There should also be a plug-in hybrid for both VW and Ford's own twin, the next Ranger.
Reports for many other manufacturers' future models are grouped in the OEM product strategy summaries section of Just Auto.

Future platform intelligence
More detail on past, current and forthcoming models can be found in PLDB, the future vehicles database which is part of GlobalData's Automotive Intelligence Center. That includes Volkswagen crossovers, SUVs and pick-ups not covered in this report.
This is the second in a multi-report series looking at the brands of Volkswagen AG. It follows an overview of selected VW cars and MPVs. Next come features on future Audis, Porsches, Škodas, SEATs & Cupras, Bentleys and Lamborghinis.