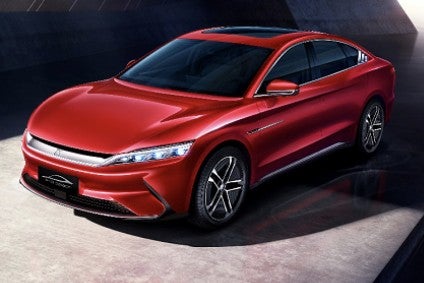 As Tesla ramps up Model 3 production at its Lingang plant and prepares to add the Model Y, might the era of BYD as Chinese market EV champion be ending? The battery, car and bus maker has a portfolio comprising petrol and PHEV vehicles as well as electric ones, but must it now choose to spend heavily on one technology for the models it will launch later this decade?
A recent just-auto news report noted a six fold month on month jump in BYD's home market sales to 30,599 units in March (but down by 35% year on year) while first quarter sales almost halved to 61,273 units (-48%). The split was 22,192 New Energy Vehicles or NEVs (-69.67%) and 39,081 cars and SUVs powered solely by combustion engines (-11.99%). What will April and the remainder of 2020 bring?
The good news is that dealerships are fully open, customers are visiting and in theory, EVs could become far more desirable than they had been in 2019. A number of factors would be in play here, including incentives funded by manufacturers, as well as others distributed by the national and provincial governments. The belief that ever more electric cars would mean less toxic air in the country's more congested cities, plus the recent experience of this during the period of lockdown should not be underestimated either. BYD should therefore be in a strong position to benefit from any potential surge in demand for EVs and PHEVs.
It's way too early to estimate how this current quarter will be for the company, let alone the remainder of 2020. Last year does at least provide a guide as to the size of the brand's presence in the local passenger vehicle market, even if much changed – potentially only temporarily – in recent months. With a stated 10,160 wholesale deliveries, Tesla's Shanghai-made Model 3 outsold the next best selling so-called NEV, the BYD Qin EV, by more than 5,000 cars in March. BYD is going to have to redouble efforts in its fightback against not only Elon Musk's firm but others such as Nio, which continues to insist that it is a viable business.
With the rise of Tesla in China, BYD must also show that it remains a force to be reckoned with. It has a solid base at least, is a well known brand name and retail sales in 2019 were a decent 395,567. Compared to the prior year, this was a -5.5% decline in a market that dropped by 4%. Wholesales (vehicles delivered to dealerships) were 451,226, down by 9.8%, with the market falling by 8.2%.
At a retail level, BYD ended the year in 18th place behind Chevrolet and well ahead of some names that are big in many overseas markets, such as Kia, Skoda and Ford.
The company's other strength is its diversified nature, batteries and electric commercial vehicles being but two of many income streams. Crucially, a growing percentage of income is derived from countries other than China. It's new cars that this report is concerned with though, and the first of these, the much anticipated Han, is just ten days old and rolling off the production line at a rapidly increasing rate ahead of the first deliveries in June.
SUVs
The e2, a prototype of which was exhibited at the Shanghai motor show in April 2019, is a 4,100 mm long electric SUV which was released for sale in China two months later. BYD says the model has a 70 kW and 180 Nm permanent magnet motor and lists the ternary-lithium battery pack's capacity as 40.62 kWh. The life cycle should last until the second quarter of 2026 with a facelift in 2023.
The s2, also previewed at last year's AutoShanghai, is to be a compact SUV that will be launched in China later in 2020. As with most other BYD models, the production life should be close to seven years, which would also mean a styling refresh and battery pack upgrade in 2023.
The Yuan, a 4.4 m long crossover with a side-hinged tailgate, is also available in electric forms. Launched in China two years ago, the least expensive of a pair of variants is called EV360. A ternary lithium battery allows a claimed range of up to 305 km and the cells can be recharged to 80% of capacity in 30 minutes via a fast charger. BYD says the EV360 has a self-developed PMSM (permanent magnet synchronous motor). There are two output options: 70 kW and 180 Nm or a pricier 160 kW and 310 Nm alternative.
An EV535 was added to the line-up in March 2019. Its claimed range is up to 535 km. There should be a facelift for the whole range in the fourth quarter and a successor model in 2023.
The Song Pro, BYD's best seller of 2020 so far, is derived from the Dynasty concept. This SUV prototype was revealed at April 2017's Shanghai motor show. The production model was launched at the 2019 edition of AutoShanghai. BYD said at that time that the 4,650 mm long model is based on its 'BNA architecture'. Production commenced in July last year and there are three powertrain choices: combustion engine, plug-in hybrid and electric. See the link to PLDB below for further details.
BYD should facelift the Song Pro triplets in 2023 and depending on trends in China, replace possibly only the EV in 2026.
The Tang, which is in its second generation, had its world debut at the Beijing motor show in April 2018 and was on sale in China two months later. As with the first model, which was only around for three years, it is a 4.9 m long SUV with a petrol-electric plug-in hybrid powertrain. However, one major difference is the availability of an EV version which was added in March 2019.
Both PHEV and EV are due for facelifts in 2021 with the third generations due to hit the Chinese market in 2024. The EV will be the launch model for the brand's entry to Norway, a new market for BYD, later this year.
Daimler and BYD's Denza X is based on the Tang.
Cars
BYD offers multiple cars, one of the most recently launched being the e3. This 4,450 mm long sedan joined the e1 and e2 in October 2019. So far at least, sales have been restricted mainly to China. A facelift is expected in mid-2023 and a replacement in 2026.
The Qin Pro is one size up from the e3. This 4,765 mm long sedan had its global debut at the Beijing motor show in April 2018, supplementing rather than replacing the Qin.
Buyers in the Chinese market have a choice of petrol, EV or PHEV powertrains: 109 hp 1.5-litre petrol, 154 hp 1.5-litre petrol turbo, 163 hp electric with a claimed range of up to 500 km, and 285 hp combined from a 1.5-litre petrol turbo engine and a 150 PS motor. Chinese market sales got underway in September 2018 and the mid-life updates for all variants are due in 2021. The life cycle should be seven years.
A few details of the Han DM and Han EV were announced to the Chinese media in January. These 4,950 mm long electric sedans will differ slightly in their styling. While the EV will be available in one or two motor forms, the DM is a plug-in hybrid powered by a 2.0-litre petrol turbo engine and a single motor. The ternary lithium battery has a capacity of 17.1 kWh.
The single motor EV is said to produce 222 hp and have a stated range of 506 km. The NEDC range of the two-motor EV isn't yet known. Its outputs are to be 222 (front) and 272 hp (rear). The EVs will reportedly be the first vehicles to have BYD's own so-called 'Blade Battery'. This has a lithium iron phosphate (LFP) chemistry.
TMC-BYD joint venture
Toyota Motor Corporation stated last July that it had "signed an agreement for the joint development of battery electric vehicles (BEVs)" with BYD Company Ltd. The firms would "jointly develop sedans and low-floor SUVs as well as the onboard batteries for these vehicles and others with the aim to launch them in the Chinese market under the Toyota brand in the first half of the 2020s".
Further details of the specifics of the vehicles in question are awaited but given when the accord was announced, the first one should be released in 2022 or 2023.
Reports for many other manufacturers' future models are grouped in the OEM product strategy summaries section of just-auto.com.
Future product program intelligence
More detail on past, current and forthcoming models can be found in PLDB, the future vehicles database. That includes past, present and future models which were not in the above report.
The next OEM to feature in the future models reports series will be Qoros.