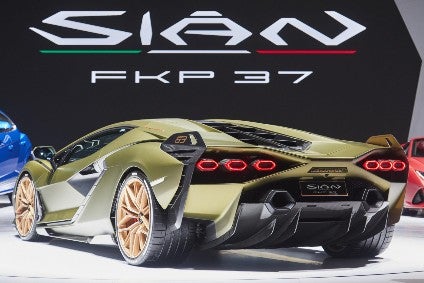 A year ago, Bentley was in its parent's bad books, being publicly chastised by Wolfgang Porsche and Hans Michel Piech. Now, after selling more than 11,000 vehicles in 2019, it's back in the black and on steadier footing. Lamborghini too had a good year and is working on several new models including a Urus PHEV. As for Bugatti, a new W16-powered model is looking ever more likely for the early 2020s.
Bentley
Some of the financial problems experienced by Bentley were caused by delays in getting the Continental GT approved by relevant authorities for compliance with new WLTP emissions regulations. It was a case of waiting for testing stations to work their way through a huge volume of other models, which meant not only frustration for Bentley and its customers but had a major impact on cashflow. Now, all is well and the coupe has been joined by a Continental GT Convertible.
The first engine to be announced was a 635PS and 900 Nm (664 lb-ft) version of the Volkswagen Group's W12, which is linked to an eight-speed dual clutch transmission. There is also a 48V electrical system. A V8 for both bodies was then announced in March 2019. The biturbo 4.0-litre V8 develops 550PS and 770Nm (568 lb-ft). The first deliveries were in the US during the third quarter of 2019 for the country's 2020 model year, with the Continental GT V8 and Continental GT V8 Convertible reaching other markets from early this year. A plug-in hybrid, which uses the engine and motor in the Panamera 4 E-Hybrid, should follow.
Both coupe and convertible should be facelifted in 2022. Their successors are due in 2025 and 2026.
The latest Flying Spur, announced to the media in June 2019 and shown to the public for the first time later that month at the Chantilly Arts & Elegance, uses the Porsche-developed MSB architecture. This 5,316mm long sedan is effectively a four-door version of the Continental GT and GTC. The Spur can be optionally specified in so-called Blackline form, which means that all the exterior brightwork is black. After the final Mulsanne is built in April, the Spur becomes the brand's top sedan.
Normally rear-wheel drive, torque is automatically sent to the front wheels when needed. Also, there is air suspension and four-wheel steering. During low-speed manoeuvres, the system steers the rear wheels in the opposite direction to the front wheels. This reduces the turning circle to make parking easier. By contrast, at high speed, the back axle is steered in the same direction as the front wheels so as to improve stability.
Powering the Spur is a biturbo 5,950cc W12, mated to a ZF dual-clutch eight-speed transmission. Outputs are 467kW (635PS) and 900Nm (664 lb-ft), 0-100 km/h takes a claimed 3.8 seconds and the top speed is 207mph (333 km/h). Bentley says unladen weight is 2,427kg.
Production commenced in mid-October 2019, with the first customer deliveries taking place in January. Later in the year, a V8 will be added to the range, as will a V6 PHEV. A Flying Spur Extended Wheelbase as well as an even lengthier Mulliner Limousine should be inevitable further additions, replacing cars from the Mulsanne line-up.
As a nine-year life cycle seems likely, the Flying Spur's mid-life facelift should arrive in 2024. It is too early to predict what will power the successor which could be as far off as late 2027 but it may well become an EV.
Along with one coupe, one convertible and soon, just the one sedan, the Bentley model line-up of course contains an SUV. The Bentayga, which is the division's best seller, has been in production since November 2015 and so should have been facelifted by now. The scheduled update, probably delayed due to pressure on Bentley to save cash in 2019, should happen in the months ahead. The most recent news was the announcement of four- and seven-seat versions three months ago.
Bentley labels the PHEV Bentayga Hybrid. This variant had its world premiere at the Geneva motor show two years ago. Bentley said it would become available in certain countries during the second half of 2018. However, due to delays in WLTP certification, availability took until September 2019.
The plug-in hybrid's powertrain consists of a Volkswagen Group turbocharged 3.0-litre petrol V6 and a 94kW/400Nm motor. Combined torque is 700Nm. The WLTP maximum range is 39km/24 miles. Bentley says the top speed is 254 km/h (158 mph) and that 0 to 100 km/h takes 5.5 seconds. Unlike other Bentaygas, this one is a four-seater only, i.e. it cannot be ordered in seven-seat form.
Bentayga production will likely continue in Crewe until early 2024, at which point a second generation model will arrive.
Lamborghini
Thanks to the addition of the Urus, Lamborghini is these days in rude health, returning ever higher profits and rising sales in most main markets. Even though the USA remains a major market, what has happened in China in recent times means 2020 could be tougher.
What is now badged Huracán Evo is six years young and still selling very well. The aluminium and CFRP platform, MSS, is the same as that used for the second generation Audi R8. Powered by a normally aspirated V10, depending on the version, power and torque are sent to either the back axle or to the front one as well.
The Huracán Spyder had its worldwide debut at the Frankfurt IAA in September 2015. Since then there have been other additional variants and this has proved to be a good way of keeping the model in the press and therefore in demand. The 640hp Huracán Performante, for example, had its world premiere at the Geneva motor show in March 2017, with the Performante Spyder following one year later.
Lamborghini debuted the Huracán Evo and Huracán Evo Spyder at last year's Geneva motor show. The Evo suffix was added to signify a facelift. More recently, the Evo Rear-Wheel Drive was announced (but as yet, no Spyder). The engine is a 449kW (610hp) and 560Nm version of the firm's 5,204cc non-turbo V10, with drive via a seven-speed dual-clutch transmission. Dry weight is said to be 1,389kg.
The Huracán replacement is expected to be a plug-in hybrid although the petrol engine should remain a normally aspirated V10. The car will likely be announced in 2023 and enter production in the final few months of that year.
We should see the Aventador replacement in 12-18 months' time. This model will be a plug-in hybrid, with the combustion engine a normally aspirated V12. The company has to comply with legislation which may exclude cars with combustion-only powertrains from certain cities, thus the addition of PHEV technology.
The Sián FKP 37 (pictured) is the brand's first hybrid supercar. The powertrain consists of a 6.5-litre V12 paired with a 34hp motor on the rear axle. Official combined power is 602kW (819hp). The company will make 63 examples of this Aventador-based car to commemorate the year of the firm's founding. The name Sián means a flash or lightning in the Bolognese dialect.
The motor is integrated into the gearbox and is connected to the wheels to allow electric power for low-speed reversing and parking. Lamborghini claimed this to be a world first for a low-voltage hybrid powertrain. And rather than a lithium-ion battery, energy is stored in a supercapacitor, the advantage being a major weight saving.
FKP 37 was added to the car's name in honour of Ferdinand K. Piëch, his year of birth also being commemorated.
There is constant speculation about when rather than if Lamborghini will gain another model. CEO Stefano Domenicali insists that the addition of what could turn out to be a 2+2 Gran Turismo will not happen until mid-decade.
Bugatti
In an era when Pininfarina, Aston Martin, Lotus, Rimac, Ferrari and others are selling out small production runs of hypercars with multi million euro/dollar price tags, has Bugatti lost its cachet and USP? The only model which it current offers has been available for almost four years now, and production will end in 2021 after 500 cars (plus various low-volume editions such as the Divo and Centodieci) are made.
What will replace the Chiron, and will it be fully electric or have some form of electrification? Bugatti has dropped hints from time to time about a hyper-luxury sedan but that doesn't necessarily mean that the division has been able to make a water-tight business case for such a vehicle to its owners in Wolfsburg.
A concept or prototype of what follows the Chiron could be seen fairly soon and the inside word is that Bugatti's W16 engine is safe for the future too, CEO Stephan Winkelmann stated as recently as January. Production of the marque's next vehicle is expected to get underway in 2022.
Reports for many other manufacturers' future models are grouped in the OEM product strategy summaries section of just-auto.com.
Future product program intelligence
More detail on past, current and forthcoming models can be found in PLDB. That includes models which were not discussed in the above report.
This was the last of eight features in a series examining the current and future models of Volkswagen AG's passenger vehicle brands. The previous seven were as follows: Volkswagen cars; Volkswagen SUVs and pick-ups; Audi cars; Audi SUVs, Škoda; SEAT and Cupra; and Porsche.
The next OEM to be featured will be Great Wall Motor and its five brands.