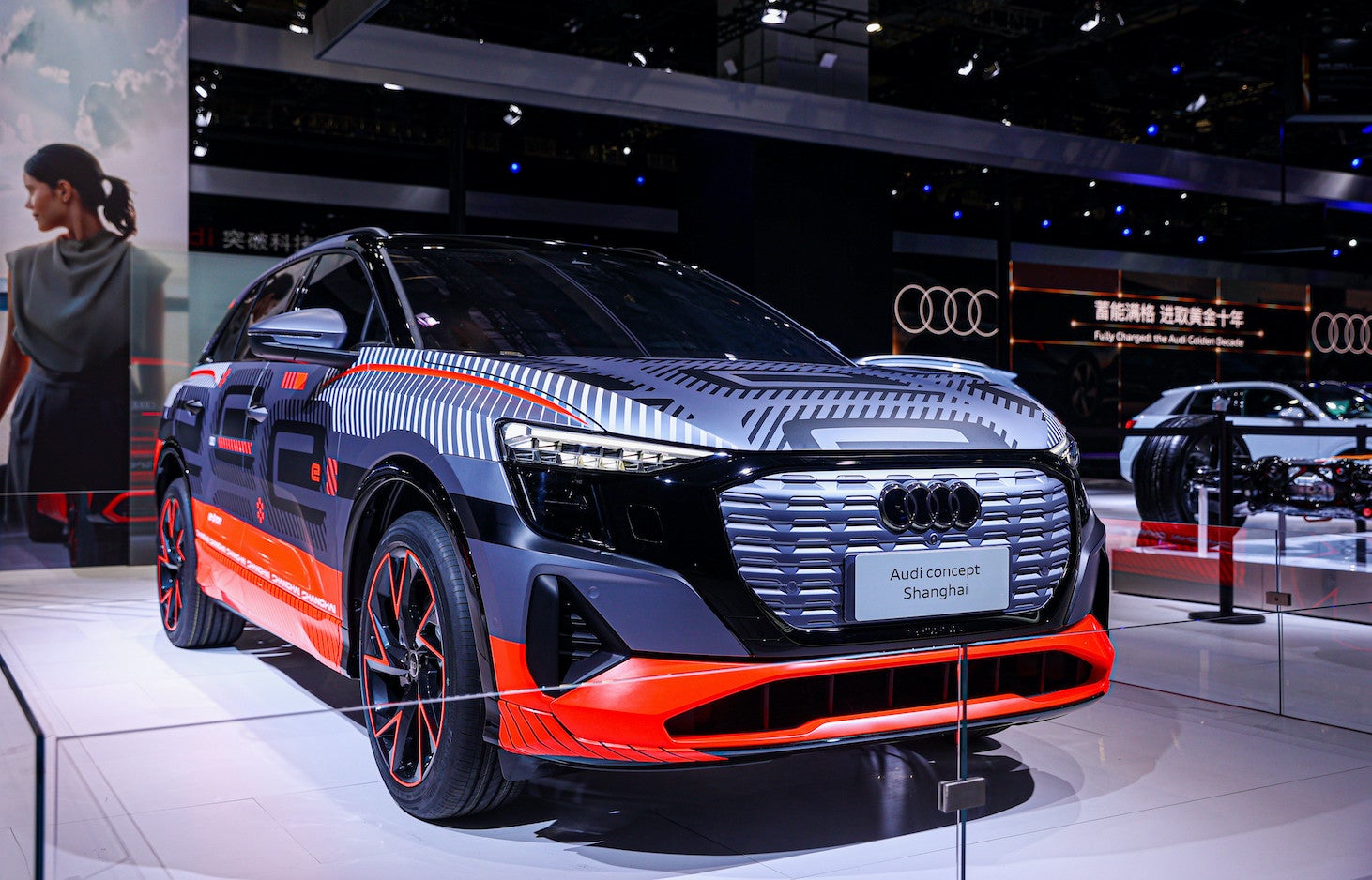 Volkswagen 's mass-premium division has remained absent from the size class below the Q2. There is certainly potential for an SUV shorter than the brand's current smallest model which is 4,191 mm long.
Officially, Audi has no plans to add a Q1 but the company will likely launch an electric-only Q1 e-tron by mid-decade. The forthcoming MEB-K architecture should be the platform.
Announced in July 2020, the Q4 e-tron Sportback would enter production during the third quarter of 2021, Audi said.
Compared to the Q4 e-tron (see link to PLDB below for details), this 4.6 m long EV has a lower and more steeply raked roofline.
Both Q4 e-tron and Q4 e-tron Sportback are built at the Volkswagen Group 's Zwickau factory in Germany's east. Production commenced in July.
The range so far consists of three variants:
Q4 Sportback 35 e-tron – rear-wheel drive, 52 kWh net energy content battery (55 kWh gross), 125 kW (170 PS) & 310 Nm, single motor
Q4 Sportback 40 e-tron – rear-wheel drive, 77 kWh battery (82 kWh gross), 150 kW (204 PS) & 310 Nm, single motor
Q4 Sportback 50 e-tron quattro – all-wheel drive, 77 kWh battery (82 kWh gross), 220 kW (299 PS) & 460 Nm, two motors
Along with production at SAIC Volkswagen's Anting Auto City plant in Shanghai, other derivatives will almost certainly be added in 2022/2023 ahead of a mid-cycle freshening in 2025. The successor is due in 2027/2028.
The Q5 e-tron, due for launch within months, will be an unusual model due to its size compared to other Q vehicles. Audi revealed the Concept Shanghai at the Shanghai motor show in April, this being a preview of a 4,876 mm long six and seven-Seat electric SUV. Both length and wheelbase are identical to SAIC Volkswagen's ID.6 X.
The China-only Q5 e-tron will be the SAIC Volkswagen joint venture's second locally built Audi after the A7 L, another special vehicle for that market (all others have been part of FAW VW ).
There will be an initial three versions and a choice of 58 kWh and 77 kWh battery packs:
Q5 e-tron 35 – 135 kW & 310 Nm RWD, single motor
Q5 e-tron 40 – 150 kW & 310 Nm, RWD, single motor
Q5 e-tron 50 – 225 kW & 472 Nm, AWD, two motors
The maximum range is 560 km (according to China's CLTC-P which replaced NEDC). And as for the life cycle, that should be seven-eight years, meaning a facelift in 2026.
Audi is expected to fill in yet another gap in its Q numbers with the addition of the Q6 e-tron in 2022. The electric crossover will share much with the EV version of the next Porsche Macan. It should be positioned below the e-tron and e-tron Sportback, so around 4.7 m long.
Due in 2023/2024, a replacement for the Q7 seems likely to become an EV although that may not be the whole story.
It might be the case that Audi ends up selling two Q7s, or rather one basic model with combustion engines including a TFSI e (plug-in petrol hybrid) plus the electric Q7 e-tron for markets where such a vehicle has some potential, namely Europe and China as well as parts of North America.
The Q8 too will have an electric variant for the first time as it goes into a new generation in 2026, and this will be manufactured at the Forest plant in Brussels, sources indicate. It is unclear whether or not the ICE-powered Q8 versions will again be built at Bratislava.
The big SUV is expected to be the final Audi vehicle to be launched with combustion engines.
Prototypes of an XL sized Audi SUV were photographed undergoing winter tests in March. This suggests that the long-rumoured Q9 will arrive during 2022 to take on the Mercedes GLS-Class and BMW X7. As for the manufacturing plant, Bratislava seems the most likely option.
Reports for many other manufacturers' future models are grouped in the OEM product strategy summaries section of Just Auto.

Future platform intelligence
More detail on past, current and forthcoming models can be found in PLDB, the future vehicles database which is part of GlobalData's Automotive Intelligence Center. That includes Audi SUVs not covered in this report.
This is the fourth in a multi-report series looking at the brands of Volkswagen AG. It follows overviews of selected VW cars and MPVs, VW crossovers, SUVs and pick-ups, and Audi cars. Next comes a feature about future Porsche cars and SUVs, then, what's likely to be coming for ŠKoda , SEAT and Cupra, Bentley and Lamborghini.