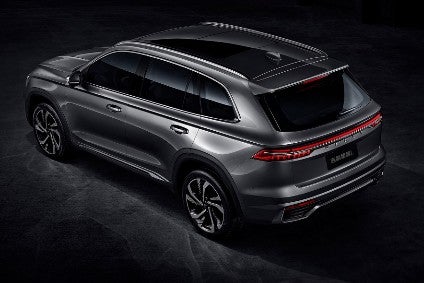 A 265% rise compared to February 2020 is obviously not a valid comparison but even so, there's no doubting how strong Geely Group's home market sales were last month. During the first two months, deliveries in China were up by 69% YoY reaching 216,194 Geely, Lynk & Co, Maple and Geometry brand models with exports doubling to 17,353 units. All being well, additional vehicles coming this year as well as various facelifts and replacements could keep the Geely brand in China's top five too.
Geely
It may well be five years old yet the Boyue continues to be a big seller. This 4,520 mm long SUV is built at Chunxiao (Ningbo) and Baoji and also in Belarus.
A July 2019 facelift was in fact the vehicle's second exterior restyle. The first one had its motor show premiere in Beijing in April 2018. Six months later, Geely began exporting the Bo Yue to Malaysia badged as the Proton X70, ahead of it being locally assembled. We should expect a successor for the Geely original in two years' time but the Proton will likely remain as is until around 2025.
Another model having a strong start to the year is the Binyue. Also spelt Bin Yue and known as the Geely Cool Ray in some countries, this is a 4.3 m long SUV. It went on sale in China in November 2018 and was the first SUV for BMA (B segment Modular Architecture). In addition to the standard 1.5-litre engine, there is a plug-in hybrid. Added to the line-up in 2019, the PHEV has a 1.5-litre three-cylinder petrol engine and one motor with combined outputs of 258 hp and 415 Nm. The range from the 11.3 kWh battery is quoted as being up to 62 km.
All versions of the Binyue should be facelifted in the second quarter of 2022 and then replaced in 2025. An evolution of BMA will almost certainly be the base for the Binyue 2.
It isn't just Geely's SUVs which have been performing strongly: some of the brand's cars also do very well in China. One such is the Xing Rui. Looking just like the Preface, a concept which premiered at Auto Shanghai in April 2019, the production model hit the market in October 2020.
This fastback sedan is 4,785 mm long and powered by Volvo's 190 hp JLH-4G20TD 2.0-litre four-cylinder turbo engine. Drive goes to the front wheels via a seven-speed DCT.
There should be a facelift for the Xing Rui in three years' time and a successor in 2027 but it's too early to say for certain what that model's platform will be. A standard electric drivetrain seems a safe bet though.
The name of a forthcoming 4,770 mm long SUV was announced in February. The Xingyue L (or Xing Yue L), yet another model based on Volvo and Geely's CMA platform, will be the first additional vehicle for the brand this year. It is believed that the standard engine will be a 160 kW 2.0-litre turbo, with a 175 kW version optional and an eight-speed Aisin automatic transmission for both. Further details will be communicated in the coming weeks ahead of the world premiere at the Shanghai motor show in April.
Baidu JV
Baidu and Geely Holding announced a JV for electric cars in January but did not disclose much else. Further details are awaited. The first vehicle might be an SUV but this is speculative. The media statement was as follows:
"As the world's leading artificial intelligence platform company, Baidu announced the formal establishment of a smart car company to enter the automotive industry as a vehicle manufacturer. Geely Holding Group will become a strategic partner of the new company."
It is important to note that the OEM partner is not Geely Automobile Holding Co., Ltd, which is a listed company.
Maple
The 30X revived the Maple name, reinventing it last April as an electric vehicles brand for the Chinese market. SMA (Shanghai Maple Automobiles) and Huapu ('Maple') branded small cars were produced in Shanghai from the start of the 2000s. Geely bought this company in 2003 but eight years later, the M203 was the only model being produced when the brand was shelved.
Strictly speaking, the now revived division is separate from other Geely marques. It was created by Fengsheng Automotive Technology Group Company Limited, a firm which is jointly controlled by the micro-SUV specialist Zhejiang Kandi Vehicle Company Limited and Geely Technology Group.
The Maple 30X is a Kandi GLEagle EX3 with lightly altered looks. The claimed range is said to be up to 305 km (NEDC). That is identical to what was claimed for the EX3 at the time of its launch in September 2018. Both these EVs are closely linked to the Geely Vision X3 which, rather than a battery pack, has a petrol engine.
There may only be one current model but as many as seven additional ones are promised by the end of 2023, its maker claims. Later in 2021 we'll see an electric MPV derived from the Geely Jiaji (Jia Ji), which has a petrol engine. It is thought that the range will be fairly limited and the top speed too. Geely is said to be equipping the Maple 80V with a swappable battery pack.
Geometry
A brand which is solely for EVs in higher price brackets than Maple already offers two models, the Geometry A and Geometry C. Details of these can be found via the link to PLDB below.
Next comes the T, a 4,755 mm long, 1,802 wide and 1,503 high electric sedan. Power will come from a 150 kW motor supplied by Nidec Automotive Motor (Zhejiang) Corporation (R&D) and the lithium ion battery pack by Viridi E-Mobility Technology (Ningbo).
Images published by China's MIIT (Ministry of Industry and Information Technology) in June 2020 show what is clearly a modified Geely Emgrand GL. That is also likely to mean that the life cycle for the T will be relatively short: the GL dates to 2016.
Reports for many other manufacturers' future models are grouped in the OEM product strategy summaries section of just-auto.com.
Future platform intelligence
More detail on past, current and forthcoming models can be found in PLDB, the future vehicles database which is part of GlobalData's Automotive Intelligence Center. That includes Geely, Maple and Geometry models absent from this report.
This is the first report in a five-part series with Geely's brands as its focus. Next comes Lynk & Co, to be followed by Proton and Lotus, then Polestar and finally, Volvo.