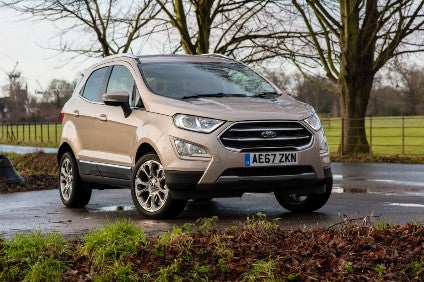 You don't have to rewind too many years to a time when the only SUVs on the roads were either in the US or limited to the off road specialist makers. Now everyone has one, from the cheapest volume maker to the high end sports car – even Ferrari has one in the pipeline. By 2020 one in three cars will be an SUV.
That's the view at Ford UK which has been rolling out the latest version of the EcoSport and, by the end of this year, its own SUV fleet will have grown from one two years ago to five – EcoSport, Kuga and Edge will be joined by Fiesta Active in May and "another" towards the end of 2018.
Chris Rushton, product manager for small cars at Ford UK, said its SUV sales had grown from 14,000 to 53,500 in the past three years with one in five of its sales last year in this segment.
The latest EcoSport is now assembled at the Craiova plant in Romania [home of the now defunct B Max] which significantly cuts the supply line from the original plant in India which will still make the model for domestic and regional markets.
Rushton said: "This will mean we are not restricted in terms of supply of vehicles and parts. Ford has invested some EUR200m (US$244m) to add EcoSport at Craiova and while the updates have not been radical they involve 2,300 new parts and some key investment in the chassis which will add all wheel drive in the middle of the year."
Intelligent All Wheel Drive measures how the car's wheels are gripping the road surface and can adjust torque delivery up to 50/50 between the front and rear wheels in under 20 milliseconds. The system seamlessly transitions torque between all four wheels and provides a more secure footing on the road especially in slippery conditions.
The AWD model will be powered by Ford's new 1.5 litre EcoBlue diesel engine designed to deliver higher power for improved performance, alongside reduced CO2 emissions.
A 125PS, 1.5 litre EcoBlue diesel model with front wheel drive and new, low friction, six speed manual gearbox will offer even lower CO2 and greater fuel efficiency from mid 2018. The 100PS 1.5 litre TDCi diesel engine combined with FWD and new six speed manual gearbox is available from launch, offering 4.1l/100km fuel efficiency and 107g/km CO2 emissions.
Also available are 140PS and 125PS versions of Ford's 1.0 litre EcoBoost petrol engine delivering 5.2l/100km fuel efficiency and 119g/km CO2 emissions.
Also from mid 2018, a 100PS 1.0 litre EcoBoost model will be offered with a six speed manual gearbox.
The 125PS 1.0 litre EcoBoost is also offered from launch with a six speed automatic gearbox featuring steering column mounted paddle shifters for convenient gear shifting, and delivering 5.8l/100 km fuel efficiency and 134g/km CO2 emissions.