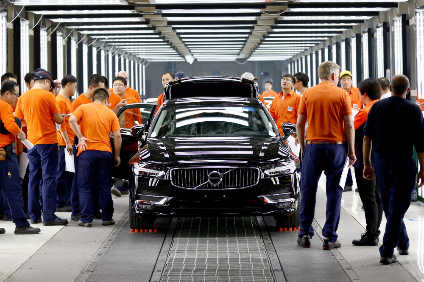 The year 2016 has been a strong one overall for Asia's automotive industry. Regional sales are expected to increase by 9.5% to a record 42m units this year, according to estimates by AsiaMotorsBusiness based on data from 11 key markets in the region. Tony Pugliese looks at the top five nfluential events that took place in the region during the year.
The total of sales for the region is approaching half of the global total and reflects mainly the rise of China as the world's largest vehicle market. Growth has been strong in other markets, but overall the individual performances has been mixed.
Chinese market growth
The continued growth in the Chinese vehicle market is definitely one of the most important developments in the region this year, and in fact for many preceding years. The numbers are just staggering. The market has had virtually uninterrupted growth in the 15 years since the country joined the WTO, at the end of 2001 – when annual sales were less than 3m units.
The country's vehicle market this year is expected to come close to 28m units, dwarfing any other vehicle market in the world and accounting for roughly one-third of global sales. It has been the main source of sales growth for most global automotive brands in the last decade and is by far the largest single market for the likes of GM, Volkswagen Group, BMW and many more.
But can this continue? There are certainly enough people in the country to drive demand much higher in the long-term. The short-term outlook in much less certain, however, despite reasonably good rates of economic growth.
The market this year has been driven higher by a 50% sales tax discount on cars with engines up to 1.6L, which reduced the tax rate from the normal 10% to 5% – but this is due to expire at the end of the year.
Given the importance of the automotive sector to the country's overall economy, the government is anxious to avoid a hard landing for this market. In January 2017, the discount will be reduced by half rather than withdrawn altogether, with the tax rate on small cars rising to 7.5%.
The market does have strong momentum and there may be enough of a discount in place to avoid a significant decline. Some analysts expect flat to low single-digit sales growth next year, contingent on continued strong economic growth.
Nissan's takeover of Mitsubishi Motors
The acquisition by Nissan Motor of rival Mitsubishi Motors in October was certainly a major event even by global standards. It created a new global automotive powerhouse with annual global sales in excess of 10m vehicles. It now rivals Toyota and Volkswagen group as the global leader, but it will take several years at least before most of the operations are integrated and economies of scale are harnessed.
Already, Group chairman and CEO Carlos Ghosn has identified some initial opportunities – integrating and standardising electric vehicle and hybrid technologies across the group. This will help generate some of the best economies of scale in the industry in these particular segments.
In the medium-term substantial cost savings will come from combining many engine and powertrain R&D functions, joint component purchasing and sharing – including standardising platforms across the group's many brands, similarly to what takes place within the Volkswagen group some 20 year ago.
There will plenty of cost-effective opportunities to strengthen Mitsubishi's passenger vehicle line-up in the medium term through vehicle platform and assembly plant sharing, in Asia as much as anywhere else in the world.
Strong growth of new tiger economies
Some of South-east Asia's smaller "tiger" economies have enjoyed very strong economic growth over the last few years and this has translated into sharp increases in vehicle sales.
The Philippines and Vietnam have enjoyed economic growth rates of 7% and 6% respectively this year, in a region where many developing economies have experienced slowing growth. These two countries have been playing catch-up with their larger ASEAN neighbours after a long period of under-performance.
Vehicle sales in the Philippines are expected to rise by close to 22% to a record 392,000 units this year, while sales in Vietnamare expected to be more than 31% higher at around 274,000 units, according to AsiaMotorBusiness. Vehicle ownership in these countries is much than in their larger ASEAN neighbours and both are playing catch-up to a large degree. But it looks like these vehicle markets have moved up to the next level and their governments are beginning to look at policies aimed at maximising economies of scale.
Ford withdrawal from Japan and Indonesia
One of the most unexpected news stories of the year was Ford's announcement to withdraw from both Indonesia and Japan. This follows General Motors' decision to close its assembly plant in Indonesia after just two years of operation and downsize its product range across in the region.
Ford has struggled to make progress in these two markets for some time, which contrasts sharply with the recent strong gains it has made in some of the region's smaller markets such as Vietnam and the Philippines.
Japan and Indonesia are countries in which Ford does not have vehicle production facilities, with the brand's presence purely based on imports.So it did come as a surprise as to why Ford felt it needed to throw in the towel altogether, rather than bide its time and perhaps appoint a third-party importer/distributor.
Ford obviously felt it could not compete with the might of the Japanese automakers, both with their economies of scale in the region and their product development. Leading Japanese brands develop models specifically designed for South-east Asia's emerging markets and this has helped underpin their dominance.
Honda has more than doubled its market share in Indonesia in the last few years with a couple of hit products and this must have felt like a major setback both for Ford and GM.
Mitsubishi Motors separates from Fuso
Perhaps slightly under the radar was the significant progress made by Mitsubishi Motors and Mitsubishi-Fuso in finally disentangling their local distribution operations across the Asia-Pacific region.
Mitsubishi Motors originally spun off its truck division into a separate company called Mitsubishi Fuso Truck & Bus Corporation (MFTBC) in early 2003 and Germany's Daimler took a 43% stake. But in many markets across Asia-Pacific they continued to share the same distributors and their vehicles were sold in the same dealerships.
In Indonesia local distributor KramaYudhaTigaBerlian Motors (KTB) agreed in October to spin off its Mitsubishi Motors distribution operations into a separate company – which is due to start operations in the first quarter of 2017.A new assembly plant near Jakarta is scheduled to be completed in the first quarter of 2017 for the production of a new compact MPV for regional markets. KTB will continue to control assembly and distribution of Mitsubishi-Fuso commercial vehicles.
A new separate importer and distributor was set up in Taiwan by MFTBC in July, called Daimler Trucks Asia Taiwan Ltd (DTAT), with local partner Shung Ye Trading Company Ltd (SYC) holding a 49% stake in the company. The existing distributor, China Motor Corporation, remains in place for Mitsubishi Motors.
In September,Daimler appointed a new distributor in New Zealand as part of its move separate the Mitsubishi-Fuso wholesale and distribution operations from those of Mitsubishi Motors.
Mitsubishi Motors is a strong brand that has under-performed in this region for many years. New dedicated distributors and dealers and a broader range of products that is expected to become available through its new alliance with Nissan is expected to lay the foundations for period of strong growth for the Mitsubishi brand.