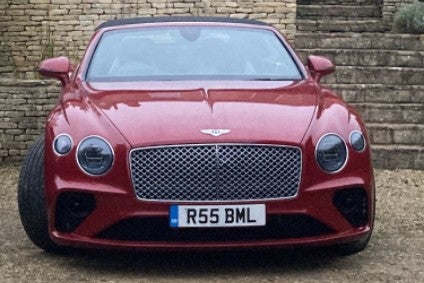 A lot can happen in a few days. A president may lose his job. Or the end of a hundred years of combustion engine history might be announced, which is what happened while I was enjoying five days with a Bentley .
Knowing that the Continental GT Convertible V8 and its twelve-cylinder brother would be the last of their kind only made the experience more treasured, for these are extraordinary cars. Not that the 4.0-litre and 6.0-litre engines will be vanishing just yet; far from it. Bentley has merely made public an intention to phase in hybrid and plug-in hybrid petrol power for some models and then, after 2025, to add full electric drive systems.
HEVs, PHEVs and EVS all coming
By 2030, all models will be EVs and the company has gone so far as to claim it will become carbon neutral. Another step on the journey is to offer a hybrid version "of every model line by 2023", as Bentley's recent 'Beyond100' media statement declares. Which means Flying Spur, Bentayga and Continentals. Confusingly, the petrol-electric Bentayga Hybrid is in fact a plug-in hybrid so we'll have to see what the others turn out to be: hybrids or PHEVs. No wonder research continues to show that car buyers are often perplexed by all the labels for electrification.
We may see a PHEV Continental in 2021, with the current V8 and W12 potentially staying around until mid-decade. Bentley has already said that it will add two plug-in hybrids next year, joining the Bentayga which uses the Volkswagen Group's turbo V6-plus-motor pairing.
The big SUV is on a different architecture to the Flying Spur and Continental, both of which use Modularer Standardantriebsbaukasten (MSB). There won't be a from-scratch engineering project based on the V8 due to Porsche already offering several MSB-based PHEV Panameras (several means varying power and torque and two powertrains). The 5,950 cc engine – built in Crewe by the way – is on borrowed time anyway, as has just been confirmed so we can forget about an electrified W12.
V6 or V8 plug-in hybrid?
As much as I love everything about the 550 PS and 635 PS engines in the Continental, there's also a lot of power and torque in the petrol-electric Panamera line-up so enthusiasts need not fret that PHEV means less oomph. The three variants have outputs of 340 kW/462 PS (4-E Hybrid), 412 kW/560 PS (4S E-Hybrid) and 420 kW/571 PS (Turbo S E-Hybrid). The 4S E-Hybrid has a 2.9-litre V6 whereas the least and most powerful of the triplets share a 3,996 cc V8. Yes, the same one – minus the plug-in hybrid system of course – which I thrilled to hearing in the Continental Convertible in recent days.
Let me leave the guesswork about which of the Volkswagen Group's larger capacity PHEV powertrains will be used by Bentley there and instead talk about open-top Conti . There are so very many great and memorable things about it, although one stands out.
It isn't because of how it accelerates or corners, or steers, or rides or even looks that saw me rate it one as one of my new favourite cars; it's how it sounds. Nothing like a properly big capacity bent eight in fact, although I know Ford's Coyote , Predator and Voodoo 5.0- and 5.2-litre V8s will rev even higher than the one in the Continental while emitting an even more thunderous bellow.
A Bentley behaving boisterously: no, that's never going to happen. Owners wouldn't want it that way either. Don't believe for a moment though that the marque's only open car is a mere GT developed to simply seduce lottery winners and monied foot/ballers: it can be easily persuaded to do a terrific muscle car impression, and that surprised me. It packs a punch but brutal it is not. Nor does it ever feel over-powered or in danger of scaring the driver or passengers.
Continental GT Convertible
When travelling long distance within England/Wales/Scotland or crossing the European continent again becomes possible, this will be one of the most pleasant ways to do so. It can be quiet when the dial on the central tunnel is turned to Comfort, and with just the right mix of firm-but-not-too-firm air springing. There's also a Bentley font B setting which is the default. The choice I liked was giving it one turn more, which activated the bass-heavy exhaust tone. As with something such as an F-Type SVR, this is an exciting sounding car even when the engine is fired up from cold. Never objectionable: it has presence.
Dropping the roof takes 19 seconds, and this can be done at up to 30 mph. There's very little buffeting, yet it's a pity that the wind-blocker has to be fitted manually, when other less expensive cabriolets have pop-up equivalents. In the Continental's defence, the one adult who had a ride in the back professed herself very happy to remain there and wasn't blown about, even with all windows lowered. Leg room is fine too, provided the person in the front isn't especially tall. So this really can be thought of as a four-seater.
Buyers may select from one of seven different fabric hood colours, including a tweed finish. I found it hard not to just lightly touch the ceiling above my head a couple of times as the material (is it Alcantara?) was a delight to brush a finger or four against.
Bush gyre
Every button you might wish to press, and there are a lot of them, has by contrast a firm action. Also, ventilation controls on the wide central tunnel are in practice a good place to be sited, while the large touch screen is a model of clarity. The test car had the revolving option at a breathtaking GBP4,820. It looks cool the way a beautiful panel of highly polished wood (in this car, Eucalyptus, which made me a tad homesick) silently rotates to reveal the screen when the ignition is pressed. And your eye cannot help but admire what must be hand-stitching for the dashboard's trim.
Thanks to the engine being able to run on four cylinders and rotating at only 1,500 rpm at the British motorway limit of 70 mph, it isn't even that thirsty. Which is nothing short of amazing considering that it's almost as heavy as, say, a Tesla Model S or X. There is also zero turbo lag and the pairing of the ZF eight-speed torque converter transmission is perfect. Wheelspin? Not when there's standard four-wheel drive.
The one thing I would say is less than terrific is the width. Still, that's not a problem unique to Bentleys. It doesn't so much limit your placing of the car on the road as makes you reject many potential parking spaces for fear of a dented door, the loss of a mirror or worse.
As the coupé will have been in production for three years in January, there will probably be a mid-life facelift for the Continental and Convertible in 2022. They should be up for replacement in 2025 and 2026 respectively (expect the PPE architecture).
Conclusion
I wouldn't change a thing about the GT Convertible, it just looks and sound so sublime. That the next generation Continental GTs will likely be plug-in hybrids at first, becoming electric probably in 2028/2029 makes today's V8 (and W12) all the more winsome.
The Bentley Continental GT Convertible V8's biturbo 3,996 cc engine develops 405 kW (550 PS) and 770 Nm (568 lb ft). Top speed is 198 mph (318 km/h) with zero to 100 km/h taking 4.1 seconds. Average fuel consumption is 23.3 mpg and CO2 is 270g/km. Pricing starts at GBP170,000 before options.