THE EVOLVING BRANDSCAPE: Fiat Chrysler Automotive (FCA)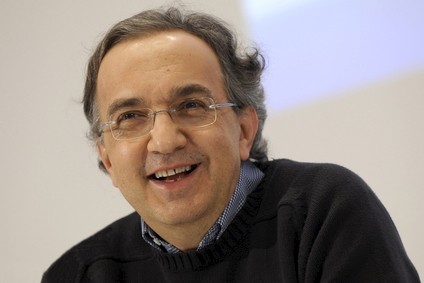 Sergio Marchionne has his work cut out to deliver on FCA's brand strategies as well as overall group volume and profitability targets
In the first of a new series examining major OEM brand strategies, Mark Bursa takes a look at newly merged Fiat Chrysler Automotive's brand portfolio and its future strategic direction.
It's taken a while, but finally Fiat Chrysler CEO Sergio Marchionne seems to have come up with a workable plan for the disparate group of brands under his command.
The Fiat-Chrysler merger was always something of a shotgun wedding. Neither Fiat nor Chrysler was the strongest player in its respective home market, and earlier plans to leverage some synergy between brands haven't worked. Now a new five-year plan sees a significant reshuffle of the brands under the FCA Group's control.
The biggest casualty of the reshaped regime is Lancia. The strategy of making Lancia the European face of Chrysler's US products has been abandoned after just four years. And really, this was never going to work. It was always going to be difficult to pass off distinctive US products such as the Chrysler 300C or Grand Voyager MPV as Lancias. The numbers tell a sorry tale. In 2010, when the Lancia-Chrysler link was formed, the target was to sell 300,000 Lancias a year by 2014. But last year, just 74,567 Lancias were sold in Europe.
Even the Delta, the one original Euro-developed Lancia product, lacked the sparkle of the previous cars that bore the Delta name. A retreat from motor sport is just one of the factors that contributed to Lancia's demise. In reality, the brand hasn't for many years delivered the sort of stylish Italian rivals to the German luxury brands that it should have been making.
The schizophrenia that has been engineered into the brand has taken its toll. What is Lancia? Is it a luxury brand, maker of beautiful autostrade-cruisers of the past, such as the Flaminia or Aurelia? Or is it a rally-bred performance brand, creator or Integrale, Stratos and Beta Monte Carlo?
Its fate is to be neither of these - all that will remain for Lancia is the Ypsilon, a small city car based on the Fiat 500, which will continue to be sold just for the Italian market. And the heritage of this model isn't even Lancia's. It belongs to Autobianchi, bought in Fiat's frenzy of acquisition in the 1980s, whose Y10 model wore Autobianchi badges into the mid-1990s before it was "Lanciafied" with the launch of the first-generation Ypsilon back in 1996.
These cars have a loyal following - around 80% of Ypsilon sales are in Italy, and sales of 44,000 were recorded in 2012. Ypsilon, built alongside the Fiat 500 in Tychy, Poland, accounts for more than two-thirds of Lancia's worldwide sales, so you can see why it will become the main focus of the Lancia brand from now on. A facelift will come soon, and Marchionne's target is 80,000 sales, all in Italy. He might have a better chance of achieving that if he revived the Autobianchi nameplate.
Lancia's loss is Alfa's gain, it seems. And Maserati's too, according to John Elkann, the Agnelli family scion who is now taking a stronger role in driving the group forward. At a recent shareholders' meeting, held at Maserati's Grugliasco plant, he said: "A big part of Fiat's premium strategy is based on brands like Maserati and Alfa Romeo." Elkann said the two brands would work closely together "to produce unique cars capable of putting together the most advanced technical excellence with the Italian style loved around the world".
It would appear that this strategy has now ensured Alfa-Romeo will not be sold, as had been rumoured consistently over recent years. While Alfa's sales were little better than Lancia's last year - around 74,000 - the plan is to bolster output with new models up to 400,000 by 2018. Very ambitious, but premium alternatives to BMW, Audi and Mercedes are scarce, so the opportunity is there. The bedrock range of small cars - Mito and Giuliettta - are good, while the pretty 4C roadster has given the brand a bright halo.
Maserati too is broadening its appeal. The new Ghibli saloon comes with a diesel engine and a price tag in the UK below GBP50,000 - pitching it as a plausible rival to performance saloons from Mercedes-Benz (CLS) and BMW (6-Series Gran Coupe), and undercutting more obvious rivals such as the Porsche Panamera.
Indeed, Porsche is a good role model for a brand strategy for Maserati. It has a 100-year heritage and a back catalogue full of hits, from supercars to less expensive sports models and saloons. And next year, Maserati will challenge Porsche's highly successful premium SUVs, Cayenne and Macan, with its own 4x4 crossover, expected to be called Levante. This car, which will also spawn an Alfa version, is expected to be one of the main drivers behind the plan to boost Maserati sales from 15,000 last year to around 75,000 by 2018. Another tough ask, but further new product is coming, notably a new sports model called Alfieri to tackle Jaguar F-Type and Porsche Cayman.
So if Maserati is to be "Porsche", where's the match for Alfa-Romeo? Probably BMW, with a focus on driving dynamics. A new Giulia saloon is expected to fill the gap left by the 159, aimed at BMW 3-series. Eight new Alfas are in the pipeline, including Giulietta replacement, the SUV and developments of the 4C.
Where does this leave Fiat? In a very strange place. No longer can Fiat be considered a full-range European volume brand. If Alfa is BMW, Fiat's nearest equivalent is BMW's British offshoot, Mini. In fact, Fiat has copied Mini's strategy quite brilliantly, building a range of models around a beautifully-realised 21st century recreation of a 1960s small car icon, the 500. If the bigger, unrelated 500L doesn't quite garner the same warmth, it sells well- as does its Mini equivalent, the Countryman - and offers an upgrade path within the brand for those couples who bought the original, but now want a family wagon with the same vibe.
And Fiat will add a further model line to its 500 family next year with the 500X, which once again tries to leverage a US platform for Europe. This time it's from Jeep - the 500X will share its underpinnings with the new small Jeep Renegade, to be built in Italy alongside 500X at Melfi, near Naples.
In fact, Fiat seems to have inherited Lancia's split personality. The brand now has two distinct personalities. On one hand, it's a fashionable, premium brand built around the 500, with appeal to younger, hipper buyers. This works well in Western Europe, North America and developed Asian markets.
But "old" Fiat - maker of low-cost, practical and reliable transport - hasn't gone away. The Panda represents the most obvious manifestation of this - though it almost stands alone in Western Europe, with sales of Punto and Bravo in decline.
But remember that Fiat isn't just a European brand. It has a long history in the emerging world, in markets such as Brazil, Argentina, India, Turkey and Egypt. Fiat has designed robust, workaday cars specifically for these markets - Palio and Linea, for example - which are a long way from the uber-chic 500.
So Fiat becomes in effect a two-speed brand. "Traditional" Fiat will continue to serve growth markets, while dynamic, modern, retro-cool Fiat will compete with the likes of Mini and Citroen's DS sub-brand. Like DS, "500" has effectively become a sub-brand of Fiat, but while Citroen is pressing ahead with parallel "regular" Citroens in Europe, Fiat won't.
Everything sold in Europe under the Fiat brand except the Panda will become some form of 500. The 500X crossover will replace the slow-selling Bravo. And the Punto nameplate, which celebrated 20 years last year, won't reach 25. Its replacement will be - wait for it - a five-door 500, probably based on the 500L platform. Why not? Mini has just unveiled a five-door version, and this car will compete directly with it.
These retro brands are proving very stretchy - Mini is a long way from a homage to Alec Issigonis's masterpiece. DS bears absolutely no resemblance to the 1950s "goddess". And Fiat 500 doesn't have to signify a pocket-sized rear-engined runabout.
While emerging markets sales will still give Fiat substantial volume - the FCA plan calls for 1.9m units by 2018, up from 2013's 1.5m - Fiat will not be the biggest brand in the group. Perhaps surprisingly, this will be Jeep - the one brand in FCA with truly global appeal.
Jeep won't diversify from 4x4s, but it will expand its range both upwards and downwards. Less successful models dating back to the dark days of DaimlerChrysler, Patriot and Compass, will be replaced by the new small Jeep brother of the Fiat 500X. And a new, seven-seater range-topper, possibly reviving the Grand Wagoneer brand, will be launched in the next couple of years.
Judging by the latest Jeep Cherokee, Jeep has rediscovered its mojo. Meanwhile production in China and Latin America, as well as Europe, will help boost volume toward the hugely ambitions 1.9m level by 2018 set out in the FCA strategy plan. A tall ask, with Jeep only selling 700,000 cars last year, but the world loves SUVs and crossovers right now, so the timing could be just right.
The other US brands also get a bit of a reshuffle. Chrysler gives up any pretence of being a prestige label, and will become the mainstream American brand, pitched against Ford and Chevrolet. Will it continue outside the US? This is unclear. Does Lancia's retreat mean UK sales of 300C and Grand Voyage will cease? The volumes are so small as to be irrelevant - the brand could still be bundled alongside Jeep dealers.
Dodge will get the performance-related makeover it has always deserved. Muscle cars, SUVs and sports cars will proliferate. Ram, the commercial vehicle brand into which Dodge's pick-up trucks were spun off, will continue unchanged, though it will work closely with Fiat Professional, the European van arm. Vans such as Doblo or Ducato could have a US role, in a similar way to various Transits within Ford's North American operations.
Will the plan work? Opinions seem mixed. The role of Jeep and Fiat in Europe and North America seems well thought-through. Jeep pushes the SUV/crossover hot button, while Fiat's sundry 500-badged models are the right kind of hipster vehicles to compete with Mini, perhaps the hottest 21st century brand of all.
The US brands should take care of themselves - Chrysler as mainstream and Dodge as performance makes more sense than Dodge as mainstream and Chrysler as premium. In any case, US buyers are going to be hot for Jeep above all else.
The biggest challenge is the Alfa Romeo/Maserati axis. Targets are very ambitions for both brands, especially Alfa, which has consistently fallen short of expectations in recent revival plans. If it fails again, could Alfa follow Lancia into oblivion? Or will displaced Delta-buying Lancisti become Alfisti? Lots of work is required - Alfa's success (and Maserati's) depends on matching German quality levels. Something Fiat group has not always succeeded at doing. Is an investment of EUR5bn in the Italian prestige brands enough to ensure this?
This above all could be Marchionne's biggest challenge. At least "Super Sergio" says he'll be around until 2018, perhaps beyond, to see the plan through. The workaholic, chain-smoking CEO won't be easing up anytime soon.
Most popular news
---
Most popular insights
---
Oops! This article is copy protected.
Why can't I copy the text on this page?
The ability to copy articles is specially reserved for people who are part of a group membership.
How do I become a group member?
To find out how you and your team can copy and share articles and save money as part of a group membership call Shivani Hayer on
+44 (0)1527 573 732 or complete this form..