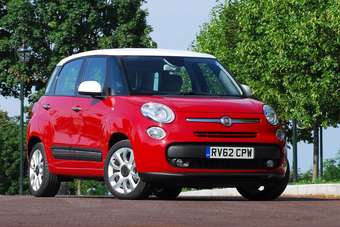 The 500L has played a major role in Fiat UK's 24% YoY sales rise for the year to the end of July
Fiat, taking its lead from Nissan Europe, now wants to sell large numbers of cars into what were once small segments. Expanding the 500 into a family of models is the new big idea. Glenn Brooks tries the 500L to see how well the strategy works.
The Cinquecento has certainly proved to be a hot seller for Fiat, but it's been on sale since 2008 so no surprise to see sales have been dropping off as it passes into its mid-cycle years. Enter the 500L, a larger car which despite its name isn't really related to the little three-door hatchback. It uses the SUSW architecture, a modified version of the Punto's platform. SUSW will have a big future for both Fiat and Chrysler Group models - the 500L Trekking and 500L Living/MPW have been recently added. For now, all three models are built only in one plant, the former Zastava works at Kragujevac.
Just over a billion euro was spent getting the Serbian factory ready to manufacture the 500L, so it's fair to call it Fiat's most modern plant and it can build around 200,000 units per annum of this model series. This year, it should turn out somewhere between 110,000 and 140,000 cars, depending on whether or not the recent recovery in southern European markets takes hold. Kragujevac also supplies the modified version (extended bumpers, larger engine) that's new for North America's 2014 model year.
Here in Europe, Fiat says the average car is now 4.1 metres long, so used that as the base point to design what it hopes will be one of its biggest selling models. The 500L is 4,147mm long, which makes it 80mm lengthier than a Punto, while its 1,784m width is just nearly identical to that of the Bravo.
The 500L is claimed to be the class leader in the ratio of exterior dimensions and interior space, with 3.17 cubic metres of passenger volume. That seems a bold claim but what does it mean in the real world? Well, the claim does stand up as you can get five people and the same number of suitcases into this little car. The boot has a capacity of 400 litres - that's 50 more than a Golf - and a full sized pushchair will fit.
All versions of the 500L come with an enormous glass roof, which can be optionally ordered with an electrically opening panel. The trouble is, in my test car, I couldn't escape the hot sun as the electric blind was in a light coloured fabric which let in lots of UV rays. I would expect a thicker, dark coloured fabric roller blind to become a new option at some stage as I can't be the only person who got sunburnt in a 500L this N.H. summer.
The interior is a really nice place to be, you can customise the fabrics and dashboard colours, and there is a range of more than 100 accessories. Fiat has noticed that buyers will happily shell out decent amounts of money for all manner of things including differently coloured key fob or exterior mirror covers, or two-tone paint, or a special bag for your MacBook. The company wasn't the first to make this discovery but no rival has done this as well in the B-MPV segment, unless you consider the Countryman to be a people carrier not a crossover. You can't have a Lazazza espresso maker in the Mini, though.
The 500L is the first Fiat to be offered with the Group's UConnect infotainment platform. The VP2 radio combines analogue and digital tuners, a CD player, plus media player and smart phone compatibility, all with hands free operation. It uses Windows to allow text messages to be read aloud, and there's voice recognition in 11 languages. You can control most functions from the steering wheel and use Bluetooth to stream web radio stations from your phone too.
UConnect has been designed with future upgrades in mind, one of which will be allowing owners to use apps via the onboard system and smart phones to connect with Facebook or Twitter and be updated in real time on traffic, news and weather.
Something that we've seen in various Chrysler Group vehicles has also come to European market Fiats - a Beats by Dr. Dre premium system. In the 500L, this comprises six door and rear quarter-mounted speakers, and an 8-inch Dual Voice Coil subwoofer. The disadvantage is you lose the spare wheel as the subwoofer sits in its well, so you instead have a 'Fix&Go' puncture repair kit. More on the topic of vanishing spare wheels below.
Despite what some manufacturers say about their MPVs, visibility really can be an issue. I've tried pulling out of an angled junction and onto a fast moving A-road in a B-MAX and the view over my shoulder was almost dangerously limited. The lack of a fixed B-pillar isn't such a clever idea when the virtual one created by the door posts is so wide. The 500L hasn't got that problem, thanks to its lack of sliding doors and a huge amount of glazing. The windscreen pillars are cleverly designed, being split into two elements, so you won't be craning your neck to see around them - something I find myself doing more and more in many cars.
The 500L features Fold&Tumble, which allows objects up to 2.4 metres long to be transported. This is done by flipping both the rear seats and the front passenger's backrest to make a flat load surface. What Fiat calls its Cargo Magic Space system offers further flexibility, by allowing the boot to be split into sections so you can store wet, muddy or fragile objects in their own compartments. Having played with the seats to check these functions for myself, I then counted up the number of compartments to stow small items and found 22 of them in various parts of the cabin.
There are three trim levels called Pop Star, Easy and Lounge, as well as four engine options: 95hp 1.4 Fire (1,368cc four-cylinder) and 105hp TwinAir Turbo (875cc two-cylinder) if you want petrol power, or 85hp 1.3 MultiJet (1,248cc four-cylinder) and 105hp 1.6 MultiJet (1,598cc four-cylinder) diesels.
Dualogic, a semi-automatic gearbox, is available as an option for the 1.3 MultiJet, which otherwise comes with a standard five-speed manual transmission. The other four engines have a six-speed manual. You can operate Dualogic by pushing or pulling on the lever to make the gearchanges, or else just leave it alone to shift through its five speeds automatically.
Vehicle weights vary from 1,260kg for the TwinAir, to 1,365kg for the 1.6 MultiJet. Not quite as light as you might have been expecting given the dimensions, but you do get quite a lot of equipment as standard. That includes air conditioning, cruise control, a 5" touch screen radio, six airbags and unlike many other manufacturers, Fiat believes you should have a proper spare wheel, and you don't have to pay extra for it. Having suffered a puncture a few years back and been forced to use one of those wretchedly fiddly repair kits that came with the so-called premium car (it was a 911), I've sworn off them for life.
The 500L Natural Power, which was added to the Italian market range in March, allows the 900cc TwinAir petrol turbo engine to also run on CNG, but that variant isn't available in the UK. Similarly, the US market's 500L, which has just been launched, is powered by a turbocharged 1.4-litre petrol engine that we don't get here in Europe, and can be ordered with another piece of forbidden fruit for Europeans: a six-speed dual clutch automatic gearbox.
There isn't too much to say about the driving experience: this is a small family car so let's be honest, you won't be falling in love with its dynamics. Having said that, it's not without a certain fun factor, in the way that Italian cars once were. The ride is soft, and it does wallow through the bends if you push it too hard, even if it hangs on well. Most owners will just enjoy the comfortable ride and on a motorway especially, it's a relaxing drive.
It's easy to forget about the car that this model replaced, the Idea. Right-hand drive production of that one ended years back but it kept on selling decently in Italy until the arrival of the 500L (Fiat still makes the Idea but only in Brazil). So in the home market, there have been many potential Idea trade-in buyers for the 500L, and Fiat's dealers are managing to notch up an impressive number of sales. Last month, the 500L even outsold the 500 (3,537 versus 3,331), and a YtD sales total 22,850 puts it into the top five behind the Panda (65,929), Punto (42,615), Ypsilon (29,939) and 500 (27,607), and ahead of the Clio (22,187) and Golf (21,948).
The 500L has only been on sale in the UK for a few months but already it's having quite an impact on Fiat's performance. Brand sales are up 24 percent YoY, with 34,033 cars sold, putting it ahead of both Honda and Land Rover for the year to date. Most of those have been the 500 - it was in the top ten in July and just nine sales behind the Polo and 35 ahead of the Juke - but I'm starting to see a lot of 500Ls on the road so it's clearly already caught on with buyers here.
Prices start at GBP14,990 (95hp 1.4 Pop Star) and rise to GBP18,890 (105hp 1.6 MultiJet Lounge). The electrically opening sunroof is a further GBP450 on the Lounge, HiFi by Beats is GBP600, and the combination of special pastel paint and a contrasting white or black roof is GBP800.00.
Most popular news
---
Most popular insights
---
Oops! This article is copy protected.
Why can't I copy the text on this page?
The ability to copy articles is specially reserved for people who are part of a group membership.
How do I become a group member?
To find out how you and your team can copy and share articles and save money as part of a group membership call Shivani Hayer on
+44 (0)1527 573 732 or complete this form..