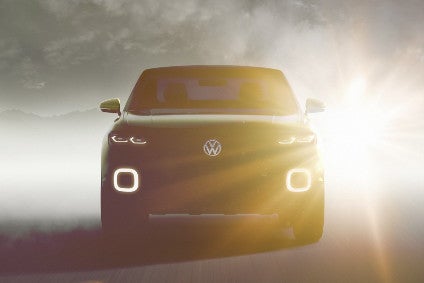 Europe's first big motor show of 2016 is about to get underway. Small crossovers from Toyota and the Volkswagen Group, plus Renault's attempt to reinvigorate the C-MPV segment with a new Scénic will be some of the highlights. Yet it wouldn't be a Geneva show without extraordinary supercars. But even the eagerly awaited Bugatti Chiron looks set to be upstaged by a certain 2000+hp concept.
The Volkswagen Group's management will not be happy about having seen its market share in Europe drop from 25.6% to 24.3% in January (EU + EFTA). SEAT and Porsche each suffered a decline in deliveries, as did the VW brand. Dieselgate is one factor but what about Volkswagen's ongoing weakness in small SUVs? We'll see yet another prototype of a future challenger for the Mokka, Captur, Juke and 2008 at Geneva but, astonishingly, the production model is some way off. That's an even bigger mistake than Toyota made by insisting that its European division wait years and years for its own challenger in this huge segment.
Audi, which had a 14% Europe-wide sales improvement in January, has a lot of new and replacement models coming this year, not the least of which is its smallest SUV yet. The little Q2 will enter production at Ingolstadt in a few months' time, taking the place of the next Q5 which will be made in Mexico rather than Germany. Other crossovers and SUVs will be added to the brand's line-up by 2018, with the Q6 confirmed and a Q4 and Q8 also expected. Don't forget that there will be SQ and e-tron derivatives of some of those too. It's not all smooth sailing for the four rings firm though: who is responsible for the fact that the A5 has been in production for nearly nine years? No wonder the 4 Series is such a success, as is the new C-Class Coupe, with the Convertible about to be added.
SEAT's recent sales dip can be blamed on some aged products, but it should be offset by the addition of the Ateca to its range. This Qashqai-sized SUV finally gives the Spanish brand an entrant in what remains a hot segment. An average annual volume of around 25,000-30,000 units can be expected, which will be manufactured by Škoda at its Kvasiny plant. The little Mii will also soon have a mid-life update, as will its brothers the up! and Citigo.
The Czech brand, which continues to go from strength to strength, will have a new SUV of its own from later this year: a prototype will be shown at Geneva. The production model, which might take the Kodiak model name, should appear at the Paris show at the end of September. This will be an important model not just for Europe, but also for China where it will be built by the SAIC Volkswagen JV.
Bentley will have a facelifted Mulsanne range at Geneva and there will also be an Extended Wheelbase variant for the first time. What of the Convertible? This one has been in the pipeline for a while but it seems more likely to emerge into the sunshine at the Pebble Beach Concours in the summer.
It's been a long time since we saw a new model from Bugatti but finally, next week, the successor to the Veyron will be revealed. Some 500 examples of the new Chiron should be made, each priced from EUR2.2m in European markets. Expect a lifecycle of around 8-9 years.
Supercars – you could even call a fair few of them hypercars – will be thick on the ground at the Geneva show, with one, the Arash AF10, boasting a claimed power output of over 2000hp. Various iterations of this model have been around for some years, but never in such an extreme form: with a gasoline engine and four electric motors.
Compared to the likes of Bugatti, Arash and others such as Koenigsegg (two world premieres), Aston Martin (the DB9-replacing DB11) and Lamborghini (a one-off model global debut), Ferrari is a big volume brand. The newly floated former FCA division is maintaining its regular pattern of giving a new name to an existing model with the latest example premiering at the show. This, the GTC4 Lusso, is the FF having its mid-life facelift, while also gaining power and four-wheel steering. Expect lots of hints about even pricier models to come: executives know that the share price desperately needs some help after the good ship Ferrari N.V. rolled down the gangway a few weeks back and began taking on water shortly after said flotation.
Ferrari's recent fortunes apart, FCA has had some good press in recent times, and some of that has been due to the launch of the Tipo/Egea. It will never sell at anywhere near the volumes of the segment leaders such as the Golf and Astra but it should do well in some countries, especially once all three bodies are in production: sedan, five-door hatchback and estate.
Sadly, the cynics appear to have been proved correct and Alfa Romeo is yet again surrounded by mystery and doubt about its future products, due to FCA's own endlessly-changing plans for the brand. What does seem certain is that the Giulia will be launched this year, as a sedan at least. There might be some additional engines announced at Geneva too. Word is, these will be four-cylinder petrol and diesel units. Of the wagon there is no sign, and on the topic of the Duetto which was not so long ago stated as being due in 2016 there is now silence. But, the C-SUV appears to be locked in for launch in about a year's time and it might be called Stelvio, not Kamal. Before then, the Giulietta gets a nip and tuck and the MiTo should do too, soon. And on a related, happy note, Maserati's first SUV is now in production: the Levante will be in European showrooms shortly. A major facelift for the Quattroporte to arrest sinking sales and set it apart in buyers' minds from the similarly looking Ghibli comes next.
FCA is no longer part of the SEVEL Nord venture so there won't be any new Fiat or Fiat Professional equivalents of PSA and Toyota Motor Europe's new people carriers. The Peugeot Traveller, Citroën SpaceTourer and Toyota Proace Verso all use PSA's EMP2 architecture and will soon be manufactured on one line at the plant in the French town of Lieu-Saint-Amand/Hordain. In addition to the up-to nine-seater MPVs there will of course be LCV variants.
PSA might be pulling in decent profits and a 5% operating margin but there are still signs that a lot of that was achieved by the dangerous strategy of cutting bone, not just fat. Just look at DS: the aged 3 has just been given a facelift rather than being replaced. This is going to be an old car by the time its successors arrive in late 2017. What of any crossovers or SUVs to cash in on the boom in the premium priced segments? There are none, if you discount the small volume DS 4 Crossback. Or at least there are not yet. It would be good to think that this brand, which is in double-digit decline worldwide, might have some first rate products under development and due to be revealed at the Paris show in seven months' time.
Ford of Europe will have a quiet show and that's odd given that it will be the division's only major one in Europe this year. Yes, that's correct: in common with Volvo and possibly also Mazda, it's giving Paris a miss. Geneva will see the Kuga given the same facelift as its Escape twin had at the LA auto show last November, while the Vignale experiment continues with this sub-brand/model grade being expanded from its present sole application on the Mondeo. Where is the B479 Fiesta? The current car first appeared in 2007: step into one and you can tell by the hard plastics and tiny infotainment screen.
Let's continue the interrogation of Ford's leadership and wonder aloud about the progress of Project C519, the replacement for the Focus. One Ford is the likely reason why the Fiesta and Focus are dangerously elderly. The Focus 4 shall bring with it a new platform but we won't see this car enter production until the end of 2016, and that won't be in Europe either. Long lifecycles aren't always a bad thing – the former Tiguan was very strong even as production ended and the Volvo XC60 continues to set new records for worldwide deliveries despite being in its eight year of production. V426, the next XC60 isn't due out until 2017.
BMW Group is being unusually quiet ahead of this year's Geneva show. Sure, a 6.6-litre V12 for the 7 Series is some news but where is the follow up to the Z4, a fine car which flopped? Prototypes have been seen winter testing but Toyota has managed to either keep the spy photographers off the scent of its own half of this RWD sports car joint venture or else the Supra is running late and won't appear until 2017 or later. As for Mini division, the on-again off-again roadster rival for the MX-5 is now said to have been shelved, while Rolls-Royce might spring a surprise at Geneva with a new Phantom sedan. How else to explain this media release which announces that the Phantom is now a wraith. Soon be a ghost, in fact. But do R-R's PR department's words mean the replacement model won't appear until 2018? Why the hiatus and the ruling out of any eventual replacements for the two-door Phantom derivatives? All should be Cullinan-clear after the brand's Geneva press conference.
Like BMW Group, Daimler is also subdued on the world premiere announcements front. It's strange that nothing has been said about the next E-Class estate – surely this will be at Geneva. There should be an All-Terrain variant to follow that one plus something similar for the C-Class wagon: think the allroad versions of Audi's A4 and A6 Avants. Volvo will also be replacing its own entrant in the E-crossover estate segment later in 2016 with the V90 Cross Country stepping into the rock-climbing shoes of the XC70.
Somehow we got to V for Volvo without the various mentions of all manner of possible other Geneva debutantes. So, here in no particular order are what to look out for, though many of these will likely turn up at other shows later in 2016 and maybe even into 2017:
Audi Q5
BMW M2 Convertible, X2 and 5 Series GT (the 5er sedan and Touring will follow the GT and should debut around this time next year)
Citroën C3 and C3 Picasso replacements
Ford Ka, not the same as India and Brazil's equivalents and built at the under utilised Craiova plant in Romania
Jaguar XF SportBrake and F-TYPE SVR
Kia Picanto
Land Rover Range Rover 'Stormer' (twinned with the similarly sized Jaguar F-PACE)
Lexus RC Convertible
Mazda CX-7 (production version of the Koeru concept) and a follow-up to the popular MX-5 Roadster-Coupe – will it again have a plastic roof?
Mercedes-Benz GLT-Class pick-up and its Renault Alaskan brother, both based on the Nissan Navara
Opel's next Astra sedan
Peugeot 308
Porsche Panamera: not confirmed for Geneva, like the 718 Cayman it might be held over for New York, or even Beijing in April
Renault Fluence, and Maxthon (bigger than the Koleos which it replaces – it's to be a Santa Fe/Edge rival)
Škoda Tudor: there's a size class between Octavia and Superb and we saw this hinted at with the VisionC concept two years ago
Volkswagen Golf facelift and new engines, plus a Scirocco successor and follow-up to the CC (will there be a Variant body style this time too?)