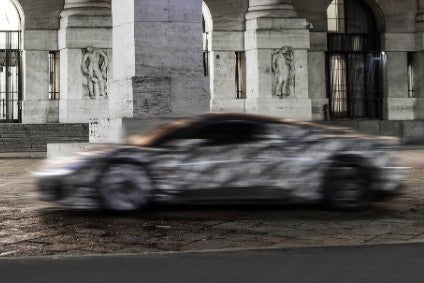 This was to be the year of Maserati's (latest) revival but COVID-19 might see those plans torn up. Will the MC20 launch go ahead as planned in May? The marque has a couple of facelifted models due out soon too, not to mention its first hybrid plus an electric sports car. And with FCA's neglect forcing sales to ever lower depths, what will become of Alfa Romeo?
Alfa Romeo
What more can be said about FCA's perplexing neglect of this marque? No replacements for models which sold fairly well and were in the right segments but which stayed or have remained in production for way too long: MiTo and Giulietta. More recently, long, illogical delays in bringing an Audi Q3-sized SUV to market. All of this puts Alfa Romeo's future at risk. How could it not, when even in Italy, sales crashed to just 1,903 vehicles in February and March will be a horror month due to what is going on in the country right now.
In 2019, Europe-wide deliveries fell by 35% to fewer than 54,000 and in the US by 23% to 18,292. Globally, will they be above 50,000 in 2020? The Giulia and Stelvio each need a refresh and US sales are only going one way, while the decade-old Giulietta is the best seller in the brand's number one market so imagine what happens when production ends. Also, there are no EV, PHEV, hybrid or even mild hybrid powertrains for any model: you need only look at Dacia's region-wide collapse to see what that means for any brand with a line-up that hasn't got too good a C02 average. All of which means Alfa Romeo will surely have a very tough 2020 indeed.
The only recent news has been the announcement of two high-priced, tiny volume editions of the Giulia. Each looks and sounds sensational but the GTA and GTAm will have about as much impact on the brand's sales and make about as much sense as…GM spending money on a diesel engine for the Cadillac XT4 and launching it in a few European countries.
This time next year, will we all be saddened to hear that Groupe PSA and FCA's newly merged operations are unable to make a business case to relaunch Alfa? There will be a lot of brands on the FCA side of things needing big spending and while the Giulia and Stelvio are great vehicles, the fact that they haven't sold well will weigh heavily when it comes to deciding which of the many, many brands might be retired. Alfa, along with other at-risk ones – Vauxhall, DS, Abarth, Chrysler and Dodge – may survive but things are going to get a lot worse ahead of any new product-led bounce.
There appears to be just one future model coming any time soon, that car being the Tonale, an SUV. The latest man to be the figurehead of Alfa Romeo, Tim Kuniskis, announced the following plans – the majority of which have since been abandoned – in June 2018:
'C-UV'
a new 8C supercar
no successor for the MiTo
long-wheelbase Giulia
long-wheelbase Stelvio
additional large crossover
a new GTV
400,000 annual vehicle sales by 2022
Five months later, FCA Italia told its unions of certain plans for future models. Among the news was confirmation that the 'Alfa UV' would be made at Pomigliano d'Arco. The model name for this vehicle is expected to be Tonale, after the concept which appeared at the 2019 Geneva motor show. Production may not start until the first half of 2021 although pictures of what appeared to be a prototype of the production model appeared on the internet in October 2019, along with speculation that the car would be in EU market dealerships in late 2020. Sadly, COVID-19 has likely put paid to that outcome.
The Giulia, which next month will have been in production for four years, has not had a mid-life style update yet. What FCA calls the MY20 Giulia was revealed to the media in November last year, along with the MY20 Stelvio. The main changes were to the interiors. According to a slide at an analysts' briefing earlier that month, a facelift for the Giulia will not happen until 2021. There was no mention of the long-wheelbase body style which FCA had previously spoken about. At the same time, there was no mention of the Gtv and new 8C.
The GTA was announced a few days ago. Based on the Quadrifoglio, the Gran Turismo Alleggerita gains 30 horsepower, its biturbo 2.9-litre V6 producing 540hp and the car's weight drops by 100kg thanks to carbonfibre being used for the bonnet, roof, front bumper, front wheel arches, rear arch inserts and driveshaft. There is also a GTAm (modificata) which has two racing seats, a roll bar and six-point safety belts. Alfa Romeo says a combined 500 cars will be built.
If Alfa Romeo still exists in 2024 or 2025, that would possibly be when FCA might replace this model. Having said that, the weakness of the brand and a surely inevitable by then lack of dealerships makes it hard to see how such a development programme could be justified.
Maserati
It's always tricky to judge how accurate what FCA tells analysts at its Capital Markets Days will turn out to be. Certainly, what was presented at the last one in July 2019 went against what had been said thirteen months earlier. Details of Maserati's future models strategy were spelled out thus:
Alfieri would be the name of the replacements for the GranTurismo and GranCabrio rather than an additional, cheaper model
the GT and GC would cease being built later in 2019 – the first of the two dated to 2007 [correct: production ended in November]
Ghibli and Quattroporte would be replaced
an emphasis on electrified powertrains with the Alfieri to be electric
a Porsche Macan rival still part of the brand's future
According to the July 2019 presentation, there would be an "all-new GranTurismo" in 2021 and an "all-new GranCabrio" in 2022. Two months later, a press release mentioned that these cars would be electric, or at least that there would be electric versions of them. As ever with what should be simple, factual press releases, those issued by FCA Italia tend to be confusing, contradict previous announcements and leave many questions remained.
Last month, the company made this announcement: "Production of the new Maserati GranTurismo and GranCabrio, the brand's first cars to adopt 100% electric solutions, will commence in 2021". Build will be at Mirafiori. What exactly "adopt 100% electric solutions" means is not known. Perhaps these cars will be available as EVs and with ICEs or just as EVs. With luck, the language will be less vague when the marque's overall plans are stated in May.
As regards other models, a 26 September 2019 media release claimed that a 'new Maserati utility vehicle' would be built at Cassino with 'pre-series cars expected to roll off the line by 2021'. This was repeated in another release issued only last month. The model is referred to as a 'D-UV' which means an SUV around the same size as the Porsche Macan.
Until its existence was revealed in February, a so-called 'Supersportiva' was said to be a hitherto secret project within Maserati. The car's name was announced a few weeks ago but the vehicle itself will not be seen until the end of May. The February media release also claimed that "Maserati will return to the world of racing with the new MC20".
The MC20 ('Maserati Corse 2020') will be mid-engined and should be powered by a V6. Electrified variants may follow later. Production is expected to commence towards year-end.
What the company is calling the Ghibli Hybrid will be added to the line-up later this year as part of changes timed to accompany a second facelift of the seven year old sedan. At the moment, it isn't clear whether the petrol-electric Ghibli will be a series hybrid or a plug-in hybrid.
The Ghibli itself should be replaced in 2023, at which point this model will be a decade old.
Plans for the future of Maserati's other sedan, the Quattroporte, can be found in PLDB (see link below).
FCA's CEO Mike Manley insists that Maserati's losses will end in 2020 thanks to the arrival of ten facelifted or new models between this year and the end of 2023. Yet another plan for the marque's future had been due to be announced in May at a special presentation in Modena.
*18 March update: Maserati now says that the 'MMXX' presentation originally scheduled for May will instead take place in September.
Reports for many other manufacturers' future models are grouped in the OEM product strategy summaries section of just-auto.com.
Future product program intelligence
More detail on past, current and forthcoming models can be found in PLDB, the future vehicles database. That includes Alfa and Maserati vehicles which were not discussed in the above report.
This was the second feature in a series examining the current and future models of Fiat Chrysler Automobiles' passenger vehicle brands. The series commenced with a focus on Fiat and Lancia. The next brand will be Ferrari.