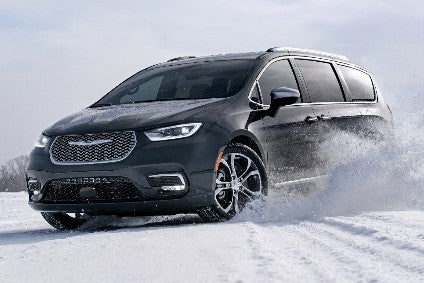 What will be the future of the Chrysler and Dodge brands? Each is restricted mainly to North America and there is more than enough volume and profit there from the current model ranges. Trouble is, lots of vehicles are overdue to be replaced, which means major spending. Will that happen?
Chrysler
FCA is yet to state whether or not it will build replacements for the 300 and its other LX platform vehicles. For a time this led to rumours that it might close one of two Ontario vehicle plants: Windsor is where minivans are made, while Brampton builds all of Chrysler and Dodge's big RWD/AWD sedans and coupes. Alternatively, it had been speculated that any replacement models might still be RWD/AWD but instead use the Giorgio platform and be manufactured at Toluca in Mexico.
Even though no disguised prototypes have been photographed on test, still some believe that FCA will introduce a new 300, possibly for the 2022 model year. Such a car would supposedly be based on the existing model's platform and again built at the Windsor plant alongside the successors for the Dodge Charger and Challenger. The current 300 has been in production at Brampton since December 2010. Due in part to so many former rival models having exited the segment, the Chrysler still sells in worthwhile volume: 29,213 (-37%) but only 1,949 in Canada (-45%) for CY2019. As FCA reports quarterly there is as yet no data for 2020.
The RU series Pacifica, now four years sold, continues to be highly successful in the US. This 5.2m long minivan supplements the far older and cheaper Dodge Grand Caravan, with both built on the same line at Windsor. Nonetheless, the newer of the pair has a bespoke platform, with another difference being a plug-in gasoline-electric variant, which oddly, is not called Pacifica PHEV but instead Pacifica Hybrid.
There is one engine: FCA's Pentastar branded 3.6-litre V6 which produces 287hp and 262 lb.-ft. The standard transmission is a nine-speed ZF automatic which FCA calls TorqueFlite.
In June 2019, the Chrysler Voyager was announced. This is a less expensive version of the Pacifica aimed at budget-conscious buyers and fleets. Replacing the Pacifica L and LX in the USA for the 2020 model year, the Voyager is offered in L, LX and LXi model grades, with the last of the three available only for fleet customers. The only powertrain/drivetrain is the 287hp V6 and front-wheel drive.
As well as a facelift for the 2021 model year, FCA is however giving the Pacifica optional all-wheel drive. That will be a boon for FCA Canada as AWD versions of the rival Toyota Sienna are especially popular in what is a major market for the Chrysler. The restyle was announced last month with the updated vans premiering at the Chicago auto show. All-wheel drive is not offered on PHEV variants (see PLDB for the Pacifica Hybrid).
While the 2021 Pacifica won't be in dealerships until the fourth quarter, a 2020 AWD Launch Edition becomes available from June. Also, the 2021 Voyager will not have the facelift.
Some have claimed that FCA wants to give the Chrysler brand more crossovers and that the Pacifica will be the basis of a large model due in 2021. The Aspen model name would supposedly be revived. It has also been claimed that this model might be closely based on the Jeep Grand Commander, a front- and all-wheel drive model which is built solely in China. For the moment, there is no clarity on this potential future model which may in any case be delayed.
Dodge
The Charger (sedan) and Challenger (coupe) are great examples of cars which somehow become even more appealing the older they get. That's not to say that neither is immune from the need to eventually be replaced. But when will FCA launch new generations? Many have been wondering that for quite a number of years now.
The Challenger has been in production at Brampton since early 2008 and the Charger is only two years less aged. Soon it will be five years since dealers were shown a prototype of a next generation Charger at an FCA special event in Las Vegas. Since then, there has been very little news on when – or if – a new model will appear.
The company hasn't even confirmed where a new generation of big cars would be manufactured, even though the existing vehicle's plant would appear to be that place. Yet there hasn't been much investment in Brampton in recent years and while it's conceivable that the existing models' platform could be modified and modernised, surely that's not the answer for the coming electrified era.
If we presume that Brampton ends up making the theoretical LF series Charger and LA Challenger (plus a 'Barracuda' convertible?), these vehicles might be powered by GME-T6. That's the code for Fiat Chrysler's 'Global Medium Engine Turbo-6' which is said to be edging closer to production. The Pentastar name will likely be used again (it replaces the current 3.6-litre V6) and it is said that even the most powerful variants of this forced induction straight six will have a capacity of under 3,000cc.
The latest intelligence suggests that if the Challenger and Charger are replaced and the Dodge brand itself survives, then these cars will likely not be renewed until the 2023 model year. The existing cars will therefore have yet more tweaks and possibly even a minor facelift. It is believed that FCA will create a Charger SRT Hellcat Widebody Red Eye for the 2021 model year.
Aside from the Charger, Challenger and Journey – yet another old vehicle – the only other Dodge model which has been selling in worthwhile volume is the Grand Caravan. FCA continues to offer this minivan, which dates to the 2008 model year, as a cheaper alternative to the Pacifica. Its lifecycle was most recently extended by more than two years as part of an agreement with the Canadian Auto Workers.
In March last year FCA Canada told the media and the union that it would be dismissing 1,500 workers at Windsor and eliminating the plant's third shift on 30 September due to falling demand for vehicles produced there. After the cuts, Windsor's payroll would be reduced to some 4,600 workers. However, in mid-August, the CAW informed the media that FCA had agreed to extend production until "at least the end of 2019" and therefore the third shift would remain. Then in November, and without explanation, FCA Canada suddenly stated that the shift would continue until the end of March.
Production would instead cease at the end of May, FCA told Windsor's union in February but then, for reasons which have not been disclosed, delayed the end of the plant's third shift by a further two weeks. Now, the plant's move to a two-shift operation commences on 13 July, which probably means the last Grand Caravan will be made on 10 July. There will not be a successor: the Chrysler Voyager/Pacifica is meant to fulfill that role.
Reports for many other manufacturers' future models are grouped in the OEM product strategy summaries section of just-auto.com.
Future product program intelligence
More detail on past, current and forthcoming models can be found in PLDB, the future vehicles database. That includes Chrysler or Dodge vehicles which were not discussed in the above report.
This was the fourth feature in a series examining the current and future models of Fiat Chrysler Automobiles' passenger vehicle brands. The series commenced with a focus on Fiat and Lancia and that was followed by Maserati and Alfa Romeo, then Ferrari. The next brand will be Jeep and the final one, Ram.