ANALYSIS: European light vehicle output to fall in 2011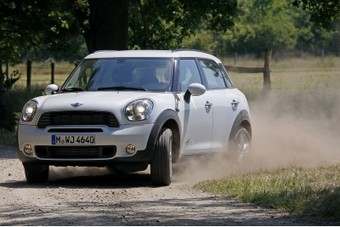 BMW Group production will be getting a lift in 2011 as Mini Countryman (built by Magna Steyr in Austria) output ramps up
The latest forecasts from JD Power suggest that the sluggish outlook for the European economy is creating risks on the downside that could drag vehicle output in Europe down by almost 10% in 2011. JD Power's base case forecast is for a more modest 1% decline.
JD Power Automotive Forecasting analyst Arthur Maher told delegates at a seminar in London this week that the possibility of a 'W-shaped' cycle is a very real one given the weak economic recovery in Europe and structural difficulties facing governments and policymakers.
Maher noted that the position for the European industry has improved sharply over the past year. European light vehicle production slumped by 20.2% to 16.7m units in 2009, but is forecast to have rebounded by 10.9% to 18.5m units in 2010.
"Build has realigned with demand, stocks have normalised and exports are rising," Maher said.
"But on the negative side, the European market outlook remains fragile and there are increasing concerns about a double-dip recession with fiscal austerity across Europe."
Maher said that the focus for the industry now is how 2010 will finish and, more importantly, how things are shaping up for 2011 in terms of overall demand, likely order schedules and projections for build-rates as well as company financial planning and budget-setting.
Maher believes January will be a crucial month.
"It's the first month in the new planning year and significant under-performance in January risks starting panic in the sector. For any company that has a bad month, questions will inevitably be raised early on about the credibility of the full-year projection."
Output decline imminent
Already, JD Power says that this year's sharp recovery to European light vehicle output is facing a reversal. JD Power's base case forecast for overall European light vehicle production in 2011 is for a decline of around 1% to 18.34m units.
"Our analysis shows that in the next four quarters from Q3 of this year, overall production will be falling. For anyone who comes in below budget in January, in the midst of all that, it will be looking like a very difficult environment," Maher maintains.
At the OEM level, JD Power is projecting that Fiat, Renault and PSA will be significant losers in 2011, with Fiat facing a drop to European production of around 9% (Renault and PSA at -7% and -4% respectively).
There are net annual 2011 gains projected for Ford and BMW. BMW gets a forecast production gain from the Mini Countryman, especially in the first quarter, with Ford getting a big boost from the third quarter when production of the new Focus (C346) ramps up.
The double-dip scenario
Maher is however very concerned over the rising risks to a double-dip recession in Europe. JD Power's economic forecasting partner, Oxford Economics, now rates the double-dip probability for the European economy at 35% and has raised that figure in recent months.
"Historically, a key driver for car demand growth is growth of consumer spending, cyclically adjusted, and if you fall below 2% consumer spending growth, you will have falling car sales and that will lead to falling production," Maher notes. Oxford Economics forecasts consumer spending growth in Western Europe at under 1% in 2011 and struggling at under 2% in 2012.
Maher sees the current European economic backdrop - with ongoing sovereign debt, high unemployment, high business failures, severe public spending cuts and a still troubled financial sector – as a highly unfavourable one in terms of consumer confidence and therefore the outlook for spending on new cars.
Even in JD Power's base case scenario – that sees a 1% drop for European production in 2011 as a whole – the first quarter sees a 5% production decline followed by a 12% drop in Q2 and a recovery setting in during the second half.
However, in the alternative double-dip scenario presented by Maher, the first half of the year is a little worse (nearer -10% in Q1 and 15% down in Q2) but the main difference is that things stay negative in the second half of 2011 to produce an almost 10% decline for the year as a whole.
If the year turns out that bad, getting confidence to return won't be easy. But even the base case scenario suggests a rocky ride is ahead early next year when the industry will be naturally questioning the full-year outlook for production against an already weak European market outlook (the West European car market is forecast to see a 1-2% decline in 2011) .
2010's fairly strong production rebound has, in effect, set the industry up for a fall in the context of a weak underlying recovery to car demand and the market swings and distortions caused by temporary scrappage incentives.
"Vehicle production has exceeded expectations so far this year. The industry in Europe took the hit from the recession in 2009 when production was down by 20%. Stocks are now looking more normalised. We went through a period when the industry found it was sitting on 2m vehicles that were surplus to requirements. Broadly speaking, OEMs are now building in line with current prevailing market conditions."
Okay, that's not sounding too bad, in terms of where we are. The problem seems to be where we are going, a decline to overall production looking inevitable – the pertinent questions being, how steep and how long? Maher sounds a warning on stocks and how stock-build could store up problems further out.
"If we see the double-dip scenario next year and production falls by almost 10% - and I hope that doesn't happen - I think we will see some stock build. It's just the nature of the industry."
And if that happens, 2012 will be another very challenging one for the automotive industry in Europe.
Dave Leggett
DETAILED DATA REPORTS AVAILABLE: JD Power's monthly data for European passenger car production by vehicle manufacturing group, brand and model is now available exclusively through just-auto.
An annual subscription to the detailed monthly data can be purchased through our store.
JD Power Automotive Forecasting provides a monthly update for European Passenger Car Production history, using the latest actual data and estimates. An annual subscription provides you with immediate access to the current edition, plus 11 further monthly updates.
Detailed production numbers are shown for the latest month and year-to-date, for both the current year and previous year for comparison. Model line detail is provided every month.
JD Power's Estimated Pan-European Passenger Car Assembly by Model (annual subscription)
Company analysis
Most popular news
---
Most popular insights
---
Oops! This article is copy protected.
Why can't I copy the text on this page?
The ability to copy articles is specially reserved for people who are part of a group membership.
How do I become a group member?
To find out how you and your team can copy and share articles and save money as part of a group membership call Shivani Hayer on
+44 (0)1527 573 732 or complete this form..