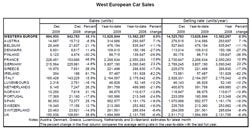 Western Europe's car market is set to slide by over 10% in 2010 as the distortions caused by scrappage discounts unravel, according to analysts at JD Power Automotive Forecasting.
The West European car market grew by 18.1% in December, completing a roller-coaster year for the market which, thanks to massive state intervention and OEM discounting, finished slightly up, according to data released by JD Power.
Although the German car market was down by 4.6% in December, Germany's car market was up by 23.2% on the year due to the impact of the scrappage scheme there. JD Power noted that the first month to record a year-on-year decline in Germany since the scrappage scheme was launched early in 2009 marks the beginning of a much weaker spell of demand. The December selling rate in Germany was below 2.8m units/year, the lowest level for 15 years.
Strong sales continued in France as the end of the strongest part of the scrappage scheme passed — the selling rate topped 2.7m units/year. An even better result was achieved in Italy as the selling rate rose to over 2.8m units/year. However, JD Power warned that these scrappage boosted selling rates are 'clearly unsustainable'.
In Spain, a continuation of recent sales was achieved as the incentive continued to lift demand solidly, though from a low level.
The UK market notched up a healthy 2.5m units/year selling rate in December as the incentive scheme and year-end targets boosted sales.
JD Power estimates Western Europe's car market at 13.63m units in 2009, 0.5% ahead of the 2008 market. But it forecasts a decline of 10.5% to 12.19m units in 2010.
The key market remains Germany, JD Power says. The power of incentives has been so great that car sales grew by 23% in 2009 while the German economy likely contracted by 4% or 5%. In 2010, underlying car demand, no doubt massively below the 3.8 mn unit market of 2009, will be revealed once more and there will be some payback, in the region of -250,000 units: these are sales which were brought forward from 2010 into 2009 purely to take advantage of the incentive.
The resulting reduction in car sales in Germany is expected by JD Power, therefore, to exceed 1m units. With sales set to weaken in other large markets such as France and Italy, where government incentives will be reduced rather than eliminated, and the UK, where the incentive scheme funding will expire by the end of February 2010, the pressure on these markets is strongly downward.
So, JD Power concludes, the crisis-limiting measures taken by governments have been highly successful, while they lasted, but some in the automotive industry must now brace themselves for a year of difficult conditions as incentives disappear.
JD Power noted that many of the strong performers in smaller cars in 2009 will see demand for their products crumble in 2010, at least for a while. Meanwhile, large and luxury car segments look set to begin to recover from the recession slowly but steadily, as economic conditions improve.
JD Power analyst Pete Kelly told just-auto that premium car manufacturers struggled more than volume car makers in the European market last year because they were not big beneficiaries of scrappage schemes. Moreover, they were further impaired because of their natural reluctance to discount, he believes.
"The luxury and premium makers certainly felt the full force of the recession in Europe last year," he said. "And therefore, in comparative terms, things will be getting a little better for them in 2010 – though of course we're only talking about gradual improvement, given the overall economic situation."
Small car specialists and those who have done particularly well in the scrappage-boosted markets of 2009 – such as Hyundai-Kia and Fiat – will face a much less favourable European market environment in 2010.
But the situation for some of the major volume producers – like Ford, GM, Renault, PSA and Volkswagen – is more mixed. While they have, in many cases, benefited from having small car products that have been good sellers in 2009, they also carry larger models and brands that haven't been major beneficiaries (for example, VW Group has small cars like the Fox and Polo, but it also has the Audi brand).
Kelly sums up the challenge ahead in Europe: "The consumer will increasingly feel that era of the mega-bargain small car, its price slashed via a combination of government incentives topped up by manufacturer discounts, is well and truly over. With the market forecast to be around 10% down in 2010, it will be a very tough environment for carmakers and retailers. We still have some way to go to get to a West European car market approaching what would have been termed 'normal' just a few years ago, even if the European economy is slowly pulling out of recession."
Dave Leggett