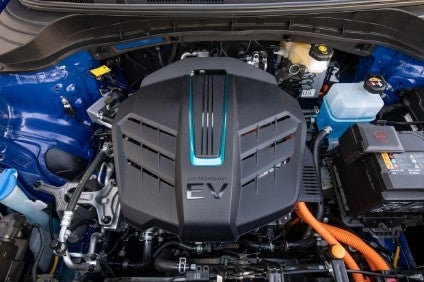 "From 2021, phased in from [1 January] 2020, the EU fleet-wide average emission target for new cars will be 95 g CO2/km." Thus says the rule from Brussels. Failing to comply with that could wipe an auto brand off the map.
"The fines are unbelievable," Kia Motors Europe's chief operating officer Emilio Herrera, marketing director Carlos Lahoz and product planning and pricing director Pablo Martinez Masip told just-auto and a small group of English journalists at the automaker's European HQ in Frankfurt, Germany.
Fail to meet the target and the EU writes a ticket for EUR1.6bn. Yes, billion.
"That would put us out of business," the Spanish trio tell us. But they have no intention of meekly paying up.
There are at least five scenarios. Number one is just pay the fine and some automakers, indeed, have made provision to do just that.
Others are increasing prices which Kia considers "asking consumers to pay the fine".
Others still are reducing the volume of models less helpful to CO2 emissions measuring and some are abandoning segments entirely: "Opel took five models out and volume probably is down 15%," Kia reckons.
The third option is pooling – perfectly acceptable to the EU bureaucrats – which the likes of FCA is doing with Tesla. Noting the "EU left the door open for that", Kia thinks that doesn't put the rules on the same level but adds such an arrangement is unlikely to be available forever and also costs the automaker needing help making the figures fit the rules.
The fourth option is to leave the EU market as Nissan's Infiniti premium brand has done. It has other options in Asia and North America but that is something "no European distributor can do".
The fifth option is what Kia is doing – get the right "balance of EVs" into the model range. This, the automaker said, is "not easy" as there are "battery constraints". Sufficient battery contracts are in place to supply enough for 2020 and meet the CO2 targets but there are, under the table, fingers crossed the coronavirus doesn't affect supply of a fought-over commodity sourced largely from Asia.
Kia also notes, wryly, that 'dieselgate' affected sales of models which emit lower CO2 than petrol equivalent and also the rise of SUV volume which adversely affected CO2 output overall though all automakers are rapidly rolling out 'hybridised' and EV versions.
The 95g of CO2 corresponds to a fuel consumption of around 4.1 litres per 100km of petrol or 3.6 litres/100km of diesel. The binding emission targets for manufacturers are set according to the average mass of their vehicles, using a limit value curve. This means that manufacturers of heavier cars are allowed higher emissions than manufacturers of lighter cars. The curve is set in such a way that the targets for the EU fleet wide average emissions are achieved.
One Kia range casualty is a bit surprising – the axe fell not on a V6 Stinger, as you perhaps might have expected, but, instead, the tiddler B segment Picanto automatic. It will reappear with the conventional automatic swapped for an automated manual.
KME expects Europe to account for around half a million sales this year, essentially flat on the 2019 tally, after 11 consecutive years of growth in Europe. Of that, it hopes to sell around 40,000 battery electric vehicles, helped not least by a redesigned, much longer range Soul, 40,000 plug-in hybrids (especially SUVs including the very popular Sportage) and 37,000 'self charging' hybrids, many of which will be mild hybrids or MHEVs.
The UK accounted for about 97,000 Kia sales in 2019 – one in five KME sales – and took roughly 9,000 electrified vehicles, a mix of EVs and hybrids. Sweden is a big market for PHEVs with around 13,000 sold there last year with help from government incentives.
The Spanish trio see 2020 as a "very challenging year" as they "balance volume, profit and, now CO2".
Recent electrified newcomers such as the Niro hybrid are selling well and Kia UK told us of waiting lists for some electrified variants stretching into the third quarter of 2020.
KME sees making EVs "achieve parity with ICEs" as a big challenge, especially as "[government funded purchase] grants must ease one day". A cost of US$100 per battery kilowatt-hour is needed to achieve parity and that's some way off yet.
Still, while the private buyer may not yet be ready for an EV with range and ease of recharging still a concern, fleets and corporations, wanting to be seen showing responsibility and leadership with "sustainable" transport, are buying the vehicles now.
Electrification is working its way into the European production system with parent Hyundai planning to make batteries in Hungary and Kona and Ceed hybrids being assembled in Slovakia with more work for the latter factory under consideration.
Kia's recently announced Plan S strategy set ambitious goals. These include offering 11EVs by 2025 and a 6.6% share of the global EV market, a dedicated Kia EV for launch in 2021, 25% of global sales from EVs by 2025 and annual global sales of 500,000 EVs and 1m 'eco-friendly' vehicles by 2026.
The automaker also wants to expand mobility services and enter the customised PBV (purpose built vehicle) sector for corporate customers.
That's where a couple of recent investments will help. Last month, Hyundai-Kia announced investment of EUR100m (USD110m) in Arrival, a UK-based electric vehicle startup, to introduce competitively priced small and medium-sized electric vans and other products for logistics, on-demand ride-hailing and shuttle service companies. Arrival's scalable electric platform can be adapted for multiple vehicle categories and types.
Just last week, Hyundai-Kia said it contracted Los Angeles EV startup Canoo to jointly develop an electric vehicle (EV) platform based on Canoo's proprietary skateboard design for upcoming Hyundai and Kia models. Canoo will provide engineering services to help develop a fully scalable, all electric platform to Hyundai and Kia specifications. That platform houses the most critical components of the vehicle with all components fulfilling as many functions as possible to reduce the size, weight and total number of parts which ultimately provides more interior cabin space and a more cost effective EV. The skateboard is self contained and can be paired with any cabin design.
The KME executives talked of 800V high speed charging technology (as seen in Porsche's Taycan) for some models, retaining 400V for others, 400km EV range and 20%-80% fast recharging in 20 minutes as early as 2021. That, they said, "would have a significant effect on consumers and how they perceive us".
Suggest they might try nibbling at Tesla's end of the EV market they are adamant there's no plan to move Kia upmarket into such territory.
"Kia is a mainstream brand and will stay mainstream; Tesla is premium."
But do expect expansion sideways if not upwards: "Kia is currently in segments A to D but we want to be in all segments and offer suitable technology in all segments."
And: "By 2025 we need an EV in every single model line".
While we are not, of course, presented with spreadsheets, the KME executives concede it is "problematic" to be profitable in all EVs due to, you guessed it, battery cost. But growing volume helps amortisation and black ink is expected somewhere in 2023 or 2024.
And there are customers happy with the current offering: "Niro EV satisfaction is very high."
EV range will depend on segment. "You don't need 400km in a Picanto." And where would you put the batteries?
Instead, Kia is aiming for range "compatible" with ICE models. They reason an A or B segment car is often the second or third car in a family so used mostly for short hops and, if EV, likely to be charged most often at home.
And "price is still a challenge". Right now, a B segment full EV is in the order of EUR28,000; an ICE starts at just EUR12,000.
Kia is "talking to users and potential users on ideal range".
Hydrogen powered FCEVs, with which parent Hyundai Motor is fast building expertise, with trial vehicles in use in multiple markets, are still too expensive for mainstream use. A Nexo FCEV would cost EUR80,000 currently.
Technology and environment concerns are all very well but the Kia executives say: "Working families need to be able to afford it."
Europe is hardly uniform when it comes to EV adoption. Market share in Italy is just 0.1%, in heavily subsidised and incentivised Norway, it's about 50%. As the Kia trio observe wryly: "Markets are not the same."
They also mention in passing Ukraine where Euro 5 emissions standards have been agreed for another five years.
Challenges ahead, indeed. But the Kia mood appears upbeat and determined. It is what it is, let's get on with it.