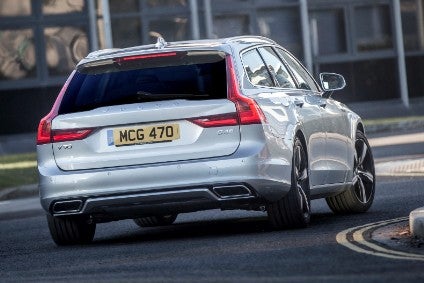 Sometimes, if you continue to evolve a product you've long been famous for, ignore those claiming that people have moved on to different things, you can not only stay successful but become even more so. Worldwide demand for the Volvo V90 is up so far this year – proof that big wagons are far from dead.
You have to admire Volvo for how it has reinvented its largest estate. The latest V90 is one of the most sophisticated models in the brand's line-up. This was quite a risk a take as the cars which came before this one – several generations of V70, and earlier still, another V90 as well as the 960 and a long time ago, the 760 – were far more utilitarian and also far less expensive. Somehow Volvo has convinced new generations that a large, plush station wagon can be cool. And charge them quite a lot of money for such a car.
The V90 is at its most popular in Sweden, more than half of this year's 26,889 units of the model having been delivered to buyers in Volvo's home market (which is also where it's manufactured). That compares to 26,144 for the ten months to the end of October 2017, a modest gain of 2.8 per cent.
With the dramatic fall in the Swedish market over the last few months, the ongoing success of the V90 is all the more remarkable: in October, the car was the country's best seller, deliveries numbering 1,265 units out of 2,115 sold worldwide.
There are a variety of engine choices, each of them turbocharged and having a cubic capacity of 1,969cc and four cylinders, all linked (with the exception of the front-wheel drive D3 and D4 diesels) to an Aisin Warner eight-speed torque converter automatic transmission. In the case of the T8, which is a petrol-electric plug-in hybrid, there is also supercharging.
Some markets don't take the least powerful diesel, which has 150hp and is called D3. Then comes the 190hp D4 and the 235hp D5. Aside from the PHEV T8 which is the most powerful V90, the other petrol-powered variants are a 190hp T4, a 250hp T5 and a 310hp T6.
In Britain, pricing starts at GBP37,620, the least expensive variant being the T4 Momentum. T5 has only recently become available in the UK, so this was the engine I recently tried. Even without the option of all-wheel drive there is little in the way of slip on greasy autumnal roads and there is also the benefit of less weight (circa 1,700kg). That means good economy, the Combined average of 41.5mpg being fairly realistic (I saw 38mpg) and competitive CO2, the latter being 157g/km.
The V90 is a genuine luxury car and a match for the best in the segment in just about every way. The Jaguar XF Sportbrake, with its rear-wheel drive bias and beautifully balanced chassis is better for anyone who loves driving although the big Volvo isn't a long way behind. The test car was fitted with GBP1,500 worth of optional Active Four-C suspension and this includes adaptive dampers and air springs for the back end. Load it up or tow a caravan, as many V90 owners will likely be doing and the benefits are clear: minimal deterioration in road holding.
Tick a few more option boxes and it's easy to create a GBP50,000+ T5. Four-zone climate control is an extra GBP550; laminated windows cost GBP750; the BLIS system with Steer Assist, Cross Trafic Alert and Rear Collision Mitigation is priced at GBP500, metallic paint is GBP700; while it's also possible to drop GBP3,000 on a Bowers and Wilkins audio system.
The T5 will reach a top speed of 140mph, with 0-62mph taking seven seconds exactly, so anyone who thinks four cylinders aren't enough for big, premium cars should think again. Volvo's Drive-E engines seem to be getting better with age too, as the 250hp petrol had a more characterful exhaust note than other 90 Series models I have tried.
Some handy features you'll find in the V90 include electrically-flipping backrests, although they're heavy to pull back up; heated front seats; web browsing via Sensus Connect; a nine-inch centre console screen which also works with voice activation, the City Safety suite of features (collision warning plus pedestrian, cyclist and animal detection); and a power operated tailgate.
The V90's domination of its segment in Sweden as well as the car's steady performance in a handful of other countries where people love big estates, not only SUVs, shows Volvo's expertise in this size class.
As a complement to the V90 Cross Country, S90 and XC90, the V90 is clearly bringing in good business for relatively low development and manufacturing cost. What's more, even Americans – who supposedly aren't interested in large wagons – are starting to see the appeal. Numbers are small (401 year to date) but rising. Maybe premium large estates are on the way back.