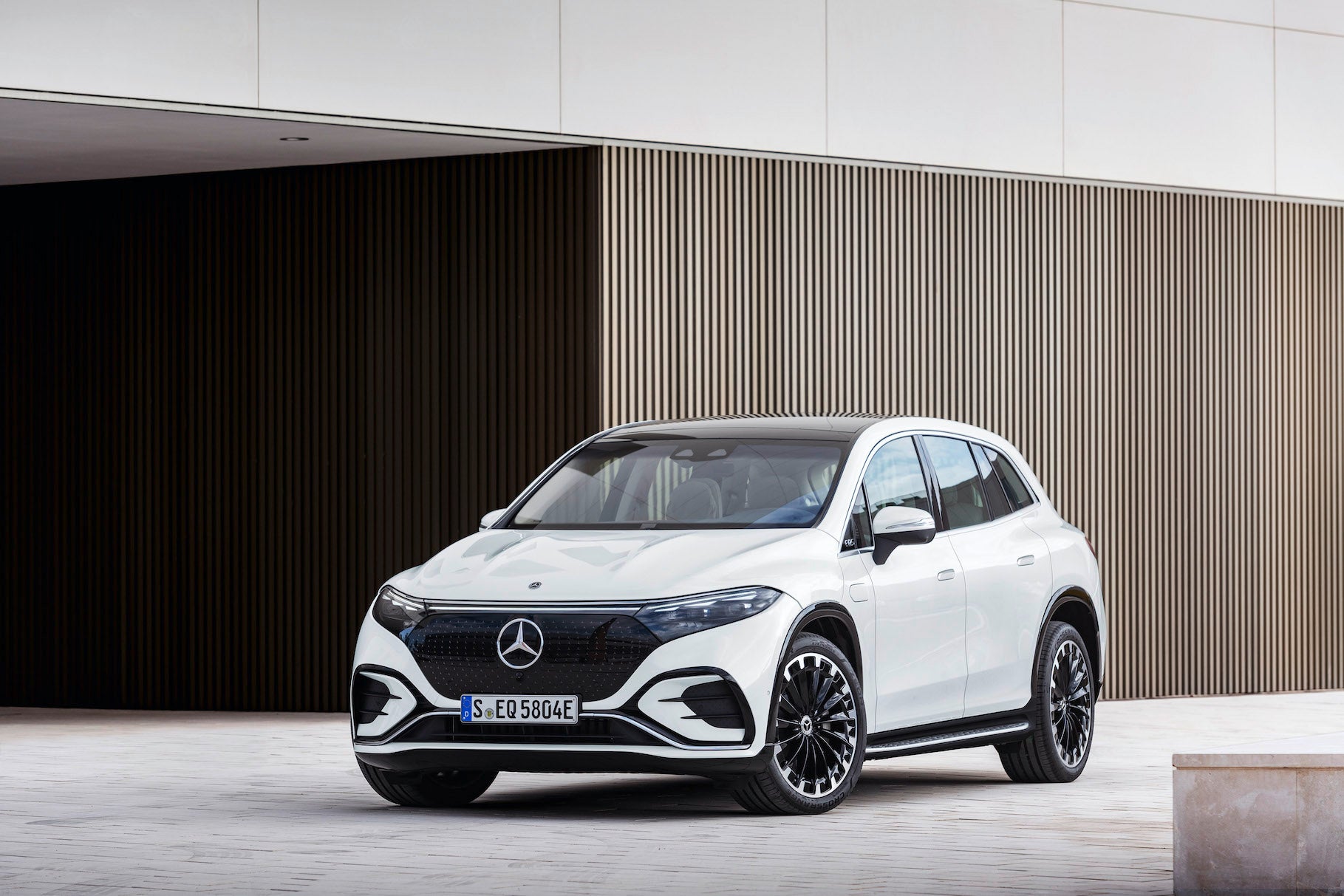 Selected future models for two of Mercedes-Benz Group's three high-priced sub-brands are explored in this report, with a look at the third, AMG, following soon.
EQ
These two letters, which started off in a modest way, have come to represent the signature of an expanding array of electric cars, crossovers, SUVs and MPVs.
The range will soon comprise the EQA, EQB, EQC, EQE & EQE L, EQE SUV, EQS, EQS SUV, EQT, EQV and maybe even a few others. This report examines just some of the line-up with more to be found in PLDB (see link below).
Launched in Germany and other relevant regional markets during February 2021 as the EQA is a 4,463 mm long front-wheel drive electric crossover.
The lithium-ion battery pack comprises 200 cells spread over five modules with a usable capacity of 66.5 kWh. Kerb weight for the EQA 250 launch version is 2,040 kg and the NEDC range is up to 486 km.
Two further variants were announced in May 2021, making the line-up as follows:
EQA 250, single motor, 140 kW (190 PS) & 375 Nm, 66.5 kWh battery pack, top speed 160 km/h
EQA 300 4MATIC, two motors, 168 kW (228 PS) & 390 Nm, 66.5 kWh battery pack, top speed 160 km/h
EQA 350 4MATIC, two motors, 215 kW (292 PS) & 520 Nm, 66.5 kWh battery pack, top speed 160 km/h
Generation two is due out in late 2027 or early 2028. It should use MMA (Mercedes Modular Architecture) but before then the existing EQA is due for a facelift in 2024.
Roughly the same size as the Tesla Model Y, the EQB is 4,684 mm long.
Essentially an EV version of the GLB-Class, this was the first electric vehicle to be manufactured at the Kecskemét factory in Hungary. Production commenced in October 2021 and sales in European markets followed a month later. The EQB is also manufactured in Beijing.
There are both front- and all-wheel drive variants and seating for up to seven occupants. The latter layout is standard for China.
The initial three versions are called EQB 250, EQB 300 4MATIC and EQB 350 4MATIC. More should follow although possibly not until the arrival of a facelifted line-up in 2025. As with the EQA, the replacement – expected in 2028 – will be be based on MMA.
A second generation EQC is said to be coming in 2026 although it could potentially appear in 2025. Mercedes-Benz Group is expected to build this vehicle in Germany, China and possibly the US too.
Other than the name – EQE SUV – and the fact that it will be built in the USA, little is known of this model. It was announced by Daimler in October 2020. There should be some more news later in 2022. Inevitably, though, it will be a taller version of the EQE (see PLDB for more information).
Ola Kallenius spoke publicly about an electric G-Class for the first time at an industry conference in Germany during November 2019. The Mercedes CEO did not state when it would become available but this year or next seems likely.
Expect different styling touches at either end of the vehicle compared to the standard G-Class.
In April 2021 the European Union Intellectual Property Office (EUIPO) registered a trademark for the name Mercedes-Benz EQG. Version names are expected to be EQG 560 and EQG 580.
A prototype called Concept EQG premiered at the Munich IAA during September 2021. The production model's life cycle should be eight years.
The EQS is a big electric hatchback which comes in two lengths: 5,216 mm and 5,265 in extended wheelbase US spec.
An initial two variants were announced in April 2021 just ahead of their public premieres at the Shanghai motor show. Cars for Europe and North America went on sale in August 2021 with China following during the first quarter of 2022.
The EQS 450+ and EQS 560 4MATIC weigh respectively from 2,480 and 2,585 kg. In the USA, where the EQS was new for the 2022 model year, the rear-wheel drive variant is quoted as having 329 hp while the EQS 580 4MATIC has an official power output of 516 hp.
Specifications for Germany and other relevant markets are as follows:
EQS 450+ – 245 kW (333 PS) & 568 Nm, RWD, 210 km/h top speed, 107.8 kWh usable energy content
EQS 580 4MATIC – 385 kW (523 PS) & 855 Nm, AWD, 210 km/h top speed, 107.8 kWh usable energy content
The boot capacity is 610/1,770 litres VDA, air suspension and rear-wheel steering are standard, plus there is a vast array of optional equipment including 'Comfort' doors which can be closed and opened automatically.
While all build is in Germany, there will be assembly in India from the fourth quarter, Mercedes-Benz stated in January. As for the life cycle, that should be just shy of eight years, which means a facelift in 2025.
The EQS SUV was announced to the media in October 2020 but other than the name, there was no information. Two months later, there was a little more, with the manufacturing plant and year when build would commence were noted.
Mercedes says the vehicle's energy is to be stored in locally made batteries. These will be part of a partnership between Mercedes-Benz and Envision AESC and assembled at a factory in Bibb County. This site in Alabama, announced in March 2022, is close to the Tuscaloosa/Vance plant which makes the EQS SUV and certain other models such as the GLE, GLE Coupé, GLS and Mercedes-Maybach GLS.
This 5,125 mm long SUV shares its wheelbase dimension and architecture with the EQS but is some 20 centimetres taller. A five-seat layout is to be standard with two third-row seats optional. Three variants were announced at the media preview in April:
EQS 450+ (265 kW & 569 Nm), RWD, rear-mounted motor
EQS 450 4MATIC (265 kW & 800 Nm), AWD, front and rear motors – not for the US market
EQS 580 4MATIC (400 kW & 858 Nm), AWD, front and rear motors
The sales launch should take place by the end of 2022 and production will probably endure for eight years with a facelift at the four-year mark.
An electric MPV which shares much with the new T-Class, is coming soon. Mercedes-Benz revealed a preview called Concept EQT in May 2021. Surprisingly long, at 4,945 mm, the design study featured sliding doors on both sides and three rows of seating.
The EQT should also have two sliding side doors and be based on a shared Daimler-Renault-Nissan-Mitsubishi architecture. Its lifecycle could be eight or even nine years with a facelift in 2026.
Mercedes-Maybach
There are at present only two Maybach vehicles, these being the S-Class sedan and the GLS, also full-sized but in this case an SUV. At least one other model will be added to the sub-brand's line-up though, and possibly even two. First, a look at model number three, which will be electric.
Another SUV, only this time an EV, is due to be revealed later in 2022. The Mercedes-Maybach EQS SUV should look very much like a prototype which was revealed at the Munich IAA in September last year. Obviously, it is very closely linked to the new Mercedes-Benz EQS SUV.
One other potential model would be a convertible version of the existing Maybach G-Class, a long overdue successor for the G 650 Landaulet. Should such a vehicle be coming, it wouldn't arrive before 2023 and may instead be launched during the following year so as to be in sync with a scheduled facelift for the five-door hardtop SUV.
Reports for many other manufacturers' future models are grouped in the OEM product strategy summaries section of Just Auto.
Future platform intelligence
More detail on past, current and forthcoming models can be found in PLDB, the future vehicles database which is part of Global Data's Automotive Intelligence Center.
This is the third of four reports looking at the current and future models of Mercedes-Benz Group's passenger vehicle brands. Prior to this one, there were explorations of current and future Mercedes-Benz cars and MPVs as well as SUVs. The final feature will be about Mercedes-AMG.