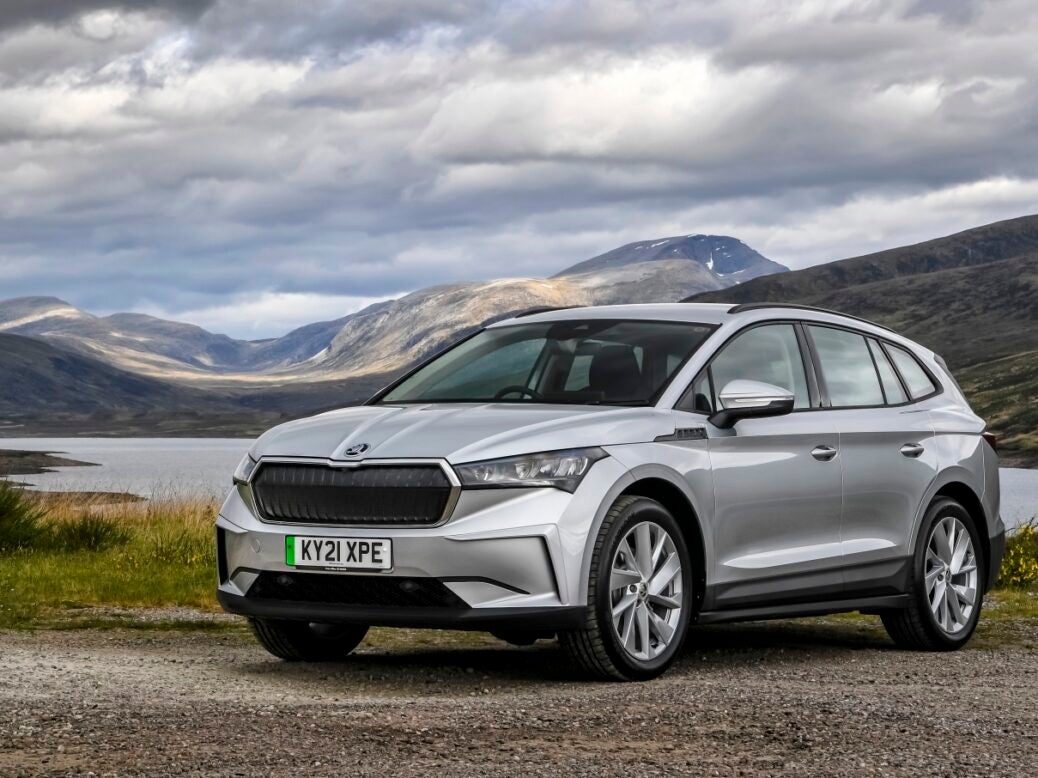 Some might say the Enyaq iV – to use the full name – is just a VW ID.4 with different panels. I can see how that might be an easy assumption to make. Is it an accurate one? Not really.
Five or seven seats
The Czech brand's first EV is certainly an electric crossover and it has the same 2,765 mm wheelbase as the Volkswagen. The MEB architecture is a common base too, with the batteries fitting into a space below the seats.
A major differentiator is the possibility of an extra row of seating, allowing up to seven occupants versus five in the VW. Nor is the ID.4 as long as the 4,649 mm Škoda (width is 1,879).
What does iV mean?
One other point which is different compared to how Volkswagen refers to such models: the i and V in a Škoda's name signify either an EV or a plug-in hybrid (e.g. Octavia iV is a PHEV while the future Elroq iV will an electric-only small crossover).
Production in Europe. China too?
The Czech car maker might have told us back in November 2020 that it had begin Enyaq production yet the first car wasn't delivered until late April.
So far, all build is at one plant in Mladá Boleslav near the firm's headquarters (and the first MEB architecture vehicle to be manufactured outside Germany). Not made in China too? No, surprisingly.
Škoda is in real trouble in the PRC so it could do with some new models. Audi is faring much better but VW is another division which is doing badly. How badly? Toyota became the number one brand in June and July. So yes, that badly; the semi-conductor crisis creating unusual shifts in brand sales the world over.
Forgetting Volkswagen China's troubles for a moment, let's return to Europe and consider the chances of success here for this new Škoda EV. In fact, it's off to a strong start, the Enyaq looking as though it could shake things up in the D-crossover segment.
Battery packs and capacities
Prospective buyers don't want for choice as in addition to three lithium-ion battery options, there are five outputs:
50 iV: 55 kWh pack, 109 kW (148 PS) & 220 Nm (162 lb ft) rear-mounted motor, RWD, 0-100 km/h in 11.4 seconds, 340 km (211 miles) WLTP range
60 iV: 62 kWh pack, 132 kW (179 PS) & 310 Nm (229 lb ft) rear-mounted motor, RWD, 0-100 km/h in 8.7 seconds, 390 km (242 miles) WLTP range
80 iV: 82 kWh pack, 150 kW (204 PS) & 310 Nm (229 lb ft) rear-mounted motor, RWD, 0-100 km/h in 8.5 seconds, 510 km (317 miles) WLTP range
80x iV: 82 kWh pack, 195 kW (265 PS) & 425 Nm (313 lb ft), front- & rear-mounted motors, AWD, 0-100 km/h in 6.9 seconds, 460 km (286 miles) WLTP range
RS iV: 82 kWh pack, 225 kW (306 PS) & 460 Nm (339 lb ft ), front- & rear-mounted motors, AWD, 0-100 km/h in 6.2 seconds, 460 km (286 miles) WLTP range
V-Max limited to 100 mph
Top speeds for the 50, 60, 80 and 80x are 160 km/h with the future RS (vRS in the UK) able to reach 180 km/h or 112 mph. Incidentally, Škoda Auto stated in June that it would begin producing battery packs for this model in the Czech Republic from early 2022.
The car I tried out was the 60. That signifies a 58 kWh pack (the 62 is gross) with drive to the back axle only and a single speed transmission. RWD sounds good yet the reality is a safety-first approach so the electronics prevent any chance of driving jollity.
Modularer Elektrifizierungsbaukasten
One of the benefits of MEB and the lack of an ICE up front is a 9.3 m turning circle. You don't get an extra boot up though as components such as the A/C compressor reside there.
With this brand's cars you always get a massive amount of room due to the models usually being sized between segments. The Enyaq continues this tradition: boot space is epic. Remember that the motor, single speed transmission and voltage converter are all positioned over the back axle, making it doubly amazing.
At 585/expanding to 1,710 litres, we're talking van levels of cargo bay capacity. And since the as-tested car costs only GBP34,495 (less the GBP2,500 gift from tax payers), the lack of electric open/close functions is easily overlooked. Quite a big tailgate to pull shut, mind.
Many EVs have something of a derivative look going on as their designers' priorities are identical: long wheelbase, tall (1,616 mm) to offset a high floor, big wheels (19, 20 or 21-inch), oval shaped cut-out where the grille would be, and general low-drag detailing. The Škoda is in this club. You can make it stand out a little more via accessories such as an illuminated grille or wait for next year's sports RS/vRS variant.
Inviting interior
Where the new EV does make you look twice is when opening either front door. Apart from the fantastic amount of space, the dashboard, sides of the centre console and door cards have soft-padded fabric covering them. It's almost as pleasing at what Volvo did for the XC40.
There is lots of room for odds and ends in door bins and a vast cubby box as well as an open area below the tiny transmission button.
Those in the back also have handy places to store things, including phones and I forgot to mention that even with the motor etc… under the boot floor, engineers still made space for a special trough into which charging cables can be dropped.
There's also much room for the feet of anyone sitting in the middle of the second row thanks to a flat floor. The car sampled was a two-rower and I am yet to try one with the extra seats.
The not so good news…
After all the praise, now some criticism. Deactivating the Volkswagen Group's too-often overly sensitive and aggressively 'correcting' steering interference takes SIX presses of the touchscreen. Alas, that has to be done every time the car is started. The steering itself isn't the best either, being too light. These are my personal preferences and may not be shared by everyone.
Perhaps previous reporting of certain other unwelcome technology might have been noted: here is a new model from a German OEM which will leave the mirrors folded when the button to request that is pressed. Terrific that something so basic is no longer being messed with. Well done, Volkswagen Group, please tell BMW AG.
…but it's (a bit) better than VW ID. models
Something else which VAG must know was a step backwards in the ID.4 is missing from the Enyaq: there are four window buttons and a grippy round controller for mirror adjustment. Hurrah. Please could we have headlight circular switches or steering column stalks next? They were great, they need to return and the multi-press button with a vague action needs to be banished.
The button called CLIMA is another problem and familiar from the Golf and other Volkswagen Aktiengesellschaft cars and SUVs. It sends you to the screen (sigh). Which means it's eyes-off-the-road-dangerous, or at rest, too much time is needed when simple real buttons or dials are so much better. Try adjusting the fan speed on the move and getting what you want at the first attempt.
I'm trying not to mention the awful volume slider too. At least the driver has a better alternative on the steering wheel. I get it: it's Volkswagen telling us that new-style tech is cool and better. Some of us wonder might it be more about being ruthless with suppliers and the illusion of saving money in the short term. We know how that always ends: words such as lost, customers, General, Motors and bankruptcy spring to mind.
It could be superb
That's the end of the negatives and my personal plea for Volkswagen to realise that humans are not – to use the word we see so often from this company – digital. I want to use my digits to press real things please. Dear VW Group, you used to be the industry standard when it came to interiors: look inside your older cars and see that they still are. My criticism comes from the frustration of seeing a great company self-harming.
As with the ID.3 and ID.4, there is a potentially beautifully baked vehicle here. For many possible owners, what could be one of the most appealing Škodas yet will be spoiled to a small or large degree. By convoluted 'convenience' and 'safety' features or the means of activating them.
On the plus side, the amount of room available in the brand's new crossover/SUV is surely class leading, the silence when driving is lovely, a distinctive electronic noise at low speeds very pleasing, range is fine, charging dead-easy and pricing is super-competitive.
Summary
The Enyaq could be one of the best electric family cars money can buy. With some improvements it might well become so.
In as-supplied 60 NAV and Loft model grade specification, the Enyaq iV has a 62 kWh gross battery pack. The recommended OTR cost is GBP34,495. However, the PICG of GBP2,500 drops that to GBP32,590.