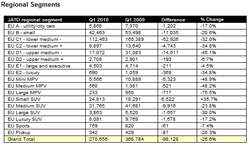 If we rewind to the period immediately before the international financial crisis of late 2008, things were looking pretty good for Russia's economy and its car market, writes Dave Leggett. But then the sky fell in. And while things are now getting better, don't count on a sharp rebound.
Back in 2008 Russia's car market was heading towards 3m units a year, suggesting that it would eclipse Germany's car market to become the world's fourth largest. And the rush by big automotive manufacturing groups to establish a manufacturing presence was on.
But fortunes for Russia's economy dived with the international financial crisis and a collapse in the price of oil. GDP contracted by an estimated 8% in 2009. Late in 2008, credit availability for car sales dried up overnight with the car market halved last year. Western manufacturers in Russia also found that a collapsed rouble meant that imported parts became much more expensive. Ford, for example, has passed on a number of price increases that have not exactly helped to revive slumped sales of formerly fast selling cars like the Focus.
And Russia's domestic vehicle producers – most notably AvtoVAZ – lurched to severe financial crisis.
Total vehicle production in Russia in 2009 was down by a staggering 60% to 722,431 units.
Sales not yet revived, but bottoming
This year has not seen much improvement to the Russian car market. New car sales have continued to decline in Russia, with just under 100,000 lost in the first quarter of 2010, according to JATO Dynamics.

The data firm says that 270,656 new cars were sold in the first three months of this year, a drop of 26.6% (98,128 sales), versus the same period in 2009. But the rate of decline is at least bottoming with March showing a single digit percentage drop on last year.

Virtually all brands have been hit. First quarter sales continued to fall across the board, with major import brands – including Nissan (-54.7%), Ford (-49.5%) and Toyota (-37.6%) – all severely affected.

Kia continued to be the only high-volume brand to show any great improvement by increasing sales in most car sectors, with the B-segment Rio its best performer (Q1 2010: 4,363 sales).
Lada continues as the strongest brand in terms of sales, accounting for one in four of every car sold, but with a sales volume less than 50% of its 2008 levels.
Value driven customers shape segment trends
The absence of new car customers has been felt most by the medium car and MPV segments, dominated by the more expensive examples of import brands that have been hit separately by a falling rouble and Russian government import taxes.
Most of these segments have suffered double digit declines again in Q1 2010, with large MPVs falling by the greatest margin (-75.5%), to record only 233 sales.

The situation is perhaps best illustrated by the Ford S-MAX MPV, the segment's biggest seller historically with 538 sales in Q1 2009, a figure reduced to 70 in Q1 2010.

JATO says that small car segments generally performed better, but with some interesting individual model performances, including the Ford Fiesta. Europe's best-selling car registered just 151 Russian sales for the quarter (-89.5%, vs. 2009), in part hurt by the lack of the locally-favoured four-door saloon bodystyle offered by the segment leaders. This decline was offset by the success of the Renault Logan and Kia Rio, to bring the segment to a close 20.6% down on Q1 2009.

"The overall segment performances suggest a trend to downsize, with strong incentives towards domestic cars, making it a very difficult prospect for import brands. Russia is now far from the market it was when it threatened to be the biggest new market in Europe," says Evangelos Hadjistavrou, Regional General Manager, JATO Dynamics.
Hopes pinned on scrappage scheme
The lack of availability of consumer credit remains at the heart of weak sales. "Russia's new car market continues to suffer, with a lack of affordable credit effectively blocking purchase of all but locally-built cars, which carry their own tax breaks. It remains to be seen whether the new government scrappage incentive will change its fortunes," says Hadjistavrou.
The scrappage scheme that Hadjistavrou refers to reflects alarm in Moscow over the rapid reversal in fortunes for Russia's automotive sector and the possibility of social unrest if restructuring results in too much unemployment. One-trick pony purpose-built 'monotowns' like AvtoVAZ' Togliatti are especially vulnerable.
Besides special measures to help Russian companies' financially, Russia's government also introduced the scrappage scheme in March. It will last till November (unless it is extended – a possibility) and is designed to kick-start depressed sales the way similar schemes in Western Europe have.
A discount of 50,000 roubles (EUR1,125) per vehicle was introduced. The scrappage incentive will be in operation till November 1. Russia's Industry and Trade Ministry believes the programme will stimulate sales of about 200,000 new cars this year.
JD Power Automotive Forecasting analyst Carol Thomas says it is already helping domestic makers in particular. In the first five weeks' of operation some 80% of scrappage scheme sales went to AvtoVAZ. Buyers who may have purchased a Western brand model a few years ago are being attracted to cheaper domestic products.
"Initial sales show that domestic makers – especially AvtoVAZ – are the main beneficiaries," she says. Cars like the Lada Priora and the Zhiguli (model 2105/2107 – the classic three-box Lada based on the Fiat 124 of yesteryear) are benefiting. The Zhiguli may be nearing the end of its long life, but it is still a practical proposition (cheap to buy and maintain). The scrappage discount leaves a low, low price equivalent to USD3,300.
Long road to recovery
Thomas says that the economic situation in Russia is slowly improving. The international price of oil has risen, the rouble has come back and tight credit has eased. "Consumer confidence is still weak, but credit is slowly becoming more available, real wages are growing again and the economic picture is a little bit brighter," she says.
However, Thomas cautions that it will be a long slog to get back to pre-crisis volumes in Russia's auto industry due to the severity of the economic downturn and the adverse effects on business and consumer sentiment which will take time to reverse. And limited market growth will likely continue to support cheap products produced locally – like the AvtoVAZ models and the locally assembled Renault Logan and Kia Rio.
The Russian car market is forecast by JD Power at 1.48m units in 2010 and just 1.7m units in 2011 – which is still a million units off 2008's total. It's a slow recovery.
"On our current projections we won't be back to the 2008 market until 2014," Thomas maintains.
Dave Leggett
NB: Data tables sourced from JATO Dynamics