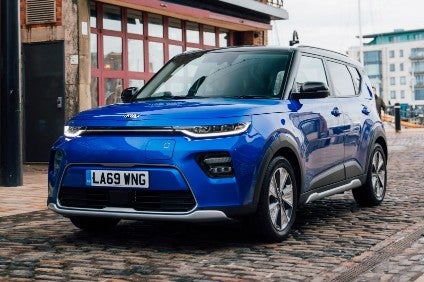 One thing was abundantly clear at the UK media launch of Kia's fully redesigned, Korean built Soul EV – the days of charging from a domestic socket are pretty much over unless you have a lot of time to spare – Kia supplies a domestic wallbox anyway but an away-from-home strategy would be well advised.
The 'original' (generation two car but 1G EV) Soul EV cost GBP29,995 before a then generous government 'grant' of GBP5,000 so most buyers would have shelled out GBP24,995 or less after haggling. Final price was GBP30,495 before the government bung. The new one costs GBP37,295 'on the road' as we say in the UK, and a reduced subsidy of GBP3,500 brings that down to GBP33,795. Like all 'pure' EVs, the Soul is exempt UK road tax (VED) and the London congestion charge and it'll sneak in under the growing number of low emission zone barriers going up around the country, too. Company car tax rate is a low 16%.
For the first Soul EV, domestic (240V) point recharging was pegged at 10-13 hours while 'wallbox' home charging, Kia, as mentioned, supplying said box for free, or a public 'fast charger', reduced the time to around five hours. A public 'rapid charger' was said to take 33 minutes to top up the battery to 80% of charge while range was claimed to be up to 130 miles.
For generation two, that price hike of GBP3,300 or so brings a big increase in range of 'up to' 280 miles, or as much as 402 miles on the official WLTP test cycle. Downside, is all those extra volts take longer to put back. Domestic point charging from dead flat takes 31 hours and the wallbox/public standard charger nine and 35 minutes. If you can find a public fast charger that (a) isn't occupied by another car or a non-EV builder's van, (b) works and (c) accepts your particular membership card, a 50kW DC shot will revive the battery to 80% in an hour 15 and the 100kW zap should do the trick in 54 minutes. The charge socket is at the front, like the Nissan Leaf, but offset to the passenger side (on RHD cars).
Kia doesn't pretend there won't be some battery deterioration over the vehicle's lifetime, just like your cellphone's battery after two or three years, but backs the whole car, including the electric motor and battery pack, with its still class leading seven years/100,000 miles warranty – in return the dealer service schedule must be adhered to, to the letter – and there is also a full service RAC breakdown package for the first year, once 'unlocked' by registering the car with an online portal which also opens up various other benefits.
Although the purchase price is pretty steep for a non-premium, B-segment/subcompact family crossover, Kia GB sweetens the deal by packing in seemingly as much equipment as possible, lots of it extra for premium brands. "Wireless charging? That'll be an extra GBP175, please." The Soul includes it. All I noted absent was a panoramic roof and dual zone climate control.
The EV is now the only model in the Soul line, the petrol and diesel, manual and automatic alternatives of yore – still available in the redesigned range in other markets – having been banished from the (United) Kingdom. Kia Motors Europe COO Emilio Herrera, with whom I talked EVs recently, said: "The market has changed significantly in recent years and, in 2018 – the outgoing model's final year on sale – Kia sold more of the Soul EV in Europe than petrol and diesel versions combined.
"Electrified models accounted for one in eight Kia cars sold in Europe in 2018, up from one in 10 in 2017."
The electric propulsion is more powerful with the motor now turning out 395Nm, 39% up on the predecessor model's 285Nm. The updated lithium-ion battery pack has cell density of 250Wh/kg with new cell chemistry enabling storage of 25% more electricity in the same volume and up on the 200Wh/kg pack in the outgoing model. The 150kW (210hp) electric motor is 84% more powerful than in the previous model.
Kia claims energy consumption of 157Wh/km on the WLTP combines cycle and reckons that is "24% more efficient than Europe's current best-selling electric vehicle".
The bit some owners will love remains, enhanced. EVs offer maximum torque from rest and this latest Soul will haul in the horizon at a rapid rate if encouraged – claimed acceleration from rest to 60mph is 7.6 seconds. Of course, after you've cricked your unsuspecting co-driver's neck a couple of times and, after the mid-route driver change, revenge has been duly extracted, the game moves on to that other EV staple – seeing how much extra range you can wring out by using the regenerative trickery. There's a heat pump to nab waste heat from the coolant system (it was stone cold under the bonnet when we stopped for a mid-route peek at the electrics) and a heater/air conditioner which can be set to driver vents-only (and the source of another mean trick to also play on unsuspecting passengers) but, of course, the main way to save or even recover energy, apart from a light foot on the go pedal, is regenerative braking.
Nissan's Leaf and various Toyota hybrids have a 'B' mode on [sometimes fiddly to use] transmission selectors and various ways of setting the level of regen, Kia opted for a dial selector – twist for R-N-D, poke the centre button for Park. There are several drive modes – Normal, Eco, Eco+ and Sport which tweak the balance between performance and energy use accordingly.
Regen is controlled by steering wheel paddles – note to self, they are not gear change paddles as there is only one gear, bozo – which cycle through off and three stages of retardation. Max is my sweet spot as, with a bit of forward planning, one can avoid using the brake most of the time while keeping an occasional eye on the large range meter to see if the odd mile has been 'put back', as it were. There is also the usual charge/discharge/good boy dial – the modern day ammeter, officially the Smart Eco Pedal Guide display – while the central LED screen between the two main 'dials' can call up, via easily-learned steering wheel controls, all sorts of statistics and the usual energy flow graphic if you wish to maximise your interior distractions. The same display also displays various set and forget menu options – door self-locking must be switched in or out by the dealer, though. One clever trick I didn't notice during our sample drive was the regen brakes automatically adjusting the amount of retard if the car in front slows. And, if the car behind gets too close, that aforementioned EV acceleration can give many another driver quite a surprise, if there is room for a little showing off.
Steering is quick and responsive as Kia has sharpened the rack ratio and those 17 inch wheels are an inch larger than the old model's. The car is very quiet – its maker said the underbody has been flattened with a new aluminium housing for the battery pack to reduce drag and wind noise and there's more sound deadener in the pillars, around the wheel arches and under the carpet along with other measures such as lining wheel arches with a new material called Thinsulate.
Kia has again kicked off a redesigned model with a loaded First Edition – the only choice to start – and there are three colour schemes – white or black with a red roof or a lovely rich blue with black top. Most of the paint shades are metallic. There's lots of nice body detailing, a bit of sculpting here, some subtle bright trim there, and UK cars get the 'SUV pack' which adds black wheel arch cladding plus lower bumper and side sill skirts with bright inserts. Seventeen inch wheels are the right compromise between style and ride.
Kia has chucked in so much stuff as standard, listing it would take days. Highlights include power driver seat adjust (no memory), a very comprehensive heads up display which includes repeaters for the blind spot warning LEDs in the exterior mirrors, heated front seats and steering wheel, 10-speaker Harmon Kardon sound with a sub, wireless phone charger, Apple CarPlay and Android Auto, plus faux leather seat trim. The cabin is spacious enough for four adults and the boot adequate if not enormous. Many older occupants (ahem) will appreciate the higher hip point for easier access in and out. Build and materials quality is high. Driver assistant aids even run to rear cross traffic alert so there's little most owners would miss – the aforementioned dual temp climate control, all-round camera view, digital rear view mirror maybe, my usual wish for a proper albeit temporary spare wheel instead of pump 'n' gunk; it's a very well equipped family car. It's also practical with a dual height load floor in the boot and 60/40 split folding rear seats.
With a big range boost, this new Soul is a huge improvement and shows just how far EVs have come in a decade or so; it's not that long ago, you were lucky to travel even 100 miles on a full charge. The talk now is not of 'range anxiety' but 'charge anxiety' – will I be able to find an unoccupied, functional charger at my destination? Keep the 'lecky Kia on a leash based on range from a home charger and even that will disappear.
My bluff has been called. After trying the first Nissan Leaf, I reckoned I'd never consider an EV till the range was at least 200 miles. That goalpost has long since been kicked over by multiple models including this latest Kia. All I can plead now is poverty.