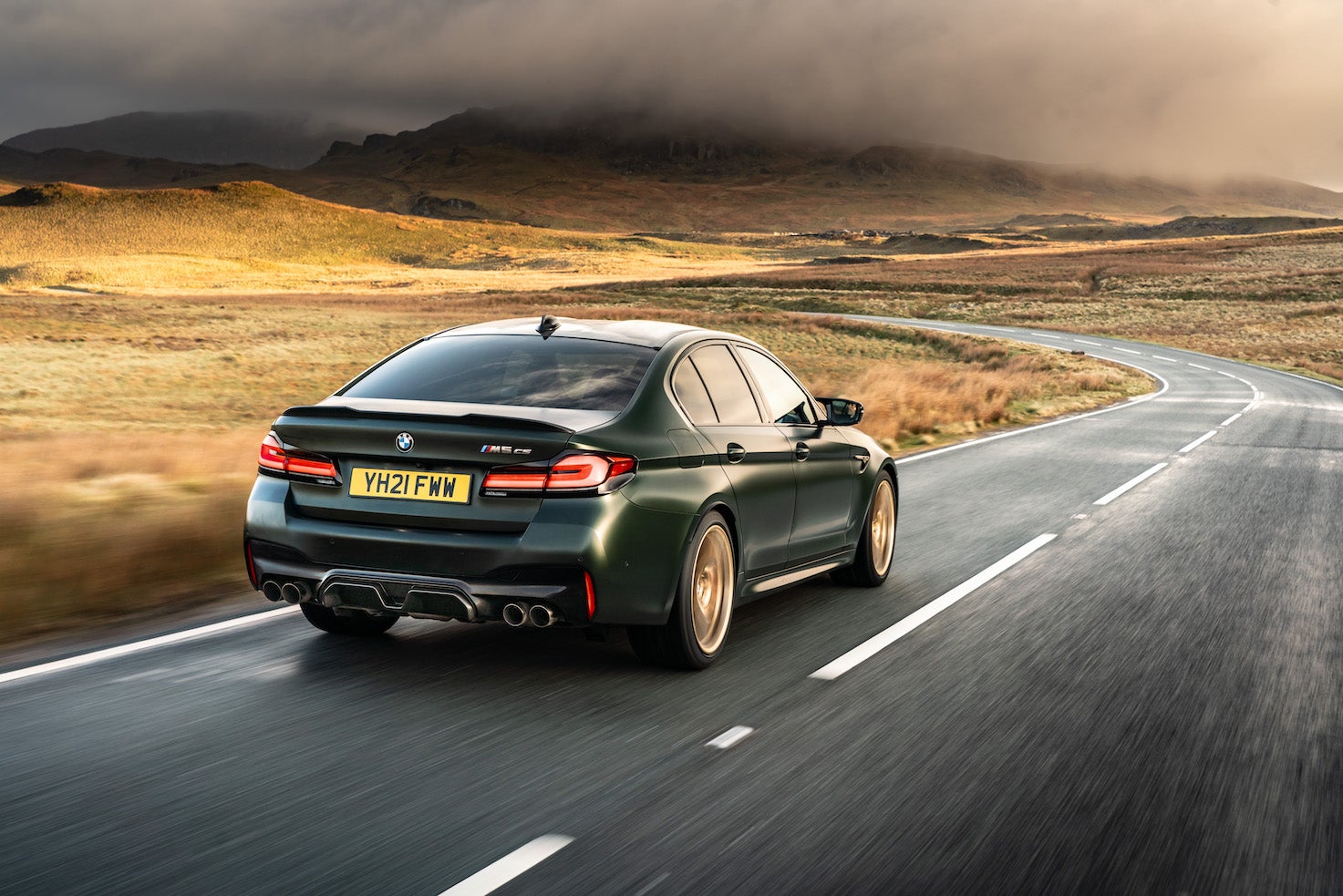 This month marks four years of F90 shape M5 production, this being BMW's pinnacle super-sedan. Unlike Audi, the company hasn't done an estate although a Touring version of the smaller M3 is coming soon, and there's never been an M7 either.
Last year saw the announcement of a lighter, more extreme M5 to keep the name in the press, assisting with sales momentum as the model approaches its final couple of years. As Porsche's record 38,000+ deliveries of the 911 in 2021 proves, adding new versions to a high-priced ICE-only supercar line works, even in the face of social pressures against such vehicles.
Fastest BMW of all time
The M5 CS has certainly proved to be a marketing master-stroke and there are even rumours of a CSL variant still to come, not to mention electrification for the next generation. But in the here and now, is this latest electronically-limited-to-189 mph missile – the most rapid BMW yet – as good as the hype?
The Club Sport is the most powerful production car in the firm's history, the outputs, along with the drop in mass being enough to propel it to 100 km/h in three seconds exactly. All sorts of clever technology helps to minimise fuel consumption and emissions too, the Combined average being 25.0 mpg and 256 g/km of CO2.
BMW has given us CS cars before, such as the M2, M3 and M4, so the name was already guaranteed to create excitement, as well as lifting the bar of expectation higher. How to make the M5 even better then?
Losing the mass of one passenger
First of all, some weight had to come out. Easy? Yes and no. Even buyers of cars as extreme as this one likely wouldn't be too keen on losing the sort of equipment that comes with a luxury sedan at this level. Stellantis may beg to differ as it was able to sell all 500 examples of the very fast and very pricey (for an Alfa) Giulias GTA and GTAm.
BMW's approach is different, most of the 70 kilos that are missing being thanks to CFRP. You therefore won't find near-raw door trims or slimline seat padding. And let's be honest, the German brand didn't need to generate an attention-seeking statement. The sad reality of Alfa under FCA was a division which launched its newest model in 2017. And that's still the case.
CFRP – obvious and not so obvious
Carbon fibre-reinforced plastic is everywhere in the CS: bonnet, front splitter, exterior mirror caps, rear spoiler, rear diffuser, M Power-branded engine compartment cover, and intake silencer. Subtle in some places, obvious in others. It's easily spotted on the bonnet and tiny decklid wing, plus here and there throughout the interior.
The Club Sport also brings with it some fantastically retro 1980s-style gold-bronze wheels. While the colour of the Y-pattern 20-inch rims might not be to everybody's taste, BMW M's research must have showed that the buyers it's going after will love them.
Unfortunately the tyres aren't run-flats so if there's a puncture, the only thing which may or may not help are a compressor and a bottle of sealant, these being stowed in a special compartment within the boot.
It's (not) A Wrap
Even close up, the matte dark green paint of the test car looked as though it was vinyl, which it isn't. The effect blends brilliantly with the black carbon roof. Other unique features are small M5 CS badges front and back, the same four characters appearing, illuminated, when either front door is opened.
Curiously, the CS is missing from the treadplates of the rear door openings (only M5 is there, the same applying to what lights up within the seats when the car is unlocked). However, CS appears (but no M5) on the dashboard ahead of the front passenger. Those letters are also etched into the leather which separates what are two individual seats. I presumed this would fold to reveal a ski-hatch but it doesn't. There's no armrest either; just a plastic tray. That could be there in lieu of the missing seat-back pockets.
Carbon seat backs – knees beware
As long as the people up front aren't too tall, there's lots of room for rear seat passengers and they also get to look at the beautiful gloss black carbon fibre in front of their knees. Those front seats are just as great looking to anyone lucky enough to sit in them. Their facings are leather and there is an outline of the Nürburgring circuit etched into them.
Door trims are a pleasing mix of hard and soft plastics as well as fabric intersected by a thin line of light which also stretches across much of the dashboard. Another satisfying detail is the feel of the paddles. These are shiny CFRP, the left one having a red minus cut out of it with a beautiful plus sign for the right-hand one. Each has multiple dimples on its back; a lovely detail that BMW didn't need to specify to its supplier but which it did anyway.
No sunroof, no warm steering wheel…
Due to the material used for what's above your head, there's no sunroof. And the only other thing that some might want is heating for the steering wheel. I even asked the Hey BMW lady but her Alexa-style reply was a polite, "unfortunately, the vehicle is not equipped with this function". Never mind: what feels like Alcantara means it's not chilly to the touch.
…no plastic pretend-pipes
Fire up this monster and if it's a damp-cold January morning, you instantly see in the mirrors that not one of those big tailpipes is fake as jets of steam shoot out of all four. The idle is that of a sophisticated rather than lumpy V8 which then quickly settles into a gentle purr. There are three sound settings, so you can keep things quiet or instead activate a fruitier howl by switching from Efficient to Sport or Sport+.
What the driver sees and feels
Just like a JLR one, the defaults of the P-R-N-D trigger can maddeningly maroon you in neutral when D or R is needed. That's before you memorise the illogical movement defaults and then all is mostly well. Beside this lever there are buttons for traction control off; M Mode (it activates screen choices of Engine, Chassis, Steering and M xDrive settings), quiet or normal exhaust; and parking assistance.
Also to the driver's left there's the brand's usual circular click-wheel (media, Nav, screen menu etc), two cupholders ahead of it, just the one USB slot (but two others in the back) and a phone charging pad.
A cubby bin below the driver and front passenger's armrest would be welcome but at least the glovebox is fairly roomy, even with the bulky owner's manual in there. The door pockets help matters too by accommodating a water bottle and have room for small items such as sunglasses cases.
HVAC controls are mostly real buttons and dials with only fan speed, seat heating and direction of air flow being digital. You can of course keep it safe by using Hey BMW which works perfectly albeit slowly. What else? The sound system, by harman/kardon, is one of the best I've ever used. Truly the concert hall experience.
Dynamics
For the CS, M division tweaked the engine of the M5 Competition, keeping the torque output at 750 Nm but raising power by 7 kilowatts (10 PferdeStarke). The 4.4-litre turbo V8, which now spins to 7,200 rpm, sounds sensational getting there too.
Other adjustments include suspension lowered by seven millimetres, borrowing the shock absorbers from the M8 Gran Coupé and retuning the springs so as to maximise the benefits available from what are bigger tyres and of course, the lower kerb weight.
Carbon-ceramic brakes are another part of the CS special edition. These are 23 kg lighter than the ones in the M5 Comp and they come with red callipers. Gold-painted ones are available for extra money.
Unique lighting
It doesn't matter how fast any car is if the headlights aren't anything special so BMW made sure that the CS has laser lights as standard. These have a unique detail, switching from white when in DRL mode to yellow when main or high beam is activated. Combined with the gold-bronze grille frame, the look of the car's front end is distinctive but not too showy.
From the moment you take your seat, everything about the M5 CS gives you a sense of occasion. It isn't an intimidating car and it doesn't seem too long or wide either. Yes you do sit low and that's a nice change after all the SUVs which have become the norm for so many of us.
It's tempting to switch the drive system into RWD but on especially wet surfaces, which was what I found during my few days with the car, that's veering towards the dangerous, no pun intended.
Choose RWD or AWD
Even in normal 4WD mode, the back end will twitch with just a little more push on the fun pedal than is required. It instantly comes back into line but it's good to know how easily the CS can be provoked into turning wild. On a dry track, this car would be a sensation.
Even with the snowflake icon constantly lighting up when the roads were dry, and streaming surfaces when the temperature rose above four celsius, still you can enjoy the extraordinary high limits of roadholding. It's a shame to find some understeer at the limit if you throw the thing into a damp roundabout but still, that's the set-up keeping you safe and all that torque neutralised.
The wide tyres and fantastic brakes really come into their own in sodden conditions and as for the steering, only one word is needed: sublime. Even the ride is ridiculously compliant for a car that corners as flatly as this one does.
About the only thing not to love is the fuel consumption if you drive it hard, plus of course, the price.
A secure spot in BMW's future heritage
BMW isn't saying how many examples of the CS it intends to make but there certainly won't be many of them around and there's also a strong chance that this will be the final non-hybrid M5.
The M5 CS comes in just three colours: Brands Hatch Grey metallic, Frozen Brands Hatch Grey metallic matte and Frozen Deep Green metallic matte.