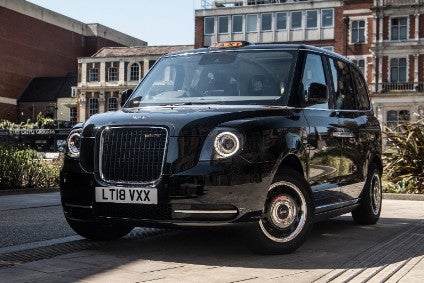 The first new black taxi in twenty years is fast becoming a popular sight on the streets of London. It's much larger, infinitely quieter, has no tailpipe emissions unless the range extender engine is activated and out of stop-start traffic, can even be good fun to drive.
LEVC, the Geely-controlled maker of the TX, sees a major opportunity for electrified taxis. The company has had a large injection of funds to get production of the new model underway, and not only for the UK either.
The first taxi might have been delivered to a London-based driver in January but this was followed by cars for Hong Kong and Singapore. The TX is also being exported to LHD European markets as well as to Beijing and Shanghai. Next year, the first in a range of light commercials will be introduced, LEVC believing there could be great demand for electric vans which share the name of its taxi brand.
The taxi market in Britain has changed a lot over the last couple of years. Uber has shaken things up, as have rival booked-taxi firms with their cheaper and infinitely better alternatives to the noisy, bouncy, cramped-for-the-driver former London taxi.
Specially modified Mercedes Vitos with four-wheel steering have been able to successfully challenge the near monopoly held by what had been called London Taxis International, the maker of black cabs bought by Geely in 2013. We mustn't also forget that Nissan, BYD, Toyota and others have also supplied electric or electrified taxis to private operators, having a good deal of success in many cities the world over.
LEVC notes that many existing cabbies have been sceptical about the new TX, mainly due to concerns about operating range. The company admits it has a job to do in winning over the doubters. There have been issues with, of all things, air conditioning. Not operating problems but who is in charge of its activation: driver or customer. LEVC's press relation team notes that often a driver has tried or still tries to override a passenger's decision to turn the A/C on as it has an impact on vehicle range. The company wants drivers to see that offering cooled or warm, low humidity journeys will entice people back to black taxis. There might need to be more frequent plugging in though, which is of course down-time for the operator.
Anyone who has been used to sitting in the back of the taxis which formerly served as London black cabs will find the TX a pleasant surprise. The first impression is how quiet it is and also how much space is available. There are three rear-facing fold-down seats plus the forward-facing bench, so room for up to six people. Up front, where a passenger seat would be there is instead space to stow bags, although the driver can also use this as a secure place for personal effects: there is a perspex partition which seals off the passenger compartment.
The model I drove and was also driven in was blissfully free of the noisy TV screen which had been another reason for me having given up on black cabs years ago. If you're paying – and usually paying handsomely too – surely a quiet space away from the hustle and bustle of a city such as London should come as standard. I also agree with LEVC's thinking that giving the customer control of the A/C is a basic thing. Now that I know air conditioning and having a temporary quiet space exists in a black cab, I could be persuaded back to them.
The comfort of the TX is a revelation. That's due to a longer wheelbase, the additional 250kg weight of the 2.2-tonne vehicle and the benefit of a long and heavy battery pack positioned below the floor. Even though there is a lot of glass (including much of the roof), the centre of gravity has to be way lower than it was in the old black cab. Driver and passengers all benefit from a lack of body roll and a lot less pitching under acceleration and braking.
Behind the wheel, any car geek will notice lots of Volvo bits and pieces. That includes the touchscreen, various buttons, steering wheel and pieces of trim. The seat looks and feels supportive and could well be the most important component in this car when it comes to driver well-being. The overall impression is one of smoothness. And silence. The small turning circle – a legal requirement in Britain – is extraordinary for a vehicle of this size and all of the car's 'corners' are easy to see when turning and parking. The high seating position is another boon.
LEVC says operators will see significant savings if they run the TX on electricity, the principle being that the range extender is used only when absolutely needed. The company claims that a range of up to 70 miles can be expected. Ideally, the owner-driver should charge at home overnight and then again during a lunch break, preferably via a rapid charger. That range, incidentally, more than covers the requirement that newly-licensed cabs in London's Low Emissions Zone must be able to run for 30 miles without tailpipe emissions.
As with the Chevrolet Volt, the taxi's battery pack is recharged by a range-extending petrol engine. In this case, it's a Geely-Volvo 1.5-litre three-cylinder unit. The electric motor is supplied by Siemens and the 33kWh battery pack by LG Chem. The South Korean Tier 1 also supplies Volvo's plug-in hybrid models. The vehicle itself has a unique platform, constructed mostly out of aluminium although there is commonality with Volvo's 90-cluster models, in that the rear suspension's composite leaf spring is shared.
The TX is manufactured in Coventry, with a second location to be added next year. As well as the taxi, a van will be built at a greenfield site in China, some three hours' drive south of Shanghai. Pre-production is due to commence shortly, full production being due to follow during the first quarter of 2019. This second factory's annual capacity will be 75,000 units, while the site in England can make 20,000-30,000 a year.
My time with the new LEVC TX wasn't long yet it made a favourable impression. With the exception of how it looked when released in 1997, the TX4 was nowhere near being a modern design, let alone an advanced one. The TX, on the other hand, is quite a leap forward for taxi drivers and customers alike (it also looks great thanks in part to the circular DRL similar to those on the Honda Urban EV concept). With battery tech advancing all the time, a fully electric model is probably already planned, thus ensuring that the TX might even have as long a model life as that of its predecessor.