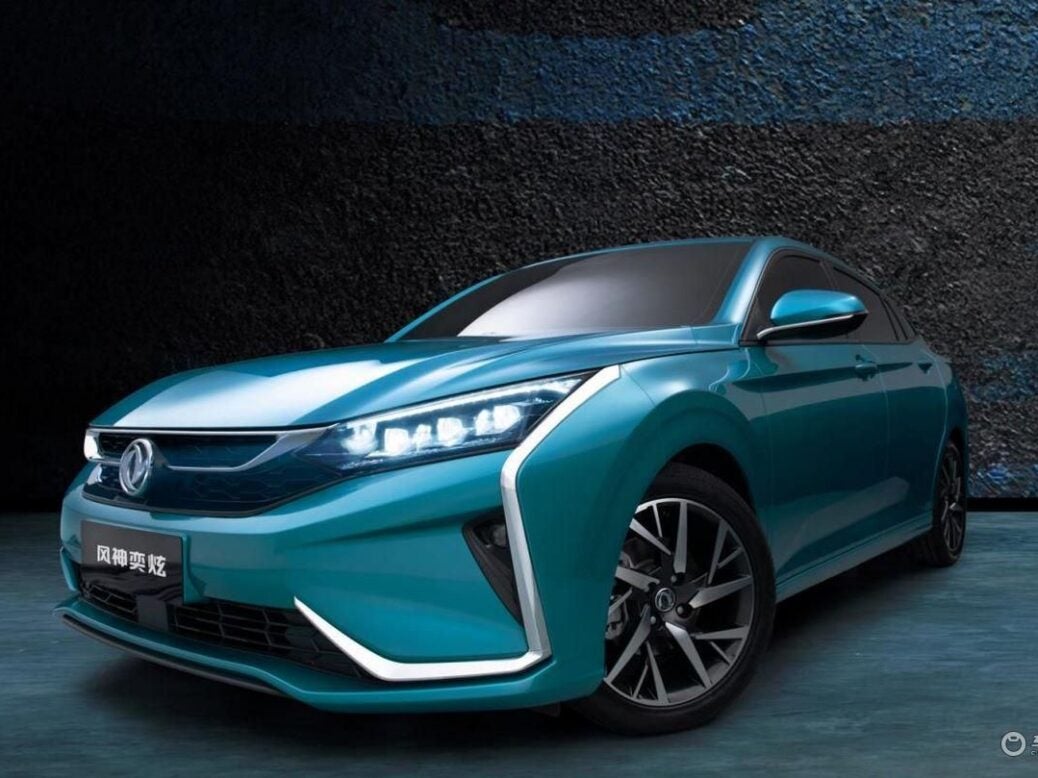 This report looks at the brand's own vehicles rather than those produced by its joint ventures.
Cars
Dongfeng Sokon Automobile – mainly a commercial vehicles maker – is to join the growing ranks of brands selling tiny EVs in China. The SGMW joint venture's Wuling Hongguang City EV has been wildly successful, leading to a boom in this segment.
As per the Wuling, Chery's QQ Ice Cream and others, the Candy is to be a small three-door hatchback but its lines are not as adventurous as those rivals. Length is said to be 2,995 mm, the capacity of the lithium iron phosphate battery isn't yet known but the motor will produce 25 kW, sources indicate.
The Candy's market launch is set for the first quarter of 2022. The life cycle will likely be seven years which means some mid-cycle adjustments in the second half of 2025.
Sedans being so popular in China, it's no surprise that the brand's number one model is the Fengshen Hyun. Launched there in September 2019, it is scheduled to have a round of updates in the second quarter of 2023. The successor, which is due in 2026, will in all likelihood, become an EV.
Dongfeng's electric cars tend to be good sellers, at least the more recently arrived ones. Another example of that is the E70, also known as the Aeolus E70. Sold in China in E70 500 and E70 600 forms, each has the word AEOLUS in large letters across the boot lid.
The CATL battery packs have outputs of 50.8 kWh and 61.3 kWh with maximum ranges of 401 km and 508 km respectively.
In January, the Egyptian state and Dongfeng Motor announced a JV for local production of this model, with its name changed to Nasr E70.
We can expect a facelift for the E70 in 2022 and a successor in 2025.
SUVs
Dongfeng Fengdu, subsidiary of Dongfeng Motor, is to add a 4,385 mm long crossover to its range of vehicles later this year. To be badged in China as the Fengguang 580C, the English name is Fengon 580C. Production will likely last until 2028 with a facelift in 2025.
The Ruichi S513 is mainly for the Chinese market. This 4,385 mm long electric SUV is one of Dongfeng's newest models having been launched in 2020. A single motor provides drive and has outputs of 120 kW and 300 Nm while a 52.6 kWh battery pack allows a claimed maximum range of 305 km. There should be a facelift in 2024 and a successor in 2027.
The second best performer at home for Dongfeng is the Fengxing T5 Evo. Facelifted in March, it gained the three-letter suffix at the same time, having been launched at the Fengxing T5 in 2018. In fact, the original continues to be available but will be phased out in a year or two. The Evo's replacement arrives in 2024.
Dongfeng's range of SUVs is vast, another model being the AX7 Pro. Released for sale in China in January, this Nissan-based model is proving to be popular. There should be a mid-cycle update in mid-2024 and a successor in 2027. That vehicle could become electric-only.
Next year there should be mid-cycle updates for another of the brand's in-demand SUVs: the 4.5 m long Glory 560 (Dongfeng S560 in some countries). Its successor should then follow in 2025.
The other SUV which is due for a facelift in 2022 is the ix5. This larger model offers buyers the choice of a 139 hp and 187 Nm 1.8-litre engine or a 150 hp and 200 Nm 1.5-litre turbo. The successor should arrive in the third or fourth quarters of 2025.
MPV
The Fengxing SX6 has been a good performer for Dongfeng since its arrival in 2016. The 4.6 m long seven-seat MPV/minivan is a low-cost model which uses an old HMG platform. This front-wheel drive architecture is said to be the same as that which underpinned the similarly sized Kia Carens/Rondo. Dongfeng and Kia Motors have a JV.
A successor for the Fengxing SX6 is due to arrive in 2023 or 2024.
Reports for many other manufacturers' future models are grouped in the OEM product strategy summaries section of Just Auto.
Future platform intelligence
More detail on past, current and forthcoming models can be found in PLDB, the future vehicles database which is part of GlobalData's Automotive Intelligence Center. That includes Dongfeng models not covered in this report.
The next OEM in Just-Auto's future models reports series will be Volkswagen AG.