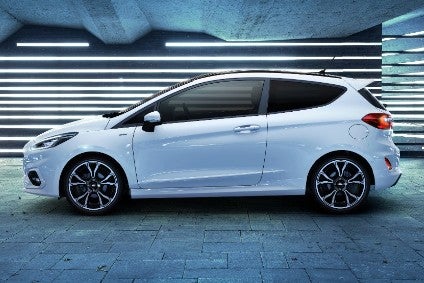 Not too long ago it wasn't easy to spot a mild hybrid, the smart fortwo mhd being one of the few to be easily identifiable. Lately, MHEVs, as some brands term them, are everywhere, this being a cost-effective way to help meet the EC's 95g/km rule. Britain's best selling vehicle is now mildly petrol-electric too, the Fiesta diesel being axed at the same time.
Almost eleven months into 2020 and Ford still rules the UK market. Will it be number one in 2021 though? The Volkswagen Group has long been the largest OEM operating here but the blue oval brand has managed to hold off the relentless advance of its VW rival.
Puma complements Fiesta
The Fiesta and Focus remain Ford's big players in cars, supported by the Kuga and rapidly rising Puma. The little crossover is surging up sales charts all over Europe and if that threatens the Fiesta then Ford shows so sign of vexation. Indeed, FoE is plugging the Puma heavily and has just announced the ST. This new and great looking sports variant will only draw even more people towards configurators on Ford's national websites.
As transaction prices for the crossover are a fair bit higher than the equivalent Fiesta, that's good news, especially at such a tricky time for the UK new car market. Jim Farley's eyes will be closely observing the financial performance of this and other regional markets at a time when profits are not easy to come by.
Fewer Fiestas and more Pumas is a good thing for margins, due to not only higher transaction prices for crossovers but manufacturing costs too: German labour rates are a lot more than what the Romanian workers who build the Puma earn. All of which makes the introduction of new technology for the UK's best seller – and also one of the most popular cars in Europe as a whole – major news.
B segment – MHEV, HEV & EV but no PHEV
Sales of diesel-engined Fiestas have been dwindling all year and while there's no equivalent of the Peugeot e-208 or Renault Clio E-Tech Hybrid, come 2024 and an electric or petrol-electric powertrain will surely be offered in the ninth generation of the Ford.
The lack of PHEVs in the B-hatchback segment shows how hard it has been for OEMs to make a business case for such cars. When it comes to hybrids and EVs, extravagant incentives continue to attract many buyers but are these vehicles profitable? Perhaps that's the wrong question though, as the fines for failing to meet the 95g/km average may be even larger than the losses sustained from producing (possibly) unprofitable electric cars. Which is why mild hybrids are being seen by many car makers as a solution for the here and now.
EcoBoost Hybrid = mild hybrid
Branded EcoBoost Hybrid, with Ford's system a belt-driven integrated starter/generator (BISG) replaces the standard alternator. Energy usually lost during braking and coasting is recovered and stored in a 48-volt lithium-ion air-cooled battery pack.
CO2 output is sensitive to the weight of three-door or five-door bodies, as well as the various model grades, averages ranging from 114-134g/km. Those numbers also encompass both mild hybrids, buyers having a choice of 125 PS and 155 PS versions of the 1.0-litre three-cylinder turbo. Proving the effectiveness of the BISG, the 125 PS engine emits less carbon dioxide than the 95 PS 1.0-litre non-MHEV alternative, the same even applying to the 75 PS 1.1-litre base powerplant.
Bye bye diesel
The arrival of the EcoBoost Hybrid also means that after many decades, there is no longer a diesel engine in the Fiesta. The final 1.5-litre four-cylinder unit for this model was made in Dagenham in September before being sent to the Niehl factory in Cologne, the global lead plant for production of the Fiesta.
The three-cylinder turbo which Ford has been offering in one form or another for close to a decade remains one of the best small petrol engines on the market. Paired with a car as light as the Fiesta, it offers terrific performance as well as genuine character.
Willing to rev for those who like to drive that way, the 125 PS EcoBoost is one of those powerplants which reminds you how good a small capacity unit can be. Now, having gained a BISG, it's somehow even better: still packing the same punch, with that pleasing exhaust note at higher RPM retained, yet more economical and less polluting.
Fiesta – four years young
Generation eight of the Fiesta was revealed four years ago, even if production didn't get underway until May 2017, so we can expect a facelift in 2021. With the Corsa performing so well in Britain and in Germany too, Ford's dealers will be pleased to see their best seller getting some appearance tweaks.
I wouldn't change much on the outside and I doubt that Ford's Design team is planning to radically alter the car's appearance. We'll likely see an altered grille shape, new headlights similar to the Puma's and probably a rear end treatment which apes some of the crossover's detailing.
On the inside, perhaps some of the hard-plastic dashboard/door trims and various controls will be replaced, and the steering wheel redesigned. But let's hope Ford follows BMW's lead and chooses to retain most of the good stuff (i.e. faster and safer physical buttons). That also includes the signature light blue illuminated needles for the big, clear analogue speedometer and tachometer which define the instrumentation clusters of so many Fords.
Still best in class for dynamics
The number one reason why I'd buy a Fiesta is how every example in the range drives. The cheapest versions, with just 75 horsepower and small wheels only highlight how much more power and torque you want as the basic dynamics are so sound. Every corner is a pleasure, bumps never seem able to upset the composure of steering or suspension, and for what's really only supposed to be Britain's go-to choice for people not especially interested in cars, the Fiesta has been fantastically over-engineered.
As fond as I am of the Peugeot 208, the Ford remains at the top of its game, and deserves to stay the nation's number one.
Fiesta pricing start at GBP16,640 OTR (75 PS 1.1-litre Trend three-door), with the new EcoBoost Hybrid 125 PS costing from GBP18,110.