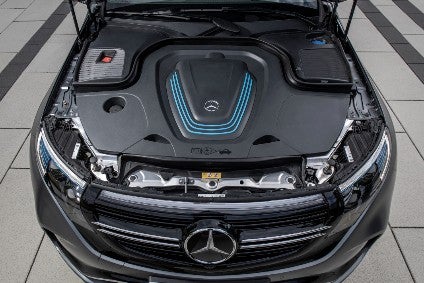 BMW has i and Audi has e-tron: these are reserved for electric vehicles. Mercedes-Benz instead has one name for both electric and electrified vehicles: EQ.
[16:00 3 July: This report was first published on 2 July. It has now been updated following the shock announcement earlier on 3 July that the
Smartville plant in France is to be sold
].
Mercedes' diesel-electric and petrol-electric PHEVs are called EQ Power. Battery-only models are instead EQ, followed by an identifying letter (or name in the case of the smart EQ fortwo). A sub-brand which began with the EQC a year ago and subsequently gained the EQV luxury MPV is being rapidly expanded with further SUVs, and from 2021, cars too.
In February Daimler told us that the EQA would become available "before the year is out", issuing images of a camouflage blue prototype being tested in Sweden. COVID-19 was thought to have delayed this until perhaps November or December but now the model will likely not arrive until 2021.
This would have been the first vehicle for the brand to be manufactured in France and indeed it might still be. The closure of smartville might not take place until 2022 so as to give Daimler time to shift build of the EQA to perhaps Rastatt.
The size of this model isn't yet known but it should be somewhere between 4.3 and 4.6 m.
Markus Schäfer, Member of the Board of Management of Daimler AG and Mercedes-Benz AG; responsible for Daimler Group Research and Mercedes-Benz Cars COO said on 3 July: "The transformation to the CO2-neutral mobility of the future also requires changes in our global production network. In this phase of economic challenge, we are balancing demand and capacity and we are now adjusting our production network. These changes also affect the Hambach plant. An important goal for us is to secure the future of the location. Another condition: The current smart models will continue to be produced in Hambach."
Back in May 2018, Markus Schäfer, Member of the Divisional Board of Management of Mercedes-Benz Cars, Production and Supply Chain, had this to say: "With the production of a compact electric car [now known to be the EQA] in Hambach, we are adding further capacities for our electric initiative at six locations on three continents. The smart plant in Hambach will become a part of our global compact car production network with the lead plant Rastatt, Germany. The production network of the new generation of compact cars includes the plant in Kecskemét, Hungary, the BBAC production site in Beijing, the COMPAS plant in Aguascalientes (Mexico) as well as the Finnish manufacturing service provider Valmet Automotive".
With the retooling of Hambach into a plant making the MFA 2 architecture electric SUV, so, eventually, smart models were to be phased out from production there. This was announced in March 2019 as Daimler and Geely told the media that from 2022, a new generation of electric smart models would be built at a site in China.
The EQC was the first fully electric Mercedes-Benz SUV or crossover and the initial model for EQ. This 4,761 mm long model is intended to be a rival for the Jaguar I-Pace, Audi e-tron and others in the electric SUV segment.
The car's powertrain consists of one motor operating on each axle with combined outputs of 300 kW (408 PS or 402 hp) and maximum torque of 564 lb ft. The claimed range was at first stated as being up to 200 miles (USA's EPA) but then recanted and a new figure of up to 279 miles (NEDC) was announced. The top speed is limited to 112 mph.
The LG Chem battery consists of 384 cells and is located in the vehicle floor, between the two axles. The battery pack consists of two modules, each containing 48 cells, and four with 72 cells each. The battery has a nominal voltage of approximately 350V and a nominal capacity of approximately 218Ah, for an energy content of 80 kWh (according to NEDC/WLTP). It weighs 650 kg.
Daimler developed an adaptation of MRA, its RWD/AWD architecture, as the basis for multiple EVs. This platform is scalable and usable across models: the wheelbase and track width as well as all other system components, especially the batteries, are variable. The basic architecture, a multi-material mix of steel, aluminium and carbon fibre, is suitable for SUVs, saloons, coupés, cabriolets and other model series.
The cells for this and other plug-in Mercedes-Benz models are sourced from Daimler's own battery factory in Germany. Difficulties ramping up production is said to be the reason why series production of the EQC was delayed from April 2019 until the third quarter of that year. Some cars were with owners from mid-year but the majority of orders did not begin to be filled until the fourth quarter.
The model is produced on the same line at the Bremen plant as the C-Class Sedan and Wagon, GLC and GLC Coupe. Daimler also manufactures the EQC in China as part of the Beijing Benz joint venture. The locally made variant premiered at the Chengdu motor show in September 2019. Chinese market deliveries commenced two months later.
The EQC was due to be available in the USA in early 2020 but in December 2019 dealers were told that the car would not arrive in the US market until 2021.
The tentatively named EQD should be a sedan or hatchback sized between the C- and E-Class sedans, so about 4.8 m long. Production is likely to be in Germany (Bremen or Sindelfingen) but there could also be build in Beijing. The EQD would be chasing the Tesla Model 3.
Daimler will probably make this car stand out by giving it an especially aerodynamic look. That might have been what the IAA concept from the 2015 Frankfurt motor show was hinting at.
The EQV is Mercedes EQ's newest model, build having commenced in January, although it was first seen as the Concept EQV at the 2019 Geneva motor show.
This fully electric MPV/minivan is based on the existing V-Class rather than using Mercedes' bespoke EVs architecture. The motor produces a claimed 150 kW and 362 Nm, the 90 kWh battery pack is positioned below the passenger compartment and the stated range is up to 405 km. Top speed is 160 km/h. Seating can be arranged for seven or eight occupants and there are two lengths: 5,140 or 5,370 mm. The life cycle won't be a long one, the second generation model being due in 2023.
A proposed electric sedan or five-door hatchback is expected to be built in both Germany (W295) and China (V295) in 2022. The 5m long 'EQE' would compete with the Porsche Taycan and Audi e-tron GT. China's car should have a longer wheelbase and be called EQE L.
Unless there have been serious delays caused by COVID-19, the arrival of the EQS should now be only 15-16 months away. It had been thought that this would be a rival for the Taycan, e-tron GT and Tesla Model S but the sheer size of a 2019 concept suggests otherwise. These three cars, one (Taycan) a sedan and the other two hatchbacks, are all sub-5m in length. Full EQS details can be found in PLDB.
Reports for many other manufacturers' future models are grouped in the OEM product strategy summaries section of just-auto.com.
Future platform intelligence
More detail on past, current and forthcoming models can be found in PLDB, the future vehicles database which is part of GlobalData's Automotive Intelligence Center.
Four other features, each a look at various Daimler AG passenger car brands, preceded the one above. They were, in order: Mercedes-Benz cars, Mercedes-Benz SUVs, Denza-smart-Maybach, and Mercedes AMG. BMW AG will be the subject of the next report.