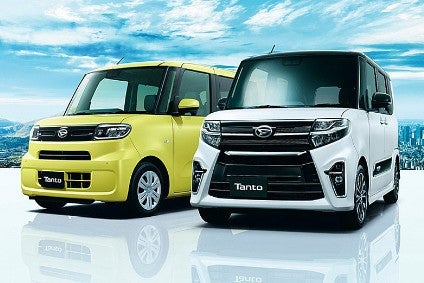 By contrast to what has been happening in Japan, Daihatsu Motor Company is having a torrid time in another one of its few major markets, Indonesia, where sales have halved in 2020 and remain depressed. Things couldn't be more different in neighbouring Malaysia though. There, DMC 's subsidiary Perodua is going from strength to strength.
Daihatsu
The small car specialist is firmly positioned as Japan's fourth most popular make of car, its 428,802 deliveries in the first three quarters being well ahead of fifth placed Nissan's 356,960.
Suzuki (469,264) and Honda (468,690) remain in battle for second position, the currently third placed brand likely to grab the silver medal this year as a new Honda N-One Kei car is about to hit the market. DMC shareholder and effective owner TMC naturally leads the Japanese market as it always does, having sold 1,057,708 passenger vehicles between 1 January and 30 September.
Daihatsu's most popular non-660cc model is the Rocky, (1 Jan-30 Sep sales: 25,757) a small SUV which has a far better selling Toyota twin called Raize (93,243). Both are powered by a 1.0-litre three-cylinder petrol turbo engine or a non-turbo 1.5 with four cylinders. The first examples were delivered in November last year.
Production takes place at Shiga (Ryuo) Plant Number 2. This was confirmed by Daihatsu in April during the COVID-19 pandemic when it announced that this factory would be offline for part of that month. Should DMC's often long production cycles apply to this model, we likely won't see a facelift until 2023/2024 and a successor in 2027 or 2028.
Four years old this month the Thor and Thor Custom (1 Jan-30 Sep deliveries: 14,739) likely have another two-three years of production remaining. Daihatsu also manufactures two closely related models, the Tank and Roomy, for Toyota and one for Subaru , the Justy. All these 3.7 m long mini-MPVs have electric sliding doors on their sides. There are both front- and all-wheel-drive variants, and power comes from a 1.0-litre turbocharged engine.
Combined, the Tanto and Tanto Custom are the brand's number one home market model but it's had a tough 2020, sales dropping by 29% to 96,408 (Jan-Sep). The fourth generation of these five-door mini cars was announced in Japan in July 2019. Both normally aspirated and turbocharged 658cc engines are available. The Custom has a sportier, more aggressive front end than the Tanto (see pic). The next news should be a facelift in a year's time, generation five being due in the fourth quarter of 2024.
One other relatively strong performer in Japan is the Move. As the sixth generation of these five-door Kei-class minicars went on sale in Japan six years ago next month, successors are imminent. Daihatsu also supplies the Stella, a version of the Move, to Subaru's domestic market dealers. There was a facelift in August 2017.
'Tough and Almighty Fun Tool' is what Daihatsu says the word Taft stands for. The company revived the model name this year, launching the tiny vehicle in the Japanese market during the third quarter. This 3,395 mm long SUV is aimed at the same customers as the Suzuki Hustler. The life cycle will probably last until 2026 after a facelift in mid-2023.
Perodua
There have been very few changes to the Malaysian brand's five-model line-up during the last year. Even so, Perusahaan Otomobil Kedua Sdn Bhd (Perodua) continues to thrive in its home market, October being another record month for the marque (26,852 deliveries). The next big news will be the addition of a 4 m long SUV codenamed D55L, which will be based on the Daihatsu Rocky and Toyota Raize twins.
The Myvi (see link to PLDB below for details) remains the top seller but the Aruz is the brand's newest and also most expensive vehicle. Launched during the first weeks of 2019, this seven-seat crossover is closely based on the Toyota Rush and Daihatsu Terios. In fact, Perodua also supplies Toyota's Malaysian market operations with the Rush. The first facelift is due in the third quarter of next year, a second one in 2024/2025 and a replacement in 2028.
Priced below the Aruz is the Alza . Long overdue for replacement and easily the brand's oldest model, this small hatchback has been in production since the fourth quarter of 2009. The Alza is a version of the former Toyota Passo Sette/Daihatsu Boon Luminas twins. There have been two facelifts, the first in 2014 and the second four years later. A Daihatsu-based replacement should finally appear next year.
Perodua's least expensive car is now more than six years old. The Axia ('a-zee-a') was last updated in November 2019, which was a facelift. This small five-door hatchback is Daihatsu-based and is built in what was a new Perodua plant located next to an existing one. The Perodua Bezza is the sedan equivalent. Both should be replaced in 2022.
Malaysian National Car
Daihatsu is understood to be part of a project to create yet another 'national car' project in Malaysia. This follows the introduction of Proton, which was masterminded by the same man who is behind the latest idea: Malaysia's prime minister, Mahathir Mohamad. This time, he has brought in local firm DreamEDGE but no tax payers' money will be put into the firm.
The CEO of DreamEdge, Khairil Adri Adnan, told reporters in August 2019 that the first vehicle, due to be on the market in 2021, would be a small car which would have either an ICE or possibly a hybrid powertrain.
Reports for many other manufacturers' future models are grouped in the OEM product strategy summaries section of just-auto.com.
Future platform intelligence
More detail on past, current and forthcoming models can be found in PLDB, the future vehicles database which is part of GlobalData's Automotive Intelligence Center. That includes multiple Daihatsu and Perodua vehicles not covered in this feature.
This is a third of four features in a series which highlights selected current and future models from TMC's passenger vehicle divisions. The first two chapters concentrated on Toyota's crossovers, SUVs, MPVs/minivans and EVs, as well as cars and pick-ups. The final part will focus on Lexus.