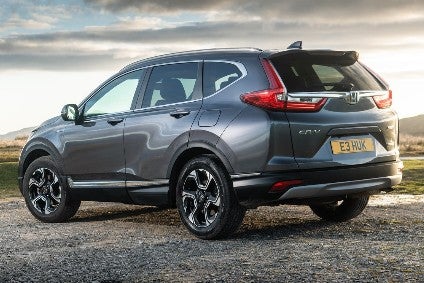 Honda, an unfathomably minor brand in Britain, offers a small range of vehicles, each one being worthy of a lot more attention from buyers. The CR-V Hybrid illustrates that point perfectly and signals a change of strategy with electrification now the default setting for future Honda models in the European region.
The CR-V Hybrid is powered by the combination of a 2.0-litre petrol engine and two motors. FWD and AWD variants are both available, this being dependent on the model grade. As the battery needs to be accommodated, unlike other CR-Vs, the hybrid cannot be ordered as a seven-seater. Combined outputs are 135kW (184PS) and 315Nm.
The EX trim press tester lists at GBP37,305, to which Honda UK added five hundred pounds worth of optional metallic paint. You don't need to pay that sort of money for a CR-V Hybrid though, less well equipped S, SE and SR model grades also being available, the least expensive front-wheel drive S starting at GBP29,105.
Even the base variants have what Honda calls 'SENSING'. This is a bundling of safety features which includes collision mitigation braking, forward collision warning, lane keep assist, lane departure warning, road departure mitigation, adaptive cruise control and traffic sign recognition.
The all-wheel drive EX comes with heated rear seats, a panoramic (opening) glass module in the roof, a head-up display, an electric tailgate and heating for the steering wheel. The SR below it misses out on this gear but is still very well equipped, the list including leather upholstery, heated front seats and a cross-traffic monitoring system.
Changes coming next year for UK market CR-V Hybrid
Honda UK calls the current edition the 2019 CR-V Hybrid but American Honda has just announced the 2020 CR-V. North American markets get a facelifted model, which makes perfect sense as the 2HX series fifth generation vehicle has been in production for that region since October 2016.
Something which some readers might be surprised to learn is that we have been ahead of the US market in being able to buy the hybrid: American Honda won't introduce it until January. Japan had been another country where the petrol-electric powertrain was unobtainable although that changed in November last year.
The CR-V Hybrid was seen for the first time at AutoShanghai in April 2017. China is easily the model's number one market, the first customer deliveries commencing five months after the motor show world premiere. A made-in-Japan version finally landed in European dealerships earlier this year. We likely won't see the facelifted petrol and petrol-electric CR-Vs until the second half of 2020.
Global production in three plants
Honda will soon be manufacturing the Hybrid in three plants, the third of these being Greensburg, which is in the US state of Indiana. American Honda's Russells Point factory in Ohio makes the two-motor power unit and the company's Anna engine plant in the same state produces the four-cylinder engine.
Cars for the UK come from Sayama, while the Chinese market is served by Dongfeng Honda's Wuhan 1 plant in Hubei province. Incidentally, the next generation model – due in 2022 for China and the US and 2023 for Europe – will be made in a different Japanese factory. Two years ago this month, Honda announced that it would be closing Sayama by the end of March 2022 with operations being consolidated at the nearby and much newer Yorii plant. Sayama, which opened in 1964, and Yorii (2013), are in Saitama prefecture just north of Tokyo.
In Federalised form, the CR-V Hybrid has combined outputs 212hp and 232 lb-ft (315Nm) from the 2.0-litre Atkinson Cycle gasoline engine and two motors. Specific exterior details include blue badges and hidden tailpipes. Although this powertrain was already offered in the US market's Accord Hybrid, the arrival of the gasoline-electric CR-V in January will be the first time that all-wheel drive becomes available in a US market two-motor Honda hybrid. As for the specifications of next year's revised model for the UK and other Honda Motor Europe markets, nothing is yet official though it seems likely there will probably be extra power in this region too.
50+mpg in real world conditions
Under the combined cycle of the revised NEDC test, the lowest emissions and least fuel consumed are 120g/km and (Combined) 53.3mpg. Those numbers are for front-wheel drive variants, whereas those with power and torque also going to the rear axle have respective official numbers of 126g/km and 51.4mpg.
The driving experience is quite different to how I had envisaged it, proving yet again that you need to get behind the wheel of all new models to truly understand them. The 2.0-litre engine has a beautiful exhaust note and the single-speed transmission does a great job of impersonating the best older style CVTs. There is a slurring and super-smooth revving yet without the awful rubber-band effect which put people off cars such as the Lexus CT 200h. Honda says the single fixed-gear ratio means a smoother transfer of torque compared to CVTs, including the planetary e-CVTs found in most other hybrid vehicles.
There are three driving modes, each of which is automatically switched in and out of depending on what the vehicle's software senses:
EV Drive – draws energy from the battery pack to power the electric propulsion motor and drive the wheels (engine is turned off)
Hybrid Drive – the engine powers a second motor/generator which supplements energy from the battery pack
Engine Drive – a lock-up clutch creates a direct connection between engine and axle(s)
In ordinary conditions, the car will shift between Hybrid Drive and EV Drive modes, the idea being to maximise fuel economy but when you hit the motorway, electric mode is dialled down. Having said that, there is quite a bit of energy harvesting going on each time the driver lifts off even slightly, so this is one of those rare petrol hybrids which sips rather than gulps fuel at 70mph+. At more modest speeds, it gets even better, the engine powering down automatically and the driver being almost unaware whether it's ions or combustion providing the acceleration.
Conclusion
Probably it's the additional weight of the battery cells pack and motors which make me believe that the AWD Hybrid is the best CR-V. Anyone who feels they need the 5+2 seating layout will have to disagree with that statement, though. The additional power compared to non-hybrid CR-Vs is another reason why this variant has to be the default variant for those who feel they need a sensible SUV yet still want the possibility of rewarding drives when conditions allow.