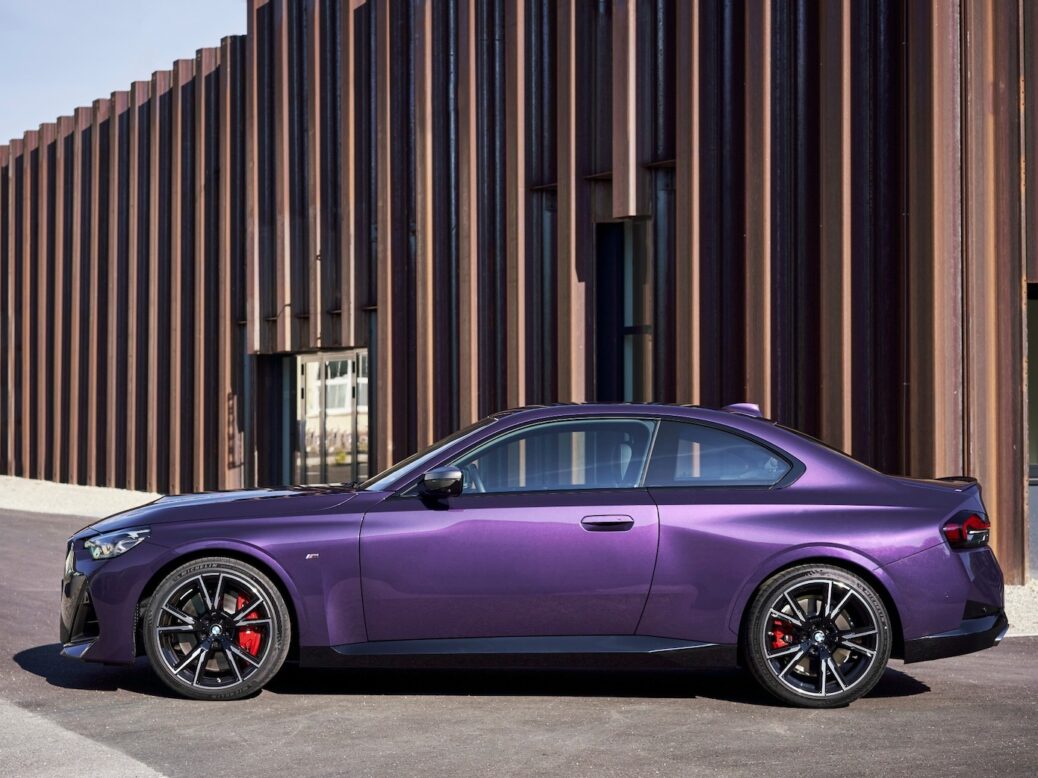 AWD may make the M240i xDrive a tempting alternative to the soon to be revealed G87 M2.
It's fascinating to consider the debate which surely went on with some intensity within BMW as the next M2 and recently launched M240i were being planned. Which one would be given four-wheel drive? Or might both be RWD-only? Perhaps instead each could be offered in xDrive form?
Rear- versus all-wheel drive for M
Traction for both axles never used to be a thing for M vehicles but the idea of shunning four-wheel drive is long gone. Soon, electrification will be the next novelty, albeit for high performance as well as emissions reasons.
The division's imminent PHEV powertrain will feature in another first for the sub-brand: an SUV.
Not everyone loved the XM concept but let's see it in production form before we make our minds up. I'm already excited about the promised 1,000 Nm of torque pushed out by the pairing of a motor and a turbocharged V8.
Three body types for the 2 Series
One other new BMW which nobody can deny is anything but exceedingly handsome is the 2er Coupé. The G42 shape car in fact shares very little with the other 2 Series bodies. These are the U06 Active Tourer, an MPV, and the F44 Gran Coupé, a low-roof sedan.
As well as being based on a RWD-AWD platform (U06 and F44 are native FWD-AWD) G42 is the first small two-door model to be manufactured in Mexico. And while some had been expecting a new 2 Series Convertible to join the Coupé on Line 2 at the San Luis Potosí factory, such a model won't be happening with this generation.
Petrol and diesel but no e-G42
It's been a steady roll-out of G42 variants since build started in early 2022 with BMW USA having been the first to confirm its line-up. That includes the rear-wheel-drive 230i (245 hp B48 2.0-litre turbo) and (374 hp B58 3.0-litre turbo) all-wheel-drive M240i xDrive. An eight-speed automatic transmission is standard for both.
The all-turbo full global range is as follows:
220d, 2.0-litre four cylinder petrol, 140 kW (190 PS) and 400 Nm (295 lb-ft)
218i, 2.0-litre four-cylinder petrol, 115 kW (156 PS) and 250 Nm (184 lb ft)
220i, 2.0-litre four cylinder diesel, 135 kW (184 PS) and 300 Nm (221 lb-ft)
230i, 2.0-litre four cylinder petrol, 180 kW (245 PS) and 400 Nm (295 lb-ft)
M240i xDrive, 3.0-litre six cylinder petrol, 275 kW (374 PS) and 500 Nm (369 lb-ft)
The fastest and most powerful of those five is the one BMW kindly lent me to try. And it really is so impressive that the question posed in this article's headline lingered every time I drove it and thought about the M2 yet to come.
Why 1,600+ kilos is considered light
Unlike so many e-cars which feature four-wheel drive, this one has a mechanical system. Which should mean a weight penalty. Only it doesn't.
In this era of mass electrification, ICE-powered cars such as the M240i xDrive are often a fair bit lighter than a hybrid, PHEV or EV equivalent. So it is that this powerful coupé has a CO2 average of 199 g/km despite being able to hit 62 mph in a mere 4.3 seconds. DIN mass is 1,635 kg.
Bigger body, bigger boot
The new 2 Series Coupé is longer (+105 mm to 4,537) and wider (+64 to 1,838) but 200 mm lower (1,390) than F22, the former generation. And even though the wheelbase is lengthier, BMW knows hardly anyone will use the back seats of a car such as this. Sensibly, that benefit has gone into expanding the boot's capacity, which rises by 20 litres to 390.
All of the above is great, as is the excitement of how responsive the M240i is yet something else which has to be acknowledged is how great the car looks front-on. How and why the G42 missed being given one of the – shall we say – unmistakable grille designs of other new BMWs is a mystery. Some might say a blessing.
Shock – unremarkable grille on a BMW
This is one of those cars which you cannot help but look at after parking it, the proportions being spot on. There are also multiple examples of engaging shapes and curves and bulges, along with lighting which looks exactly right.
Inside the car, BMW's signature love them or be resigned to live with them orange instrumentation read-outs feature. The digital speedo and tacho face one another and I still wish real dials would return, lit in a more premium-feel colour as they once were.
Push the button
Worth celebrating is an array of switches for all manner of functions. That includes HVAC and driving modes, steering wheel heating, media settings and so on. The brand's Controller wheel exists in this model too and it works as intuitively as ever. Also, the touchscreen isn't too large either. All in all then, a low-distraction/high safety dashboard.
The driving position and steering wheel are as good as you'd expect in a fast BMW. Additionally, the seats look as terrific as the support they give and what are beautifully designed pedals are perfectly positioned.
Not everything inside this car is perfect, mind. Please BMW, ditch that over-complicated gear selector lever in favour of something as precise as the knurled dial which Ford, Genesis and others offer. Not to mention how much nicer it would look and feel than the slippery black plastic lever which blights the centre console of the M240i.
Sublime handling
Once the M240i is in D, all is wonderful and that includes the lovely action of the paddle shifters for its eight-speed ZF transmission. The engine note is glorious too – yes, BMW has found its way back from the land of bland exhaust tones.
The power delivery is perfectly linear and the 3.0-litre straight six loves to rev. It's the agility of the chassis though, and what is utterly wonderful steering weighting that really makes this car so enjoyable.
The company's engineers have dialled in a rear-axle bias to the handling and xDrive means there is always a fantastic level of grip, automatically maximised in every condition.
Conclusion
I recently also spent a lot of time with a Polestar 2 and as great as that car is, it just doesn't have the BMW's personality.
The M240i xDrive is in fact so good that it will definitely make some potential buyers of the soon to be officially revealed M2 wonder if it's worth what will be a large premium.
G87
The next M2 Coupé will be revealed in October with what BMW terms the "market launch" set for April ('23). The engine should be a detuned version of the 353 kW/375 kW six-cylinder turbo which powers the M4/M4 Competition. Drive will be to the rear axle via a six-speed manual gearbox. An M2 CSL will likely follow in 2024 or 2025.