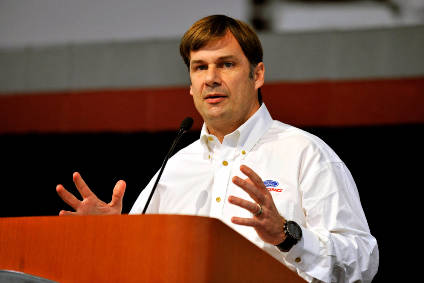 Ford may be preparing to split its burgeoning EV business from its century-old combustion engine business according to unnamed sources cited in a Bloomberg News report.
The US auto giant has been on something of a roll in the last 12 months, with improving consumer and investor sentiment thanks to a brace of new, well-received vehicles including the Bronco off-roader, the hybrid-powered Maverick compact pickup truck and the imminent F-150 Lightning EV pickup. In February 2021, the company's share price stood at roughly $12 but, one year later, this has risen to around $18, with a peak in January 2022 where it crested $25 – indicating an improvement in investor outlook for the historic company
With all the positive attention the company has earned recently, Ford's market cap now sits around $72 billion at the time of writing. This sounds impressive but starts to look relatively insignificant when compared with the market cap currently enjoyed by leading EV player Tesla – sitting at around $880 billion.
Tesla's enormous valuation comes despite the fact that the company only delivered around a quarter of the number of vehicles Ford did in 2021. The driving source behind the astonishingly high market cap comes from investor expectations about Tesla's future earning potential – most observers expect EV sales to continue growing exponentially in the 2020s as more markets outlaw sales of combustion-powered models. Tesla's position as the leading premium EV brand means it's well placed to capture many of those future sales.
What's more, Tesla's vast valuation also takes into account its position as less of an automotive company and more of an all-round tech company – with that value generated by both its vertically integrated EV manufacturing supply chain, and by its huge swathes of driving data captured by millions of Teslas equipped with its Autopilot and Full-Self Driving semi-autonomous driving packages.
Which brings us to Ford and its rumoured plan to separate its EV business from its traditional combustion-vehicle manufacturing operations. If it goes ahead, the move could be seen as a way for Ford to ingratiate itself with investors hungry for EV stocks, aiming to find the 'next Tesla'. Some of Tesla's success comes from the fact it is seen as the antithesis of traditional combustion vehicle manufacturing operations – it's a lean company that suffers from very little overcapacity thanks to huge demand for its vehicles, and moves quickly to launch new models and services, even if it risks falling foul of traffic administrations such as the NHTSA. Ford might feel that such a split would make its remaining EV business more tempting to investors as it trims away 'unattractive' legacy business components such as its engine-making operations.
An alternative solution also floated by insiders was that Ford could sell off its combustion-vehicle manufacturing and component business, leaving 'Ford' as the part that manufactures and sells pure battery EVs. This would achieve more or less the same outcome – making the EV part of Ford's business more desirable to investors – but could be enacted as more of a rebranding exercise than as a hard split between two business units.
Disentangling Ford's EV production from its ICE production would be a complex operation. GlobalData's Light Vehicle Powertrain Forecast shows that most Ford production facilities produce both battery EVs and combustion-powered models – for example, the Dearborn Truck plant is slated to build both fuel and battery-powered F-series pickups, while Ford has confirmed that it will upgrade its Oakville plant to build EVs as part of its C$1.8 billion investment into its Canadian facilities.
Ford also has a number of EV production plans that hinge on partnerships or joint ventures with other companies. For example, Ford builds ICE-powered models including the Escape, Escort, Explorer and Edge, along with Lincoln models such as the Corsair and Aviator through its joint venture with Changan in China. It already builds the Mustang Mach-E EV in China through Changan, with a number of future EVs also scheduled for production across its Chongqing and Hangzhou factories.
In Europe, Ford is expecting to build B and C-segment battery-electric SUVs based on VW's MEB electric skateboard platform at its Cologne, Germany factory – currently home to Ford Fiesta production for the continent. Meanwhile, in Turkey, Ford's Otosan joint venture is a major hub for production of its Transit commercial van, which will gain a battery-electric powertrain option from 2022, likely built on the same line as combustion-powered versions.
Any unravelling of Ford's electric and engine-producing operations could have an impact on those established production plans – especially those made in partnership with other auto players. In this hypothetical scenario, it is very likely that two separated sides of Ford's business would need to continue sharing production facilities in the short-to-medium term because most of its EV plans exist in concert with existing combustion-powered vehicle projects.
Should Ford make the decision to split its electrified and combustion-powered vehicle businesses, it would be following a pattern that's already being seen among some automotive suppliers as they navigate their way towards mainly supplying EV components. In September 2021, Continental completed the spin-off of its powertrain division into Vitesco Technologies, allowing the newly created entity to entirely focus on navigating from making combustion powertrain parts to EV parts.
Elsewhere, safety supplier Autoliv separated from its electronics and automated driving technology arm in 2018, creating Veoneer, allowing both to focus more closely on their particular specialist areas. Similarly, Delphi Technologies separated its electronics and safety businesses into Aptiv, with Delphi's remaining business able to focus purely on powertrain technology.
While a full spin-off of Ford's engine-building or electrified vehicle operations is a possibility, the company has yet to give any kind of indication about what direction it plans to go in. Established traditions or the influence of the Ford family on the company's board may pull back on the plan, however, if it is seen as disruption simply for the sake of it.