ANALYSIS: Chinese government backs automakers' global adventures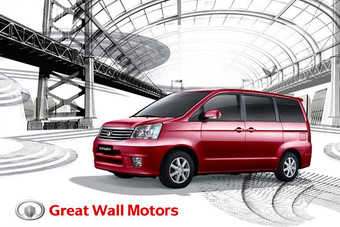 Great Wall has assembly plants all over the emerging markets and is inching into the west with Australia sorted and the UK to come soon
Chinese automakers predicting slowing growth in domestic sales as the market slumps amid higher oil prices, supply shortages and increased competition plan to boost market share globally,raising funds via bank loans and share offerings to fund expansion projects spanning Africa, South America and Asia, IHS Automotive analyst Namrita Chow in Shanghai wrote in a research note.
"Chinese automakers have grown rapidly at home in the last decade but still lack international presence - a situation they are now trying to amend. So far this year, most Chinese automakers have announced new plans to build plants overseas, ramping up production capacity in emerging markets," Chow wrote.
Beijing backing
The note said the Chinese government was behind many new infrastructure development projects in Africa and other emerging markets in South Asia and South America, prompting local automakers to build bases in these markets. "State-owned banks are funding a range of expansion projects and are also part of the expansion of local automakers in these markets."
This year the government is encouraging automakers to expand their presence in markets in Africa, South America and parts of Asia where demand for inexpensive cars is growing thanks to rapid infrastructure development often funded by China. Chery, Brilliance, Great Wall and SAIC are a few examples of the trend emerging of Chinese automakers raising funds to accelerate global expansion.
Chery will receive CNY43bn (USD6.58bn) from the China Development Bank from this year until 2015 to support research and development and to help it strengthen its presence in overseas markets. Meanwhile, the China Africa Development Fund - set up between China and Africa in 2007 - is seen as China's major investment vehicle in Africa and in five years will have invested US$5bn in the continent. The fund is in talks with Chery to invest in an automotive assembly plant project in Africa. Chery has also recently (30 May) announced plans to build a base in Myanmar, once known as Burma. China and Myanmar sealed an agreement on 28 May whereby the China Development Bank will loan $765m to Myanmar to aid development.
Chery has also just announced plans to build a U$200m base in Venezuela. This will be its third facility in South America following on from a $400m plant currently under construction in São Paolo in Brazil. Chery also has an assembly base in Uruguay.
Fundraising
Great Wall [already in Australia and coming to the UK this year - ed] aims to raise CNY5bn from an initial public offering (IPO) in China later this year, and is expected to issue A shares in September. The automaker has announced plans to build four new plants overseas by 2015 — one is under construction in Bulgaria and will begin assembling vehicles this year. Great Wall's current assembly plants are in Russia, Ukraine, Bulgaria, Indonesia, the Philippines, Malaysia, Vietnam, Iran, Egypt, Senegal, Ethiopia and Venezuela, Chow noted.
Lifan and Brilliance are two other automakers that have announced plans to build and expand bases in Africa. In early May Brilliance signed a preliminary co-operative agreement with Beijing Runfar Investment Group to establish a joint venture (JV) to build a CNY300m ($46m) automotive plant in Benin in West Africa. In 2010, Brilliance formed a sales and marketing company in Africa called Africa Huachen Investment Company. Meanwhile Lifan will expand its existing facility in Ethiopia. In 2010 Lifan set up a wholly owned $10m factory in the African country and assembles the Lifan 520 there. Investment in Africa surpassed $1bn in 2010 from just tens of millions of US dollars in 2000. Meanwhile, bilateral trade in 2010 rose to USD124bn, more than 11 times higher than in 2000, according to China's official Xinhua news agency.
Jianghuai Automobile Company (JAC) announced in March that it will raise CNY2.8bn through the issue of new shares. The proceeds from the 150m new shares will be used to expand production capacity for passenger cars and raise annual production of petrol engines to 200,000 units. JAC has also secured $220m from Brazilian vehicle importer SHC Group to facilitate the export of cars and trucks to Brazil. JAC, like many Chinese automakers, is keen to enter international markets and Brazil is a big market and a potential testing ground for North America.
Battling the west
JAC says that it aims to compete with Ford as well as General Motors' (GM's) Chevrolet brand. "The competitive targets are compact models, such as Fiat Palio, Volkswagen Fox, Renault Sandero, Ford Fiesta and Chevrolet Corsa [hatchbacks] and Fiat Siena, VW Voyage, Renault Logan and Ford Fiesta [sedans]", says JAC on its web site. JAC has also started construction of a plant in Argentina and is looking at setting up a base in Mexico. The automaker is also said to be looking at building a base in Turkey.
SAIC Motor received approval on Friday (27 May) to raise funds from its parent Shanghai Automotive Industry Corp via an asset restructuring plan. Under preliminary plans announced on 6 April, SAIC Motor will raise CNY28.56bn via issuing shares priced at CNY16.53 a share with a total 1.728bn shares.
"Chinese automakers are benefiting from trade agreements between Beijing and many emerging economies. While the trade and financial assistance from Beijing may be in the form of assisting emerging economies build roads, mines and railways the benefit for Chinese automakers in both the commercial and light vehicle segments is immense," Chow wrote.
"Cheap cars are often the first major purchase a family chooses when basic daily commodities are covered. In Africa, for example, Chinese automakers are seeing surging sales, prompting movements such as Brilliance's announcement of plans for an assembly plant in Benin. Chinese trucks are also seeing jumps in export orders to emerging economies, where the trucks offer a cheaper alternative to those made in Europe and North America. Beijing is also extending direct support to Chinese automakers through an increase in loans given to state-owned automakers. Chinese automakers are also issuing shares as a way to fund expansion."
In Africa the main auto markets are Egypt, Morocco, South Africa and Tunisia. Together, these four countries accounted for sales of 637,308 passenger cars and 202,565 light commercial vehicles (LCVs) in 2010, according to IHS Automotive. It forecasts sales of over 1m passenger cars and 313,460 LCVs in this market by 2015. The jump in passenger cars is 60.45% in the next five years. Chinese-made passenger cars accounted for only 4% of sales in 2010. Beijing sees this region as a key growth market for Chinese vehicles and is pushing for its state-owned car enterprises to rapidly expand their foothold in the region to increase market share.
Similarly in South America, in 2010 3.6m passenger cars and 1.19m LCVs were sold. By 2015, passenger car sales will jump by 32.8% to 4.7 million units. Chinese-made cars accounted for only 1.3% of passenger cars sold in South America in 2010.
Other regions that China is concentrating on include those in Asia such as Cambodia, Vietnam and Myanmar. These countries have seen an increase in Chinese government-funded projects and new vehicle projects are surfacing in the region as China looks to increase global market share. With sales within China slowing to around 7.3% year on year, the answer to keep up growth is by strengthening sales in other markets.
Competition
Chow cautioned that Chinese automakers will have to compete with established automakers that are also present in these emerging markets.
"As sales in China slow, international automakers will also push their presence in markets in Africa, South America and elsewhere. Chinese automakers lack the technical capabilities of their global counterparts. They have been on a rapid spending spree, buying up international automotive technology and developing partnerships with global Tier 1 suppliers in a bid to raise the standard of the vehicles they offer.
"Future product line-ups are looking better than previous and current efforts, but Chinese automakers will need to further develop their in-house capabilities to significantly expand global market share in the short term."
May 2011 management briefing: BRIC markets review – Brazil
May 2011 management briefing: BRIC markets review - China
Most popular news
---
Most popular insights
---
Oops! This article is copy protected.
Why can't I copy the text on this page?
The ability to copy articles is specially reserved for people who are part of a group membership.
How do I become a group member?
To find out how you and your team can copy and share articles and save money as part of a group membership call Shivani Hayer on
+44 (0)1527 573 732 or complete this form..