EMERGING MARKETS ANALYSIS: Chinese exports finally start to gain traction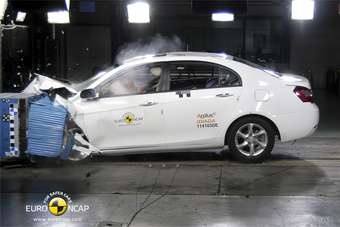 Geely Emgrand7 gets four EuroNCAP stars
China's car industry has been on the steepest of growth curves for a decade now, but the growth rate is starting to slow. So is now the time to turn to Plan B – exports to the West? Mark Bursa reports
Last year China's economy slowed significantly. Vehicle sales rose only 2.5% – well down on the 30% growth achieved in each of the previous two years. In January 2012 only 1.16m cars were sold in China compared to 1.5m in January 2010.
Of course, the market has to slow some time. While there is still room for expansion in China – in smaller cities, or to new first-time buyers looking for entry-level cars – the infrastructure is starting to creak at the seams, especially in the larger metropolitan areas.
This domestic situation is likely to accelerate the adoption of China's Plan B – exports, especially to major western markets. This was very much in the minds of China's auto companies soon after the boom times started in 2002 – by 2005, the brighter entrepreneurial car firms were starting to exhibit at major Western motor shows.
Yet few of these plans have come to fruition. In hindsight, the Chinese look somewhat naive. All it achieved was to give Westerners a close look at cars that were clearly unsuitable, with poor build quality and unspectacular designs. And when a few brave companies did start exports, it ended in tears, especially when it came to crash testing. Landwind and Brilliance came a cropper with their 'nul points' EuroNCAP results, and the shocking images of crumpling death traps has done much to set back the Chinese carmakers' cause.
This has not stopped China from exporting vehicles – indeed, more than 849,000 were shipped abroad to 190 countries in 2011, a rise of 49.6% over 2010. But the destinations were largely countries where standards are less stringent – such as Africa, South America, the Middle East and non-EU Eastern Europe. Russia was the biggest export destination for China-made vehicles last year, while Brazil was the fastest growing market.
So far, the strategy has been to pick the low-hanging fruit. Markets without an established auto industry are a prime target. Geely has just announced a plan to build a CKD plant in Egypt as a JV with local assembler GB Auto SAE, with a view to supplying up to 50,000 cars a year throughout North Africa.
Geely already has small-scale CKD or SKD plants in Russia, Ukraine, Indonesia, Sri Lanka and South Africa, and the company sold about 38,000 cars outside China in 2011, almost 9% of its total global sales of 432,000 cars. Exports rose 76% from 2010, and Geely hopes the North Africa expansion will add a further 50% increase in exports this year.
According to China's Chamber of Commerce for Import and Export of Machinery and Electronic Products, China's total vehicle exports (in which these knock-down exports are included) are likely to rise about 50% again this year, which would catapult them up to around 1.27m. And to sustain these growth levels, the Chinese are simply going to have to make a concerted attempt to enter the world's major car markets.
This is not going to be easy, though the seeds are already being planted. Last year, the first Chinese car plant in the EU started production – a CKD plant in Bulgaria for Great Wall. And several Chinese makes have announced plans to launch cars in Europe in the next couple of years. With economic hardship continuing to hit the developed world, the Chinese have probably picked a good time to start serious work on exports.
There's still a lot to do. As well as safety and emissions standards, there are other obstacles to success in Europe. Chinese cars tend to be petrol-engined, with the focus heavily on three-box saloons. Not a winning combination in the diesel/hatchback-centric EU, though less of a problem in the US. The issue of intellectual property hasn't gone away. Many Chinese companies still offer blatant 'clones' of foreign designs, and these are unsaleable in Europe.
Then there's the issue of branding. The European car market was a less sophisticated place when the likes of Datsun and Toyota entered the European market in the 1960s and '70s, or even when Hyundai and Kia followed them in the '80s and '90s. Simple virtues such as reliability and price allowed these Asian automakers to build their brands. Nowadays, it's not so easy to enter sophisticated markets as a low-cost value brand. Just look at how Malaysia's Proton and Perodua struggle for recognition after nearly 20 years on sale in Europe.
So which Chinese automakers are likely to drive exports? And how will they succeed – playing the niches, or going for the mainstream? The niches look the best bet, though it's clear that the Chinese don't want to set any limit on what they can do
Shanghai Automotive Industries Corp
The rump of MG Rover has ended up in the hands of China's leading automaker, SAIC. But despite a high-profile attempt to relaunch the MG brand in the UK last year, the new MG6 has failed to sell. Only seven MG6s were sold in the UK in November 2011. The lack of diesel and automatic options have hampered sales, and although a diesel is due in 2012. A great deal more investment and is required – though reports of new, smaller cars such as the MG3 and electric vehicles continue to circulate.
Dongfeng Motor
DFSK, a division of Dongfeng Motor, China's third-largest automaker, is already selling Chinese-made vehicles in Europe, having launched a range of small vans and light trucks in the UK last year, through distributor Vestatec. Vestatec is hoping to plug a gap in the market for microvans, largely absent since the demise of vehicles such as the Suzuki Carry and Daihatsu HiJet. Vestatec is targeting sales in excess of 1,000 vehicles in 2012, rising to 5,000 throughout the next 5 years.
Great Wall
Great Wall impressed as long ago as 2006, when it showed an impressive pair of vehicles at the Paris Show – the Hover SUV and the amusingly-named Wingle pick-up. Its appearance that year attracted the attentions of the UK's IM Group, and the importer will distribute Great Wall in the UK, Ireland, Sweden, Finland, Norway, Denmark, Latvia, Lithuania, Estonia, Cyprus, Malta and Gibraltar.
The pick-up, now renamed Steed 5 and powered by a 2.0-litre diesel engine, will be among the first vehicles to be sold, followed by the latest version of the Hover, But IM Group is also looking to bring in smaller, more mainstream cars such as the C10, a Toyota Yaris-sized hatchback, and Great Wall has obtained EU Whole Vehicle Type Approval from two larger cars, called C20 and C30.
And vehicle supply could come from an EU source. In September 2011, Great Wall opened a CKD European assembly plant at Lovech in Bulgaria, which will initially build the C10, followed by Steed 5 and Hover 6. The initial capacity is a claimed 50,000 vehicles per year. Initially the plant will supply Bulgaria and neighbouring countries, including Macedonia, Albania, Montenegro, Serbia and other Balkan states. Western European supplies are likely to be sourced initially from China.
Geely
Geely is already present globally through its ownership of Volvo. But the ambitious Chinese independent wants to export its China-brand cars too, and has announced a distribution deal to enter the UK car market by the end of 2012. The UK will be the first Geely export market in Western Europe.
Geely will use Manganese Bronze Holdings (MBH) as the UK distributor of Geely cars. MBH makes the TX1 London Taxi, a venture in which Geely has a share. MBH has set up a new division called Geely Auto UK. The first car on sale will be the Geely Emgrand EC7, a C/D segment four-door saloon and five door hatchback, initially with 1.5 and 1.8 litre petrol engines. Other models will follow, with at least one new model range every year for the next four to five years.
Chery
Chery has been one of the most go-ahead exporters. It sells in more than 80 countries and regions, with 2011 exports expected to top 160,000 units, making it the leading Chinese car exporter. It is currently focusing on South America - in July 2011, Chery broke ground on a $400m Brazil plant, designed to build 150,000 units for supply throughout South America.
This means it's unlikely to consider European exports for a few more years, according to reports. Lu Jianhui, deputy general manager of Chery, told an industry forum in China last year: "Currently, we are still focusing on Russia and South America, among others, as our major export markets. Our goal is to start selling vehicles in Europe after 2015."

BYD
BYD's core expertise lies in battery-making, which gives it an ideal position to develop electric and hybrid cars. But BYD's fortunes have come unstuck in China, where overheated domestic sales of its conventional cars have plunged it into financial trouble.
But the company still has ambitions to export to Europe. It has started by selling conventional cars, not its advanced hybrids, in non-EU markets such as Ukraine, and claims to have agreements to sale its cars in 10 EU countries: Poland, Austria, Czech Republic, Denmark, Netherlands, Spain, Portugal, Slovenia, Hungary and Slovakia.
Most popular news
---
Most popular insights
---
Oops! This article is copy protected.
Why can't I copy the text on this page?
The ability to copy articles is specially reserved for people who are part of a group membership.
How do I become a group member?
To find out how you and your team can copy and share articles and save money as part of a group membership call Shivani Hayer on
+44 (0)1527 573 732 or complete this form..