October 2011 management briefing: Chinese electric vehicles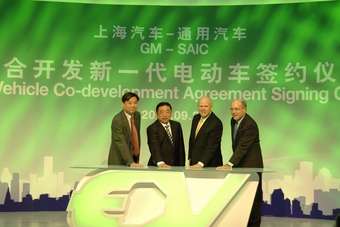 SAIC Motor Corp., Ltd. (SAIC) Chairman Hu Maoyuan and General Motors Co. (GM) Chairman and CEO Dan Akerson signed an agreement in September in Shanghai for the co-development of a new electric vehicle architecture in China
In this instalment of October's management briefing looking at world automotive markets, we take a closer look at an aspect of China's vehicle industry that is now commanding more attention: electric vehicles. Indeed, China is slowly positioning itself to become a leading player in the electric vehicle market, believes Mark Bursa.
Emerging markets offer an opportunity to leapfrog older technologies with the latest, state-of-the-art systems. Why bother installing an extensive land-line telephone network in a fast-growing country like China, for example, when a wireless digital infrastructure is cheaper to build, and just as effective?
In the automotive sector, China offers a similar opportunity to bypass a gasoline-based infrastructure and move toward a market where electric or hybrid vehicles rapidly become the dominant cars. After all, China currently lags behind the developed world in engine technology. A focus on electric powertrains could give it a global lead.
Unfortunately, the Chinese Government has so far failed to establish the framework for such a scenario to play out, allowing Chinese automakers to carry on cranking out gasoline-engined cars. Even BYD, the battery-maker turned automaker, has failed to sell more than a few hundred EVs in China, mainly as taxis. In fact, overall EV sales in 2011 are around 1,000 units – a drop in the ocean for China's near-20m units new vehicle market.
Nevertheless, the opportunity remains to make China the EV powerhouse for the world's auto industry. China offers the potential volumes, and hence the potential economies of scale, that could start to bring down the price of electric cars, especially the battery packs, which remain the single biggest cost element of the cars.
And there are signs that some of the manufacturers can see the opportunity, even in the absence until now of a cohesive Government policy. In September, the EV sector received a substantial boost with the announcement of a new agreement between General Motors and its Chinese partner, Shanghai Automotive, to develop structures, architectures and components for battery-powered cars.
GM, of course, has the range-extender hybrid technology of the Chevrolet Volt/Opel Ampera models to bring to the party. But for these vehicles to qualify for any existing or future Chinese Government EV incentives or subsidies, they would have to be built in China. Indeed, there is a view in US Government trade circles that China is unfairly forcing this technology transfer, in contravention of World Trade Organisation rules.
However, GM does not appear to share that view: "China's government is supporting electric-car technology more than any other country on earth," Kevin Wale, head of GM China Group, told local media last year.
It does now seem that the Chinese authorities are starting to set up incentive programmes for EVs. China's National Development and Reform Commission (NDRC) has launched a pilot scheme under which sales of electric vehicles qualify for subsidies of US$9,400 if they are sold in a number of participating Chinese cities: Shanghai, Changchun, Hangzhou, Shenzhen and Hefei.
Plug-in hybrids sold in the cities receive a subsidy of US$7,830. A total of 49 vehicles have been approved for the subsidies, including 27 cars produced by Sino-foreign JVs and 13 vehicles under the Shanghai-GM umbrella. The subsidies are given directly to the manufacturers, which reduce the sale price of the cars accordingly.
Other schemes are under consideration. In Beijing, electric vehicles are exempt from restriction on the issue of new registration plates (the so-called registration plate lottery), and the municipal government of Beijing is considering providing additional subsidies for EVs of up to US$18,000.
While these schemes appear to be little more than window dressing, many industry analysts believe there will be a significant acceleration in the size of the EV market in the second half of this decade.
Speaking at the 2011 China Plug-In Electric Vehicle Forum earlier this year, German e-mobility solutions provider RWE Effizienz forecast that the global EV market would reach 3m units by 2015, with the greatest potential in the Asia-Pacific market, which would account for half the total. The US would in the same timeframe have 840,000 EVs on the road, Europe 650,000 EVs, and other countries accounting for around 200,000 vehicles.
Professor C C Chan, president of the World Electric Vehicle Association, told the same conference that by 2020, there is a potential for global EV totals of around 7-12% of total global production volumes. This is a slightly more conservative forecast than RWE's, and would imply around 2m EVs by 2015. Even under the most conservative forecast, Professor Chan still said global EV production would account for 4% of the world's fleet by 2020, or more than 500,000 electric vehicles globally by 2015.
And he said China would play a major role. "China will take a lead in the world with electric vehicles making up to 15-20% of the total Chinese vehicle output by 2020," he said. "Real innovation won't take place until 2016, after second-generation electric vehicles become available."
There are several factors that might make this happen. Despite the cost of the battery pack, an electric vehicle is actually much cheaper to build than an internal combustion-engined (ICE) vehicle. Currently, electric vehicles use about 5,000 parts as opposed to ICE vehicles, which use about 30,000 parts.
So a different model for the Chinese EV market could emerge. Rather than premium-priced vehicles such as the Nissan Leaf or the Opel Ampera, which target sophisticated, environmentally-conscious consumers in developed markets, Chinese EVs could become low-cost cars.
Mass-market EVs would require some process of battery leasing in order to keep down costs, and there would need to be major investment in infrastructure, with widespread availability of charging points.
Beijing Authorities announced in late 2010 that it would build 100 EV charging stations and install 36,000 EV charging points in residential areas of the city, by 2012. This was designed to encourage sales of EVs – with an ambitious and unlikely-to-be-hit target of 30,000 vehicles a year in 2012. In 2010, the only EVs in Beijing were 200 buses, 1,060 street-cleaning vehicles and 50 electric taxis.
Indeed, converting public-run vehicles such as buses and refuse vehicles to electricity is a good way to kick-start the market. China has set a short-term target of getting 1,000 such EVs into each of 20 major cities.
Building a large public electric-car infrastructure for China would be expensive, but relatively easy to achieve as utilities are state controlled. China's state-owned utilities and giant oil companies are already moving to build the smart grid and charging infrastructure to make it a reality. Hu Zhaoguang from State Grid, China's largest utility, said: "Electric cars will grow fast in China because the government wants them to. In the next five years growth will be very rapid."
There seems to be no shortage of willingness among automakers to commit to building EVs in China. As well as GM, Daimler has a joint project with BYD, which is expected to formulate a new China-market electric vehicle in 2012. Others, including Nissan, Volkswagen, BMW and Toyota have announced plans to build electric and hybrid cars in China. Chinese independents such as Geely and Great Wall already have EV variants of some models in their ranges, though sales have so far been minimal.
Before 2002, the Chinese car market bumbled along at a lowly level, with governments and local authority taxi fleets being the main customers. This is where the EV market is today. And just as with the car market in 2002, the EV sector will hit a tipping point, where sales will explode.
Forecasting where that point may be is hard – there needs to be an improvement in EV performance, a major reduction in cost, availability of affordable and attractive product, and a critical mass of infrastructure. When these factors converge, the Chinese EV market will spark into life, and surge ahead at a rapid pace.
Most popular news
---
Most popular insights
---
Oops! This article is copy protected.
Why can't I copy the text on this page?
The ability to copy articles is specially reserved for people who are part of a group membership.
How do I become a group member?
To find out how you and your team can copy and share articles and save money as part of a group membership call Shivani Hayer on
+44 (0)1527 573 732 or complete this form..