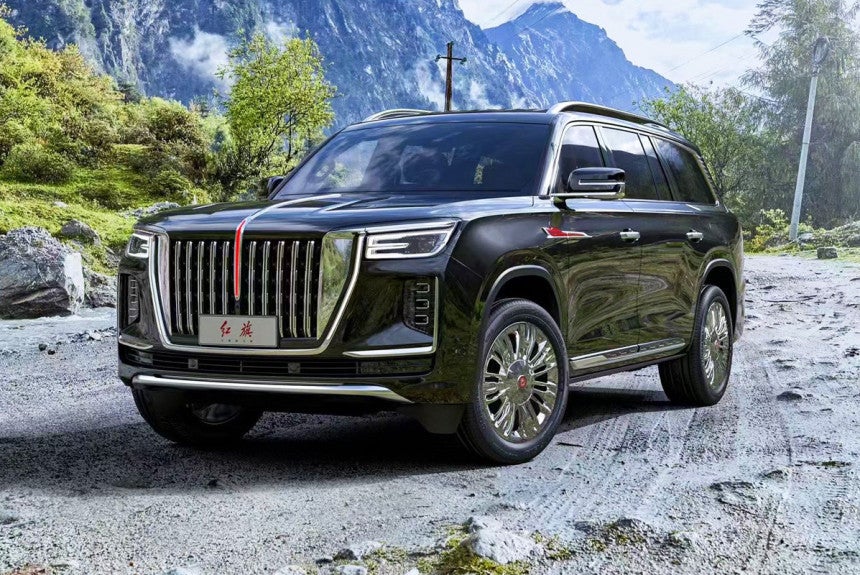 Hongqi's surge last year was so strong that the marque kept pace with Tesla throughout much of the period and closed the gap to Audi, BMW and Mercedes by some margin.
As the German brands regain traction in 2022 once the semi-conductor crisis passes, Hongqi will be determined not to let them pull too far ahead. Even so, each sold around double the number of locally made models in 2021 compared to the Chinese marque.
FAW is keen for Hongqi to maintain momentum at home, so has approved a lot of new products, many of which are due for launch relatively soon.
The LS7 should be the brand's first new model of 2022. Initial details of this 5,695 mm long SUV were announced by FAW in November, the project having been subject to many delays. Production should commence later in Q1.
Both six- and seven-seat layouts will be offered and the LS7's engine is a 265 kW (340 PS) turbocharged 4.0-litre V8. All-wheel drive and an eight-speed automatic gearbox are to be standard.
It isn't just additional SUVs which FAW plans to give its luxury division this year either, the first Hongqi MPV also being due to appear. The project code is C095 and the as yet unconfirmed model name should be QM9.
FAW told the media in April 2020 that it had established a joint venture with Silk EV. The New York-based engineering firm then said in February 2021 that it intended to build the S9, a hybrid hypercar. This is to take place in Italy in partnership with the racing car maker Dallara Automobili. There will supposedly also be S3 and S5 models, along with an S7. All three of these will be EVs.
Silk EV, which has its European headquarters in Modena, is said to be in charge of producing the S7 with FAW itself building the S3 and S5 at its base in Changchun. For the moment, it isn't known what sort of vehicles the S3, S5 and S7 will be, nor has FAW stated whether or not it will use the Hongqi/Red Flag brand outside China for these vehicles.
Revealed at the 2019 Frankfurt motor show and due to be in production by mid-2022, the S9 has butterfly wing doors, a large rear wing and will be powered by a turbocharged 4.0-litre V8. Assisted by electrification, the prototype's powertrain was claimed to produce 1,029 kW. Zero to 100 km/h is said to take 1.9 seconds and top speed is claimed to be 400 km/h.
The production-spec model was revealed at the Shanghai motor show in April 2021 with the car exhibited in Italy for the first time four months later during Milan Design Week. Even though it is a hybrid, an electric version is expected to follow. Dallara is to build 99 examples of the petrol-electric S9.
Hongqi's high priced hypercars and powerful SUVs might grab the headlines throughout 2022 but there's one arguably more important model in the brand's armada and that's the H5.
The Mazda6-based sedan, which has been around since the third quarter of 2018, last year accounted for more than a quarter of the marque's sales. It's due to be facelifted in the second quarter.
Also scheduled for some revisions in 2022 is another model which debuted in 2018. The E-HS3 was the first electric Hongqi and it will more than likely gain new battery options as well as a mild facelift. The successor should arrive in 2025.
In about 18 months' time, there should be a set of mid-cycle revisions for the HS5. This SUV would then be due for replacement in 2026, the second generation likely being an EV.
Reports for many other manufacturers' future models are grouped in the OEM product strategy summaries section of Just Auto.
Future platform intelligence
More detail on past, current and forthcoming models can be found in PLDB, the future vehicles database which is part of GlobalData's Automotive Intelligence Center. That includes Hongqi models not discussed above, as well as FAW's Bestune brand vehicles.
The next OEM to have its vehicle plans examined will be Mahindra & Mahindra.