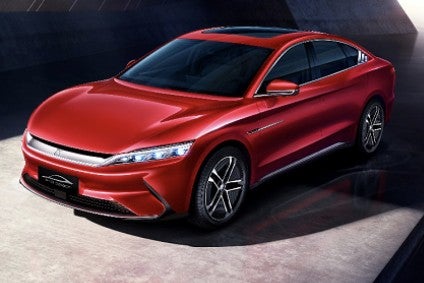 The Chinese government over the last few months has introduced a number of measures to help the country's struggling new energy vehicle (NEV) sector recover from the sharp economic downturn caused by outbreak of the COVID-19 coronavirus crisis.
The country's overall vehicle market in the first five months of 2020 declined by over 23% year-on-year to 7.9 million units, after plunging by 42% to 3.67 million units in the first quarter of the year as the government locked down large parts of the economy to contain the spread of the coronavirus. This came on the back of an 8.2% decline to 25.8 million units in 2019, as economic growth slowed across the region due in large part due to the escalating trade war with the USA.
Overall vehicle sales began to stabilise in April and rebounded by over 14% year-on-year in May, after the government began to reopen the economy in March. The recovery has been driven by heavy discounting and other promotional activity by dealers and incentives by local governments. Some local analysts suggested the May rebound reflected pent-up demand from the first quarter, however, and that it will likely be short-lived unless the recent economic recovery broadens out significantly.
A closer look at the data suggests the recent uptick in sales has involved mainly conventional vehicles, with the commercial vehicle segment proving to be particularly resilient so far this year. Sales of NEVs, comprising mainly plug-in hybrid and electric vehicles, continued to decline – by over 23% to 82,000 units in May and by almost 39% to 289,000 year-to-date – reflecting a segment still highly dependent on incentives.
This despite renewed government efforts to promote growth, including instructions to state-owned enterprises to increase NEV purchases while many local governments have sharply increased their allocation of new license plates for these vehicles.
In late April the Ministry of Finance together with the State Administration of Taxation and the Ministry of Industry and Information Technology (MIIT) issued a joint statement confirming that current sales tax exemption of NEVs, which was scheduled to expire at the end of this year, will be extended by two years – until the end of 2022.
At the same time it confirmed it will push ahead with cuts in NEV subsidies over the next few years, however, starting with a 10% cut this year, a further 20% reduction in 2021 and 30% in 2022.
The NEV segment's decline began in July of last year, way before the COVID-19 crisis, after the government reduced subsidies by up to 60% in June of that year. After growing strongly in the first half of 2019, new energy vehicle sales went into reverse – resulting in a 4% decline in full-year sales to 1.206 million units from 1.256 million in 2018.
The continued decline in the plug-in vehicle market is putting at risk the government's medium-term targets for this segment.
The continued decline in the plug-in vehicle market is putting at risk the government's medium-term targets for this segment, which include minimum output quotas designed to progressively lift the NEV segment's share of total passenger vehicle output to 18% by 2024, or some 3.85 million passenger vehicles based on last year's volumes.
While the quota systems is based on percentages, it works with credits – or points, which are awarded for the production of new-energy vehicles according to a complex formula based on NEV production levels and other factors such as energy-efficiency and vehicle range. These points are used to offset "negative points" accumulated in the production of conventional internal combustion vehicles.
The NEV programme has put significant pressure on both domestic vehicle manufacturers and foreign joint ventures in China, by forcing them to rush in new models and lift investments at a very difficult time for the global automotive industry. Many foreign vehicle brands will struggle to meet the government's NEV targets in the short term and will be faced with the option of buying a credits from other vehicle manufacturers or paying a heavy fine to the government.
Last year the government agreed to recognize conventional hybrid vehicles, which so far have been regarded as internal combustion engine vehicles, as "passenger vehicles with low fuel consumption" between 2021 and 2023. This newly elevated status, which went into effect last week, means that conventional hybrids will incur fewer negative points than before – supposedly making it easier for vehicle manufacturers to meet their low-emission quotas until 2023.
In reality, few manufacturers are expected to switch production on such a short investment horizon and the relief for vehicle manufacturers will likely be limited.
Perhaps more importantly, vehicle and battery manufacturers seem to be making significant progress in reducing the cost of electric vehicles and making them more attractive to the local market. Battery manufacturing costs are being brought down significantly with new technologies and the use of cheaper materials, while battery life and electric vehicle ranges have been extended significantly. The government no doubt will be hoping that these improvements will make up for the falling subsidies and help drive the NEV segment forward as planned.