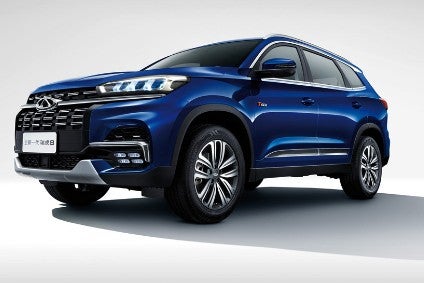 It's tricky times for Chery Auto, even if being owned by the city of Wuhu at least means it is somewhat protected from the current ravages of the steep car sales downturn in China. The company also has a good network of overseas markets, although just how many of these operations – which sell cars at bargain prices – are profitable isn't known.
Chery has multiple brands and each will be given additional models this year. The company's namesake make is easily the OEM's number one division by sales, selling 285,794 cars in 2019, with the other brands' totals being as follows: Jetour (90,002); Cowin (10,217); Karry (9,373) and Exeed (8,705). The last of these, along with Jetour, which was the Chinese market's most successful new-name launch of 2019, will be looked at in a separate report to follow this one.
Globally, the firm's various divisions are said to have delivered just shy of 745,000 vehicles last year.
Cowin
Even though its retail sales were down by 69 per cent in February to merely 137 vehicles (and 1,457 YtD), Cowin reportedly has a bright future with several additional models due out fairly soon. The brand's small line-up of SUVs ended last year down by a combined 14 per cent compared to 2018.
The X3 is the brand's best seller. This 4.6m long crossover went on sale in China during March 2016. Both 1.5- and 1.6-litre four-cylinder petrol engines are available and the seating layout is 2+2+3. The Karry K60 is closely related to this model. A replacement is due in 2023.
The larger X5 is a year away from its mid-cycle facelift. The Tiguan-sized SUV, launched at the Shanghai auto show in April 2017, is the former Chery Tiggo5 with different badges. Chinese market sales began in September 2017, with the X5 being available with the choice of 102kW 2.0-litre and 112kW 1.5-litre turbo engines. The next generation model should be released in the latter half of 2024.
Rather than having an X and a number, the production version of the FX11 could be called either Xuanjie or Showjet. This SUV will join Chery Auto's Cowin brand line-up later in 2020. It will be very similar to the Chery Tiggo 5x and built at the Cowin Yibin Smart Factory. More details, including the platform, can be found in PLDB (see link below).
The E3 is a 4,450mm long sedan which has been available in China September 2017, although that applies only to the Cowin car: the Chery E3 – which confusingly, remains available – has been around since 2013. Replacements for both should be rolled out during the fourth quarter of this year.
Karry
Once a light commercials brand, Karry is also a division for passenger models although sales numbers are small, especially in China, the main market. The K50 is a cheap, small minivan targeted at buyers in smaller cities. It is 4,450 mm long, 1,760 mm wide and 1,790 mm tall, with a wheelbase of 2,755 mm. In theory, there should be a successor in 2022 but Chery may instead wind down this brand later in the next year or so.
The K60 is the other main model for Karry. An SUV-MPV crossover launched in 2016 – one year after the 2015 – it is closely related to the former Cowin V3. The MY2020 K60 was announced earlier in March and is now in compliance with the CN-6 emissions standard. There were no exterior changes.
The YouYou2 is easily the oldest of this brand's three models, having been around since 2009. This minivan was originally a Chery and is or was sold in some countries as the Link, Rely Link or Viewsonic. It is due to be phased out later this year, Chinese market sales having fallen to minimal levels even before January and February.
Chery
The Tiggo e was announced by Chery in August 2019. This electric SUV is based on the Tiggo 5x/Tiggo 4. Its dimensions are 4,358/1,830/1,670mm (L/W/H) and the wheelbase is 2,630mm. The claimed maximum NEDC range is 400km, the motor's outputs are 95kW and 250Nm, while the ternary lithium battery pack has a capacity of 53.6kWh. The mid-cycle facelift is due in 2022.
S61 is the code name for a larger (4,630mm) electric crossover which is due on sale in China later in 2020. Prototypes resemble the Lynk & Co 01 in some ways, especially at the front. The model name should be eQ5.
Originally called Tiggo 3X when it premiered at the 2016 Beijing motor show, the 4.2m long Tiggo 2, a crossover, entered production during November 2016. A facelift should be announced shortly, with a replacement expected in 2023.
The Tiggo 5X, also known as the Tiggo 5x, is a 4.4m long SUV which became available in China during December 2017. This model introduced Chery Auto's T1X architecture. The company originally intended to replace the 4.5m long Tiggo 5 with this vehicle but changed its mind: the Tiggo 5 continues to be made.
Confusingly, the 5X is sold as the Chery Tiggo 4 in some countries. A facelifted model was announced earlier this month which means the successor is now due in the final months of 2023.
The next generation Tiggo 7 is coming sooner than originally expected: pre-production vehicles were photographed in October 2019 and sales should start by September. Reports indicate that this SUV will be 4,500mm long and with the same 2,670mm wheelbase. A prototype, which Chery called the Tiggo 7 Teaser Car, was exhibited at the Guangzhou motor show in November 2019.
Now two years old, the Tiggo 8 is a D segment SUV which uses the T1x platform. It should be facelifted in the second half of next year and replaced in 2025.
Chery Auto has a perplexing habit of changing the names of its cars, so the fact that the EV version of the Arrizo 6 was initially to be called Arrizo 5e is no surprise. The car was a world debut at the 2019 Shanghai motor show, where it debuted as a prototype with a claimed range of up to 400km or 249miles. The battery pack's output was stated as being 53.6kWh and the motor's outputs were said to be 120kW and 250Nm. The series production model, which should in dealerships within months, is now believed to be called Arrizo e.
The Arrizo 6, now in its fourth year of production, was originally called Arrizo 5 and had been previewed by the Chery Alpha concept, a svelte sedan which premiered at April 2014's Beijing motor show. An updated concept was revealed at April 2015's Shanghai motor show: the Alpha5. A prototype of the 4.6m long production model premiered at November 2015's Guangzhou motor show. This was the first time that the model name, Arrizo 5, was used. The car went on sale in China in March 2016.
In September 2018, Chery changed the name to Arrizo 6 while also referring to it as the GX and EX. The EX is more expensive than the GX so really, these 'models' can be thought of as model grades. A successor is due in 2023.
Reports for many other manufacturers' future models are grouped in the OEM product strategy summaries section of just-auto.com.
Future product program intelligence
More detail on past, current and forthcoming models can be found in PLDB, the future vehicles database. That includes vehicles which were not discussed in the above report.
This was the first of two features in a series examining the current and future models of Chery Automobiles' passenger vehicle brands. The second part will concentrate on Exeed, Jetour and Vantas.