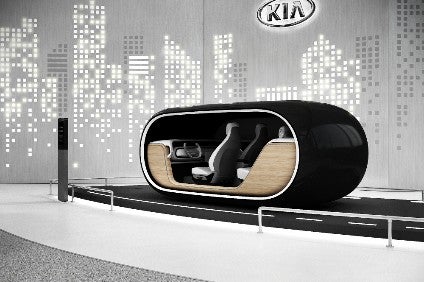 What to do once autonomous cars are everywhere and no human driving is required?
Ask Kia Motors which is previewing a range of new technologies developed for the post-autonomous driving era at CES 2019 in Las Vegas.
Its Space of Emotive Driving exhibit introduces so called Real-time Emotion Adaptive Driving (READ), a claimed world-first emotional AI-based optimised and interactive cabin space centred on human senses.
READ can optimise and personalise cabin space by analysing a driver's emotional state in real time through AI based bio signal recognition technology which monitors a driver's emotional state using sensors to read their facial expressions, heart rate and electrodermal activity. It then tailors the interior environment according to its assessment – potentially altering conditions relating to the five senses within the cabin, creating, Kia says, "a more joyful mobility experience". AI deep-learning technology enables the system to establish a baseline in user behaviour, and then identify patterns and trends to customise the cabin accordingly.
Albert Biermann, head of Hyundai Motor Group R&D, said: "Kia considers the interactive cabin a focal point for future mobility, and the READ system represents a convergence of cutting-edge vehicle control technology and AI-based emotional intelligence. The system enables continuous communication between driver and vehicle through the unspoken language of 'feeling', thereby providing an optimal, human-sense oriented space for the driver in real time."
The automaler also revealed V-Touch – a claimed world first virtual touch type gesture control technology which uses a 3D camera to monitor users' eyes and fingertip, allowing occupants to manage several features via an unobtrusive head up display. Through simple finger gestures, all vehicle occupants can make changes to the cabin environment, including lighting, HVAC and entertainment systems, eliminating the need for buttons or touch screen.
Music-response vibration seats, part of READ, allow occupants to feel their favorite songs as well as listen to them. The sensory-based signal processing technology adapts seat vibrations according to sound frequencies. The vibration seats can also be set to massage mode to increase cabin comfort, as well as enhancing safety by providing haptic warnings from driver assist systems.
Some of the technical expertise required to make this demo possible arose out of Kia's research collaboration with the Massachusetts Institute of Technology (MIT) Media Lab's Affective Computing Group as part of the automaker's Media Lab membership.