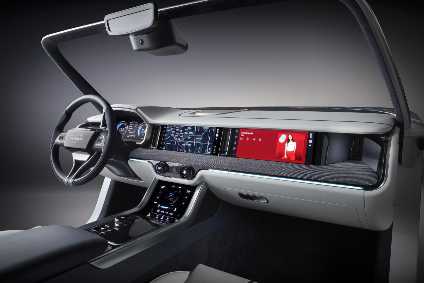 Just over a year ago, Harman International became a wholly-owned subsidiary of Samsung Electronics. Focused on connected technologies for automotive, consumer and enterprise markets, the pair have since leveraged their combined teams and resources to drive future mobility forward. They are again using this year's Consumer Electronics Show (CES) to reveal a variety of novel connected car solutions that support their joint mission to become the leader in connectivity and autonomous driving. We are at CES this week where Harman has taken over the Hard Rock Hotel & Casino and filled its conference rooms with the very latest connected car and autonomous driving solutions. So let's take a closer look at what's on offer.
Forget MPG, think EPM
The Vegas extravaganza combines the supplier's expertise in connected car, audio and connected services technologies. The company believes it is "democratising vehicle experiences" through solutions that enable smarter interactions, improve safety and security, and help automakers seamlessly scale offerings across car segments.
"It wasn't too long ago that a vehicle's value was measured by its mechanical performance and driving dynamics," said Dinesh Paliwal, Harman President and CEO. "With the emerging popularity of shared mobility and in-vehicle technology, however, value is now being measured by experience-per-mile [EPM]."
Each technology on display here in Vegas is designed to work together, typically managed by a single control unit, enabling automakers to pick 'n' mix technologies for greater connectivity within their line-up and across devices.
Personal Communication Zones
While some car interior concepts are more 'out there' than others, there are some common themes emerging, e.g. multi-screens, all-digital dashboards, personalisation, connectivity and the shared experience. With voice commands emerging as the norm for managing in-car experiences, clear in-vehicle communication is also becoming increasingly important.
Harman claims that its Premium Communication solutions bring together its latest advances in smart audio and acoustic signal processing to personalise the sonic environment and provide clear communication for all vehicle occupants – whether it's with a voice assistant, someone on the other end of a phone call, or with each other. For example, the supplier's Personal Communication Zone enables each occupant to interact with their voice assistant or have a phone call with confidence that call recipients won't hear the music or entertainment from others in the vehicle.
Digital cockpit
If you appreciate uncluttered, simple dashboards, then it will come as welcome news that traditional buttons are gradually disappearing in favour of multi-functional touchscreens. You may also appreciate more intuitive cockpit features.
For its part, Harman has reimagined its Digital Cockpit offerings while ensuring they are scalable for a range of entry-level and premium luxury vehicles. In an economical application, its Digital Cockpit simplifies vehicle display layouts to present both critical and ancillary information in an intuitive and cohesive layout. Capable of showing advanced driver assistance system (ADAS) feature information, turn-by-turn navigation, multi-media player information, feature menus and more, the entry-level Digital Cockpit can also seamlessly integrate with a user's smartphone to bridge multiple personal assistants (such as Google, Alexa and Samsung's Bixby) while adding Harman-specific driver related skills into all the clouds in an agnostic way.
At the other end of the spectrum, the supplier's Premium Digital Cockpit and Compute Platform with integrated Android cartridge is an end-to-end package that integrates a vehicle's cluster, infotainment and safety features. It blends QLED and OLED display technologies for optimal colour gamut regardless of the time of day. The solution also features facial recognition for driver monitoring using Harman's cabin monitoring system (see below). Both variants can work seamlessly with the company's suite of sensor technology.
Indeed, this year's CES confirms the notion that tomorrow's cars will incorporate a virtual dashboard with curved screens designed using organic light-emitting diode (OLED) technology. An OLED is an LED where the light is produced by organic molecules. Benefits of using OLEDs for car display include thinner, lighter, more flexible and they work without a backlight.
Ignite 3.0 delivers a new era of connectivity
We live in an increasingly connected society and the way things are heading, we will not be escaping 'always-on' personal connectivity when we get into our cars. Yet ensuring that all of this connectivity functions securely is a top priority whatever car you find yourself in.
Harman's Ignite Automotive Cloud platform works with both entry-level and premium offerings to manage multiple in-vehicle solutions, from vehicle diagnostics to cloud-based driver profiles, all under one control unit that can be updated over-the-air.
Harman Shield – an intrusion detection and prevention solution – functions as the car's security system, capable of detecting, managing, mitigating and responding to cyber-attacks on connected and autonomous vehicles.
Harman's Ignite 3.0 pushes the technical boundaries further by enabling drivers to use a vehicle-centric marketplace, an automotive-based virtual assistant and enhanced navigation with point-of-interest (POI) search and intelligent personalisation – directly in their vehicles.
ADAS sensing technologies
Predictions as to when the first autonomous vehicle will be available vary depending on who we talk to, and, for that matter, how we define it. The Society of Automotive Engineers' (SAE) defines six levels of driving automation, spanning from 'no automation' (you do all the work, level zero) to 'full automation' (sit back and be driven, level 5). These levels as defined by the SAE are also referred to as key stages towards automated driving, namely feet-off (L1), hands-off (L2), eyes off (L3), and brain off (L4). So let's stick to these definitions, for now.
Although we are nowhere near experiencing the joys of being chauffeured around in an L5 (steering wheel optional), we are seeing a number of L3 technologies beginning to appear. Developed with Harman, Samsung used last year's CES to unveil its DRVLINE platform, an open and modular platform for autonomous driving designed to scale from L3 upwards. Since then, the pair have been focusing on engineering, high-performance computing, sensor technologies, algorithms, artificial intelligence and cloud and connectivity solutions that are scalable and capable of lower-level autonomy through to L5.
At this year's CES, Harman's showcase includes a suite of ADAS sensing technologies that encompass surround view sensor intelligence, a driver monitoring solution and LiDAR (more of which below).
One eye on the big picture
Harman's surround view sensor technologies can monitor, record and assess the vehicle surroundings, merging data across sensors and cloud. Its augmented reality platform is then used to visualise ADAS related information to drivers. Some of the clever technologies making this happen include a camera monitoring system (comprising a fusion of three rear-facing cameras and short-range corner radar) and a forward facing camera. Sensor fusion managed within Harman's own module allows for integration with long-range radar to also detect vehicles ahead and maintain a safe distance while in traffic.
Managing the hand-over from driver to vehicle autonomy
Harman's driver monitoring solution is intended to support L3 semi-autonomous vehicles. At this level, cars should have the ability to manage most aspects of driving themselves, but only if certain conditions are met, and if not, they would require the human to take over. The biggest challenge with these vehicles is managing the hand-over: the situation where the car must transfer control back to the driver once limitations are met. In order to ensure this happens seamlessly, Harman's cabin monitoring system does the trick. It uses sensors to capture certain biometric features of a driver, such as eye gaze, head position, and even pupil diameter.
LiDAR is the key to unlocking full autonomy
Although a L4 car is just surfacing, a L5 autonomous vehicle – that neither needs nor wants your help – is a giant leap for mankind. LiDAR is a remote sensing method that uses lasers to measure distance and provide a 3D view of the environment. It is the key piece of technology that will unlock full autonomy. LiDAR is an acronym for "light detection and ranging." It is also sometimes called "laser scanning" or "3D scanning." The technology uses eye-safe laser beams to create a 3D representation of the surveyed environment. LiDAR is used in a number of industries, including automotive, trucking, UAV/drones, industrial and mapping.
In preparation of higher levels of autonomy, Harman has partnered with Innoviz Technologies to bring LiDAR technology to more automakers. These long-range, solid state solutions are compact and capable to help autonomous cars "see" where they're going as well as objects ahead more accurately. Harman's sensor fusion technology will also allow LiDAR to work with forward facing cameras.