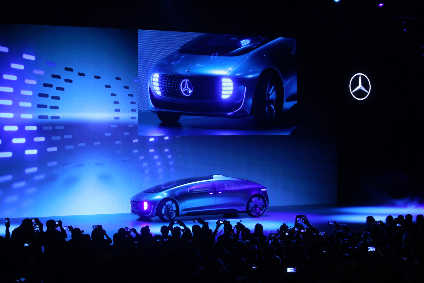 The International Consumer Electronics Show in Las Vegas grows each year and for the past five years, vehicle technologies have moved ever closer to the spotlight. This year, as with 2015, the 'Connected Car' is set to be another massive trend at the trade show.
To recap 2015, BMW demonstrated its remotely controlled self-parking i3, alongside some gesture control technology that graced the 7-series production model later in the year. Mercedes Benz revealed their cocoon-like F015 Concept car. Labelled 'Luxury In Motion' the electrically-powered vehicle showcased a high-quality in-cabin design, with swivel chair (when in autonomous mode) and haptic screens on the vehicle walls. Ford showcased SYNC 3 and announced its future business strategy, announcing a 'smart mobility plan' to develop multimodal transportation. Jaguar Land Rover brought developments in its augmented reality progress through Urban Windscreen. Subscription-based Onstar service added further features for its North American customers and Audi hosted a group of journalists in "Jack", a self-piloted A7, which drove over 500 miles from San Francisco almost entirely autonomously.
Suppliers, some new to the automotive scene, also made the headlines. The NVIDIA Drive chip promised a new standard for graphics and processing in cluster instrumentation and multimedia infotainment systems. Harman brought Individual Sound Zones, HaloSonic engine noise cancellation and a fully scaleable, customisable head unit. Denso, Bosch and HERE exhibited an array of new technologies to help manufacturers with refinement and product differentiation.
So what's coming this year?
The 2016 show looks set to compound this new standard of automotive evolution with suppliers preparing to announce scalable and future-proof solutions. Plenty of partnerships, including the much-rumoured Ford/Google collaboration, will endeavour to capitalise on the expertise of both the car industry and the tech industry to achieve a number of goals. Affordability and accessibility of these technologies will be key to mass adoption and will bring the ambitious 2020 deadline for autonomously piloted vehicles ever closer.
Monday evening will see the big reveal of the mysterious 'FF' creation. A new Chinese-backed EV manufacturer, Faraday Future intends to shift consumer expectation around the use of the car. Rumoured to be the Apple car, it's set to challenge Tesla Motors and will be capitalising on the insight from its ex-Tesla/BMW i-Series staff hires.
From Tuesday, things really kick off with BMW previewing its mirrorless and contactless touchscreen technologies on an i8 Spyder concept. Intel will host the sporty F-Pace to showcase a number of JLR in-car creations. Volkswagen's Golf R Touch will host a medley of cabin gadgets and park itself.
Consumer Telematics Show (CTS) will bring together Toyota, Nissan, Honda, Kia and Jaguar Land Rover to discuss developments in remote communications and vehicle data analysis. With Big Data set to trend in 2016, these manufacturers will be keen to understand how best to add revenue streams, deliver consumer satisfaction and manage data privacy.
Wellness, affordability, scalability and cybersecurity will also trend in 2016. From Wednesday, progress in cameras, sensors, processing technologies and cloud services will be demonstrated by Harman, Bosch and Airbiquity and we'll be taking a look inside Bentley's Mulliner collaboration with Monster Audio.
We'll also be finding out what Microsoft plans to do about Apple Carplay and Android Auto and we'll be updating news and previews here as we go, as well as delivering stories from the event as it unfolds. Subscribe to QUBE for all key insight and analysis for Connected Vehicle Technologies in 2016 and stay tuned to twitter (@justauto) for the latest updates.
Happy New Year!