ANALYSIS: Can 'smart' turn into a smart move for Daimler?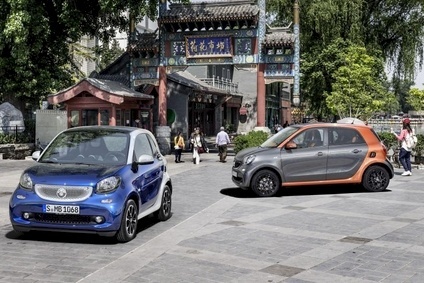 The smart fortwo and forfour. Daimler will be hoping that shared engineering can be key to bringing about an upturn in profitability for the smart brand
Mercedes-Benz has struggled for 18 years to make profits from smart. Platform sharing with Renault may be the brand's last chance, writes Ray Hutton.
You could argue that insisting on lower-case lettering for smart shows how ill-at-ease Mercedes was with trends and style in the 1990s. It wanted to be seen as young and hip, eagerly adopting the idea of Nicolas Hayek, the inventor of the Swatch watch, for a tiny two-seater city car after it had been rejected by Volkswagen.
Mercedes' conservative managers admitted that they didn't really understand the marketing approach adopted by the team that Hayek brought to the MCC (Micro Compact Car) joint venture. Car chief Jurgen Hubbert told me at the time that they had deliberately been left to their own world of slick slogans and playschool graphics: 'We thought we could learn something from the Swatch people about how to sell to what was, for us, a new audience'.
That team stayed in place even when Hayek parted company with Mercedes. He had envisaged an inexpensive runabout with 'space for two people and two cases of beer' and electric or hybrid power but it became something rather different when Mercedes took over the engineering. The smart city coupe, as it was first named, had a 700cc turbocharged petrol engine mounted between the rear wheels. It was small - 2.5m long - but couldn't be cheap. All its mechanical units were new, as was the MCC factory at Hambach in France.
Hayek had predicted sales of 200,000 cars a year, a figure which Mercedes seems to have accepted at the outset. The 1998 launch was delayed after Mercedes' new A-class had rolled over in a handling test, raising the fear that small, upright cars were unsafe. Like the A-class, smart's suspension was modified and electronic stability control fitted.
Only 20,000 cars were sold in the first year and parts suppliers had to be compensated for the lack of forecast business. In 1999, Jurgen Schrempp, head of newly-formed DaimlerChrysler, issued an ultimatum: make 80,000 cars in the coming year or we close smart down. Andreas Renschler, then Daimler's youngest high-flier (now a board member at Volkswagen) was put in charge. He gave smart only a 50:50 chance of survival.
It did survive but it was clear that it could not be profitable making just the city coupe and cabriolet. Two neat little sports cars, the roadster and roadster coupe, were introduced and by 2003 annual smart sales had reached 125,000. Then, to increase volume for the dealers, most of which were separate from Mercedes outlets, it introduced the forfour. This was a Mitsubishi Colt, an absolutely average front-wheel drive hatchback, clad with plastic body panels and a two-tone colour scheme to match the original smart, which was renamed fortwo.
The expansion of the range was not a success and by 2007, when the second generation fortwo appeared, the roadsters and forfour stopped. The new fortwo was re-engineered to make it cheaper to produce and used a 1- litre three-cylinder engine bought from Mitsubishi instead of the original's purpose-built unit. To that point, smart had never made any money.
Dieter Zetsche, just returned from Chrysler to head DaimlerChrysler and its Mercedes Car Group, was confident. At the presentation of the new fortwo he said: 'The smart brand will be profitable in 2007 and beyond'.
Since then, sales have settled down at around 100,000 a year. There was an upward blip when Roger Penske introduced smart to the United States with solus dealers in selected metro areas. Penske's estimate of 16,000 cars a year was quickly exceeded thanks to a successful internet preview campaign but then sales tailed-off and eventually smart was absorbed into the Mercedes dealer network (as in most other territories). But in 2008, Zetsche was able to declare: 'smart has turned the corner; it is profitable but not highly profitable.'
Longer term, it was clear that it needed more volume - economies of scale. Mercedes was thinking seriously about linking with another manufacturer for its next generation of small cars. Out of this came the cooperation with Renault, with a mini-car that could be shared by smart and the Renault Twingo as its first project.
The result went on sale in mainland Europe at the end of 2014 and is just now being launched with right-hand drive in the UK. Mercedes and Renault are unlikely bedfellows and it is amazing that they could agree on a basic vehicle structure, inspired by the Germans and engineered for production by the French. Apart from saving a lot of money, the effect of sharing everything, including rear-mounted engines (from Renault), transmissions, and interior layout, is that it makes possible a new smart forfour.
While smart insisted on a two-seater in the same size class as the previous fortwo, Renault was only interested in a four-seater. It made sense to both parties that the Renault factory in Slovenia that was to make the Twingo could also produce a version of the longer, four-door car for smart. The fortwo would continue to be made at Hambach, with no Renault equivalent.
So Smart enters 2015 with a two-model range, which should boost global sales to over 150,000 a year. Both cars have maintained the look of the earlier fortwo, albeit with a more assertive (some would say ugly) grille and front end. They are a significant 100mm wider than the previous model to provide the two-seater with more interior space (and, incidentally, for the first time, give room for a clutch pedal). While the 2.7m fortwo is unique, the 3.5m forfour plunges into a market already occupied by popular and competent cars such as the Fiat Panda, Hyundai i10, Volkswagen Up, and the Czech-built trio of Citroen C1, Peugeot 108, and Toyota Aygo - all of which are cheaper than the smart newcomer.
Smart positions itself as a premium brand and needs to maintain its prices to achieve sustainable profitability. It has long been jealous of the success of BMW's Mini brand and there are now plans to take the smart range further, with a mini-SUV crossover built on the same platform.
Whether expansion will work this time remains to be seen. Smart remains wedded to the tiny two-seater runabout as the basis of the range. Announcing the latest model, brand director Annette Winkler said that what characterizes smart is its size: 'We continue to have the first, the smallest, car in the market'.
The 2.7m length might be smart's USP but it could also be a drawback for growing the brand. The idea that a very short car is more convenient for negotiating congested cities and parking is something of a fallacy; width is more important than length when manoeuvring in traffic, and in many places parking spaces are designated at a standard size. Even avid fans admit that the fortwo's lack of stowage space restricts its usefulness.
It is true that the smart fortwo has been most successful in places like Paris and Rome where parking is more random but it is not a coincidence that these are also centres of fashion: smart has a strong following among the look-at-me fashion set. Mini is also fashionable but with a wider spectrum of customers who show remarkable brand loyalty, willingly progressing to its larger and more practical models as their personal circumstances change.
The rebirth with Renault is probably the last chance for Smart. I wonder if anyone at Mercedes ever reflects on why Volkswagen abandoned Hayek's project nearly 20 years ago? The reason was simple: its research into the small car market discovered that young people didn't want a baby two-seater but a proper car with room to take three friends. I bet the results would be the same today.
Company analysis

Daimler Group
Most popular news
---
Most popular insights
---
Oops! This article is copy protected.
Why can't I copy the text on this page?
The ability to copy articles is specially reserved for people who are part of a group membership.
How do I become a group member?
To find out how you and your team can copy and share articles and save money as part of a group membership call Shivani Hayer on
+44 (0)1527 573 732 or complete this form..