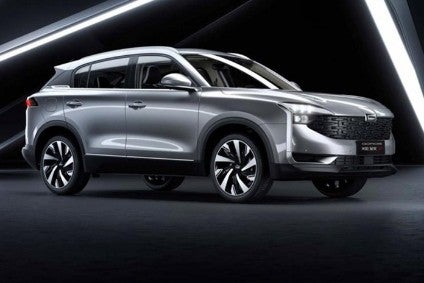 Baoneng Investment Group bought 51% of Qoros in December 2017, and has since raised its stake as co-founder Chery Auto steadily lowers its own holding. This year is going to be a major challenge for the China-based automaker, especially as it has only a few models, several of which are far from fresh. Baoneng is investing though, with the imminent Qoros 7 to be supported by other new SUVs in 2021 and beyond.
After the 7 (see pic, and below) is officially revealed later this year, the next new model will be a replacement for the 4.6m long 3. This car was launched as the 3 Sedan four years after the creation of Qoros as part of a Chery Auto-Quantum joint venture in 2009.
The 3 Sedan had its global debut at the Geneva motor show in March 2013 although three months before this, Qoros had told the media that the model would be called GQ3.
As well as the four-door car, the Qoros Cross Hybrid and Estate concepts also debuted at the 2013 Geneva motor show. A five-door hatchback ('Qoros 3 Hatch') had its world premiere at the 2014 Geneva show with sales in China commencing three months later. The 3 City SUV, a crossover version of the 3 Hatch, was revealed at the Guangzhou motor show in November 2014 and went on sale in China a month later.
The 3EV concept, a prototype of a plug-in 3 City SUV, was exhibited at the Beijing motor show in April 2016 but no production model ever eventuated. Seven months later the 3 GT, a sedan with raised suspension and extended wheelarches, premiered at the Guangzhou motor show. A plug-in variant debuted at the same event, though as a prototype. Its name was Qoros Q-Lectriq concept and the range was claimed to be 350 km. The GT went out of production in early 2018. Curiously, a second prototype of an electric 3 GT then appeared at the Guangzhou motor show in November 2018.
Qoros sold 17,000 units of the 3 in 2019 but for obvious reasons, deliveries collapsed in the first three months of this year.
A prototype of a strikingly styled 4.1m long crossover for the brand premiered at the Shanghai motor show in April 2015. The 2 SUV concept was renamed Qoros 5 in production form. It had its world premiere at November 2015's Guangzhou motor show. Chinese market sales commenced during the first quarter of 2016. From that point on, there was very little news until the arrival of the 5S, a new name to coincide with a facelift. The updated 5 was revealed at the Chengdu motor show in September 2019. That helped to rejuvenate the Qoros brand with the 5S also now the best selling model.
A successor for the 5S is due to be launched in China in early 2023.
The 7 is a 4,679 mm long SUV which will go on sale in China later in 2020. A few preview images were released to the media earlier this month, and these reveal a distinctively styled model, complete with a new Qoros badge design. Two engines will be available: a 150 kW (204 PS) and 280 Nm 1.6-litre turbo, as well as a 170 kW (231 PS) and 300 Nm 1.8-litre turbo.
Exactly one year ago, Qoros displayed an architecture for future electric vehicles at the Shanghai motor show. Called simply 'EV-Platform', the skateboard shown at AutoShanghai boasted a 120 kWh battery pack, four-wheel steering, all-wheel drive and two motors. Combined power was claimed to be 500 kW. The company further stated that the 'cruising range', a measurement common in China, would exceed 500 km or 310 miles.
It seems likely that a large SUV with premium pricing will be one model for EV-Platform. Expect such a vehicle to be called Qoros 9 with a probable sales launch in 2022 or 2023.
Reports for many other manufacturers' future models are grouped in the OEM product strategy summaries section of just-auto.com.
Future product program intelligence
More detail on past, current and forthcoming models can be found in PLDB, the future vehicles database.
The next OEM to feature in the future models reports series will be GAC.