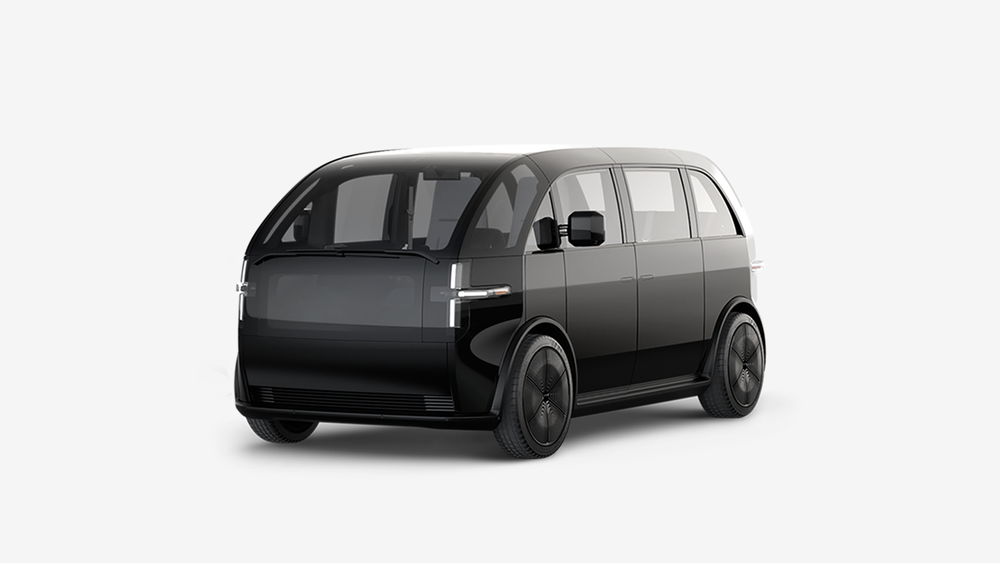 The proliferation of electric vehicles over the last decade, combined with Tesla 's rise to prominence has brought with it a new wave of electric vehicle startups. With investors keen to splash the cash to find the next Tesla , many innovative companies are springing up, each claiming to be a revolution in the electric vehicle market. Canoo is yet another EV startup aiming to carve out a slice of the market, but what sets it apart from the rest?
The company began life in 2017 as Evelozcity , founded by Stefan Krause, former CFO for Deutsche Bank and Ulrich Kranz, a former BMW executive. The two worked together at another EV startup, Faraday Future, before deciding to pursue their own project. Early work continued until 2019 when the company opted to rebrand as Canoo and show its first concept vehicle, the eponymous Canoo . The concept, an electric minivan/multi-purpose vehicle, immediately caught the public's attention thanks to its unique sci-fi-inspired styling and odd, soap-bar-like profile.
Further concept vehicles were shown in 2020 and 2021, which are covered in more detail below. During this period, Canoo successfully secured a partnership with South Korean auto giant, Hyundai . The tie-up would see Canoo and Hyundai jointly develop an electric vehicle based on Canoo 's EV platform to be used for light fleet vehicles and shuttles. While this was a valuable vote of confidence in Canoo from an established automaker, the plan ultimately fell through in March 2021 with both citing changes in corporate strategy. For Canoo , it made it clear to investors that, from this point on, it was to change focus from providing EV engineering services to other automakers and, instead, prioritise selling its own products on its own.
Another potentially crucial Canoo partnership that fell through was a proposed deal with Apple . The Californian tech giant has long held ambitions of entering the electric vehicle market with many analysts attempting to predict when the company's rumoured Project Titan would make its first official appearance. Apple was reportedly interested in making use of Canoo 's scalable EV skateboard platform, while Canoo needed investment to keep its R&D operations on track. Ultimately, there was too little common ground for the companies to sign an agreement, especially as Canoo is now expected to market and sell its own vehicles without an automaker partner.
Pressure is mounting on Canoo to begin generating revenue – its concepts have been well received but deliveries are not expected to begin until 2022. Meanwhile, legacy automakers that have been slow to pivot to electrification are now beginning to launch multiple electric vehicle lines, eroding the early-mover advantage held by EV startups. If legacy automakers begin building successful EVs at scale, it will be become even harder for an unproven EV startup to secure market share.
Funding
Early investment in Canoo (then Evelozcity ) came from Chinese backer 'David' Pak-Tam Li and the Chiang family, which owns TPK, a touchscreen tech supplier to Apple . As development wore on, exacerbated by the COVID-19 outbreak, Canoo 's finances became stretched so, in addition to securing another small loan from Mr Li and the Chiang family, the company also claimed $7 million from the US Government's pandemic Paycheck Protection Program.
None of these sources would be sufficient on their own to keep Canoo afloat so the company decided to follow the route set down by many EV startups and list as a public company. This would be achieved by merging with a Special Purpose
Acquisition Company (SPAC ) – similar to plans enacted by Lucid, Fisker , Nikola and Lordstown Motors . As a result, Canoo merged with Hennessey Capital Acquisition Corporation at the end of 2020 and raised a total of $600 million. GlobalData estimates Canoo 's market cap to be around $2.3 billion.
Production
Canoo plans to assemble its own vehicles so, to achieve this, the company announced it would build its own factory in Tulsa, Oklahoma. This facility is expected to open in 2023 and could provide more than 2,000 jobs for the region once operating at capacity. All of Canoo 's concept vehicles are based on the same EV skateboard platform so it is likely that all its models could be manufactured on the same line when operations begin.
While the Oklahoma factory is slated to begin operations in 2023, Canoo has stated that its first models will reach customers by the end of 2022. To allow the company to deliver its first vehicles before it has established its own production line, it will enlist the services of VDL Nedcar , a Netherlands-based contract vehicle assembler currently producing Minis for BMW .
Canoo claims VDL Nedcar will manufacture 1,000 vehicles in 2022 and ramp up to 15,000 vehicles in 2023.
Vehicles
Canoo 's vehicle strategy is built around a common skateboard platform like many battery EVs designed from the ground up. This platform is modular and scalable meaning the company can equip it with different arrangements of batteries and motors depending on customer specification, and outfit it with a range of different bodystyles and sizes. The motors are understood to be permanent magnet types as used in the Tesla Model 3 and Model Y, while the battery cells are also the same 2170 cylindrical cell type as used in the Tesla – it is not yet known how Canoo configures those cells within each battery module.
Among the platform's unique features is the incorporation of steer-by-wire technology. This removes any physical connection between the front wheels and the steering wheel and, instead, uses electronic signals from the wheel to guide the steering axle. From a packaging perspective, this makes the Canoo platform especially flexible because the steering wheel can be positioned anywhere in the vehicle without affecting the layout of other components. Steer-by-wire technology has not seen widespread acceptance in vehicles yet due to the lack of physical backup in the event of a system failure – Canoo will need to incorporate sufficient failsafe systems and redundancy into the design to mitigate this risk.
Like many EV skateboard platforms, Canoo 's can accept different battery sizes. The company claims anywhere from 20 to 80kWh of energy storage can be fitted to the chassis. However, Canoo has made the interesting decision to directly incorporate its battery modules into the vehicle chassis and do away with the full battery pack used in many EVs. By directly mounting modules to the chassis, Canoo can cut some of the weight associated with full battery pack systems, extending range and improving performance. The modular battery arrangement will also make repair and replacement easy, although the design probably means it cannot incorporate future technologies such as the structural battery packs proposed by Tesla .
Canoo 's current announced lineup includes three models. The first to be revealed was the eponymous Canoo multi-purpose vehicle. When it goes on sale at the end of 2022, it will be available with an 80kWh battery for up to 250 miles of range and a choice of one or two electric motors with up to 350hp. Recharging on a DC fast charger can recover an 80% charge in as little as 28 minutes. A basic two-seat delivery option is offered along with passenger versions in five and seven-seat configurations.
Canoo followed this model up with the MPDV Multi-Purpose Delivery Vehicle announced at the end of 2020. It uses the same EV skateboard platform as the Canoo MPV but fits an even boxier delivery vehicle body on top. Batteries come in 40, 60 and 80kWh versions with the largest able to achieve 300 miles on a charge on the WLTP test cycle. Front-wheel drive will be the only powertrain option and the body will be offered in two sizes with either 230 or 500 cubic feet of space.
The third model planned by Canoo is a pickup truck with a similar bodystyle to the Canoo MPV. This means that, unusually for a pickup, Canoo 's concept would position the driver either over or very near to the steering axle – a layout more common in vans, buses and large commercial vehicles. Unlike the Canoo MPV, the rear of the pickup has been turned into a storage bed with a number of useful features such as fold-down sides and an extendable rear for longer cargo. It will use the same platform as other Canoo models but the brand is promising more powerful motors for this model with more than 500hp. Neither the MPDV or the pickup are expected on sale before 2023 at the earliest.
No future plans have been made concrete but, on the future models section of Canoo 's website, it shows what is clearly the silhouette of a passenger vehicle. This strongly suggests that Canoo is planning on expanding its range into on-road-oriented vehicles, likely using the same skateboard platform as deployed in its other vehicles.